Almost everyone in the world today who uses a smartphone makes use of WhatsApp. It is the perfect replacement for text messaging apps as it supports media transfer along with regular text. However, some people at some point in their life get bored or addicted to the effects of social media. So, they go through a phase of digital detox. This usually means getting rid of all things tech and social media. It is not practically possible to ditch the smartphone for the sake of day-to-day uses. So, people instead deactivate their social media profiles. This includes deactivating or deleting their Facebook, WhatsApp, Instagram, etc. Today, in this guide, we will explain what happens after a WhatsApp account gets deleted.
How to Delete WhatsApp Account
It's quite simple of a process to delete the WhatsApp account.
Open WhatsApp > tap on 3 vertical dot button to open the drop-down menu
In the menu, tap on Settings
Now tap on >

Account

go to Delete My Account. Tap on it.
You should see something like this.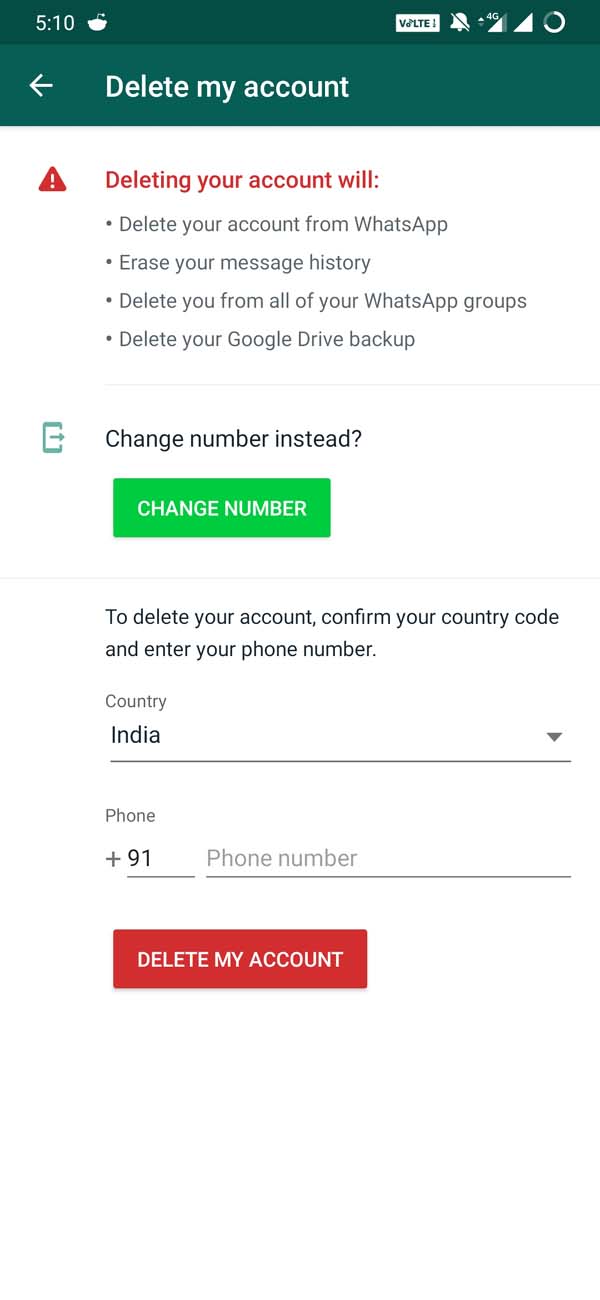 If you delete your account, then your corresponding WhatsApp settings will also be deleted. Keep in mind that your contacts will have no idea that you left WhatsApp. However, your WhatsApp Account when deleted will automatically reflect the message.
How to Know whether an Account has been Deleted.?
It's quite straight forward to know whether someone you know deleted their WhatsApp account. If you both are in the same group, then you should see the message the XYZ person left the group. Also, if the person deleted their account, their profile picture will be removed.
Also, try to initiate a chat with the particular contact. You may see an Invite button beside their name. This means they are no more on WhatsApp. If you try to call them via WhatsApp, your call won't connect.
Received Messages
If someone beforehand had the deleted user in is contacts and chatted with him, then they can send messages within that chat thread. However, as the account of the recipient, has been deleted so it will be a one-way chat. The sender will only see his message along with a single grey tick. This suggests that the message was sent but never received.
WhatsApp Groups
If a user deletes WhatsApp, then he will be automatically removed from the groups he was a part of. The existing group members will see a message that "X" has left the group. In case he was the admin he will be removed and randomly an existing member will be selected as the new admin. If the first person decides to join WhatsApp again, they have to request the group admin to take him into the group.
What About Inactive Accounts.?
In case a user remains inactive on his profile for 120 days, then WhatsApp will automatically delete their profile from their servers.
Reactivating WhatsApp
You can always reuse WhatsApp but your older information will be deleted from the official servers. Also, when you start again, you can reuse your old number, but you have to start from scratch. Any person who has your number and if they are on WhatsApp, then you will appear on their WhatsApp contacts list.
So, that's pretty much about WhatsApp account deletion and every other aspect associated with it. We hope that you will find this post informative. Do follow our social media handles for updates and guides regarding WhatsApp.