Destiny 2 has launched its new season, Lightfall, with plenty of new content to impress even the most veteran players. Season 20 introduces new adversaries and old friends in the newest campaign and a Seasonal Artifact with plenty of new rewards. Since its release, Destiny 2 has been a popular choice among the gaming community, thanks to the developers' constant updates and new content. This guide will take you through retrieving Supply Caches from Region Chests in Neuroma, part of the From Zero quest in Destiny 2.
Season 20 of Destiny 2 has been highly anticipated, and the developers have not disappointed players. The new season brings a lot of new features, including new weapons, armour, and quests. From Zero is likely the first side quest you'll pick up while playing Destiny 2: Lightfall, requiring you to venture out into Neptune to do a bit of treasure hunting. This quest is a great way to earn rewards and allows players to explore the new region and get a feel for the new season.
How to complete From Zero Quest in Destiny 2 – Retrieve Supply Caches From Region Chests in Neuroma
Destiny 2's new season, Lightfall, brings a lot of new content and features to the game. The From Zero quest is just one example of the many side missions players can enjoy while exploring the new region of Neptune. So, without further ado, let's find out what this quest has in store.
To complete the From Zero quest in Destiny 2, you must retrieve supply caches from Region chests in Neomuna. These caches are hidden throughout the region, and you will need to explore to find them all. Once you have collected all the caches, you must travel to Esi Terminal and defeat Shadow Legionary Trask. Finally, return to Nimbus to complete your quest and receive your rewards.
The first step in starting this quest is to go to Neptune and seek out Nimbus. He is the reputation NPC for the area. Nimbus plays a pivotal role in the Lightfall story, offering several quests and valuable rewards while you play.
Completing From Zero isn't necessary to progress through the main Lightfall story. Still, it's worth considering if you're new to the expansion or looking to increase your light level for other content. Not only will it help you become familiar with Neomuna, but it will also provide you with a useful weapon that can be used throughout the game.
How to find the Region Chests in Neuroma
To start the From Zero quest chain, you must locate three regional chests in Neomuna. These can be found by looking at your map and identifying the small white crosses around the Zephyr Concourse, Ahimsa Park, and Liming Harbour. Finding these chests is quite easy, and the rewards are worth the effort.
Chest #1
To find the first chest in Destiny 2 in Neuroma, you must turn left as soon as you enter via Strider's Gate. This is where you will find Nimbus. You will notice an open balcony with several large plants on it. The chest is on the roof above this balcony, so you will need to do some platforming to get there.
You will have to jump onto the balcony first to get to the chest. Once there, you'll need to turn around 180 degrees back towards the path to Strider's Gate. You will see a glass platform in the vicinity ahead of you. Jump on this, and then turn back around and jump on the roof.
Once you are on the roof, turn left, and you will find your chest waiting for you, resting against the wall. It is essential to note that the chest is not easily visible from the ground, so you must climb up to the roof to find it.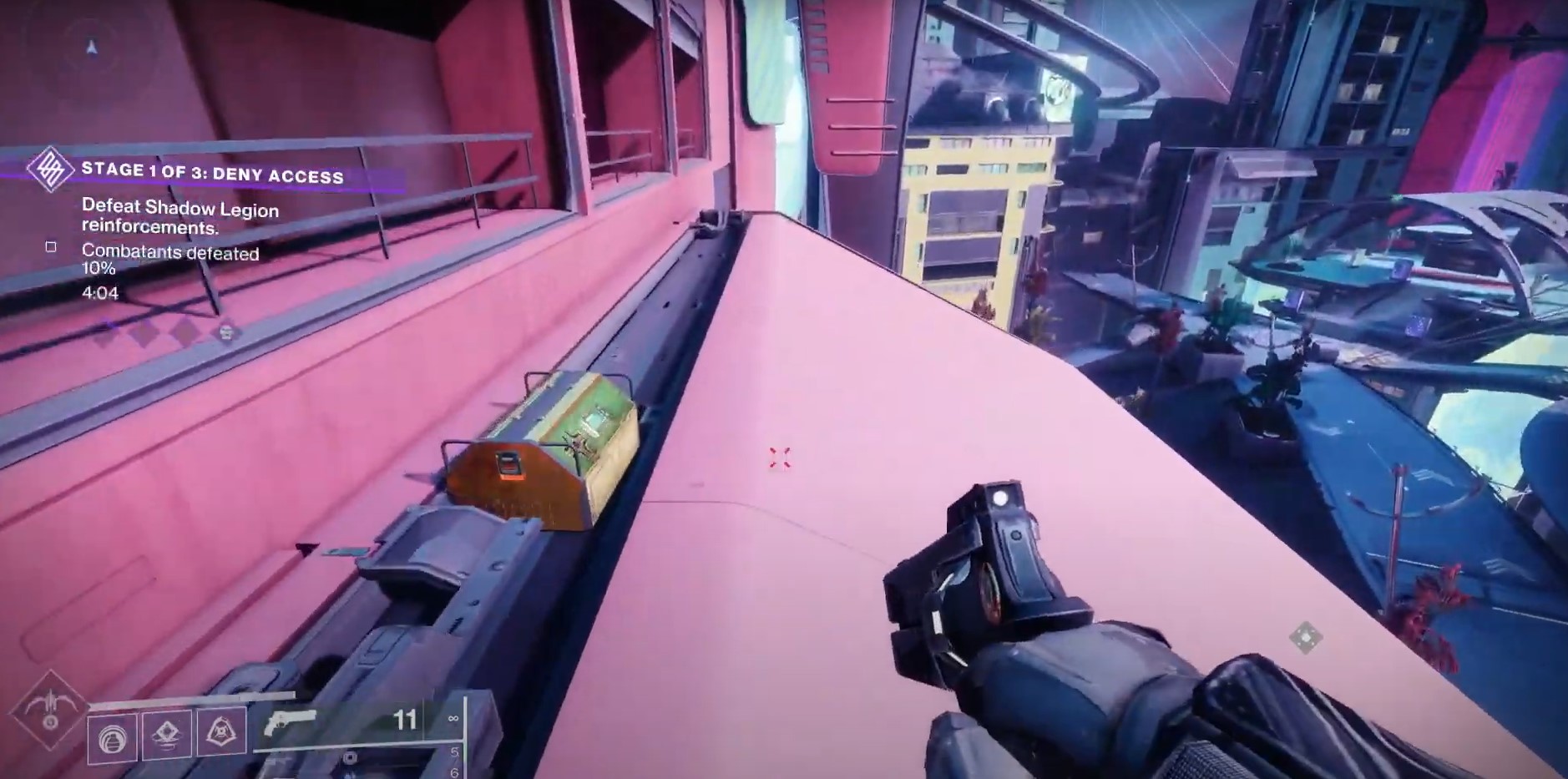 Chest #2
To find the second chest in this quest, you will need to head over to the East side of the Zephyr Concourse. Once you get there, take the walkway towards the ESI Terminal and Veil Containment. Upon arriving, turn right towards the glass and blue lighting in the vicinity.
Once you're there, you should be able to spot the chest behind the furthest window, next to a purple vending machine. Unfortunately, the door leading to the chest is inaccessible, and you would have to find another way to get to it.
The only way to access it is to turn around and drop down to the floor below, where you'll find a blue room filled with weights that you can enter. Jump inside, and you'll be able to access a vent on the wall. Proceed through the ventilation shaft upwards, and you'll emerge at your golden chest.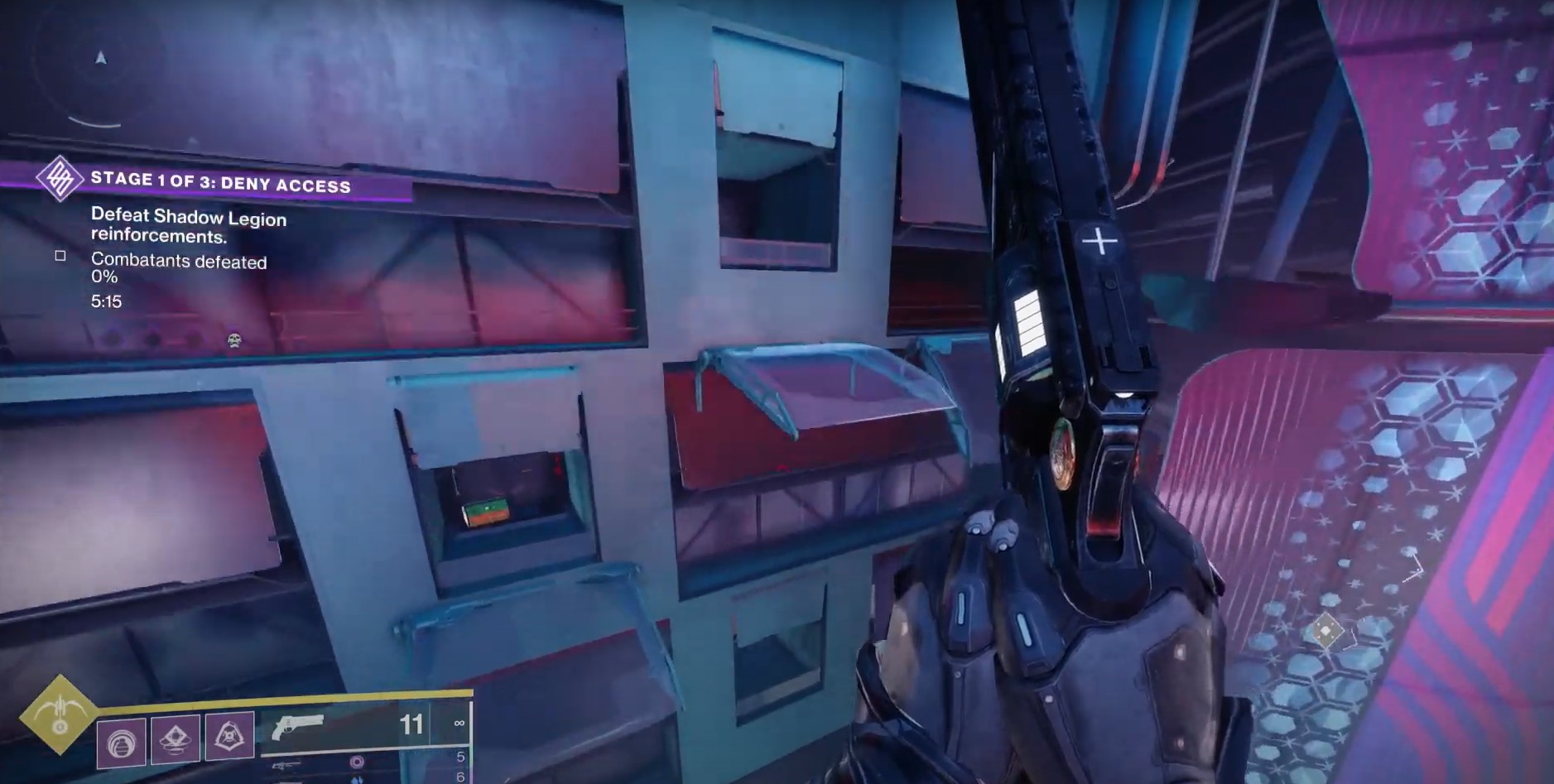 Chest #3
To find the third chest in the From Zero quest, you will need to make your way to the southeast corner of the concourse. This is where you'll need to be to find the chest. You'll also be able to recognize the location with the help of a palm tree in front of two giant pink buildings.
Once you spot the palm tree, you'll know you're in the right place. Jump up next to the tree and look over the edge. You should be able to see several glass panels protruding from the building ahead of you. Your goal is to land on the lowest glass panel in front of you.
After you land on the glass panel, you'll be able to find the region chest straight ahead of you. With that, you've completed the first step of the From Zero quest.
Complete the rest of the tasks in From Zero Quest in Destiny 2
You need to do a couple more things to finish the From Zero quest in Destiny 2. If your light level is low, we recommend doing the Scan and Survey patrols, as they don't require much fighting. Each patrol gives 15% progress, so grinding them out for a few minutes should suffice. This will give you an easy boost to your progress bar. However, if you've got the gear and the skills to handle enemies, feel free to do as many patrols as you like.
Once you've completed all the quick patrols in your area, travel to a different zone using your sparrow or fast travel if you have it unlocked. The new zone will have fresh patrols, allowing you to continue progressing through the From Zero quest.
Next, you must go to the Esi Terminal to defeat Shadow Legionary Trask. You can track the From Zero quest in your quest menu to get a waypoint that will take you to him. To progress through the Esi Terminal, turn left as soon as you enter the zone from the Zephyr Concourse. You'll eventually come across an open combat area where Trask awaits you.
Once you see him, you'll be fighting Trask. So, be sure to come prepared with the right gear and weapons. After defeating him, return to Nimbus to complete the From Zero quest.
Conclusion
Your reward for completing the From Zero quest is the Iterative Loop Fusion Rifle, which has an extractable weapon pattern. This allows you to craft Lightfall weapon, where you can customize your weapon to your preferences. You can make it your own, giving you a sense of ownership over your hard-earned reward.
That's all you need to know on how you can complete the From Zero quest in Destiny 2. We hope this guide helped you retrieve Supply Caches from Region Chests in Neuroma and complete the From Zero quest in Destiny 2.