While progressing into the game Destroy All Humans, you'll come across an optional objective right after Mission 9 South by Southwest, which requires you to destroy a building with a Majestic Agent in the game. Before you even try and go about completing this optional objective, you must know that there's a lot more to it that you need to do if you wish to successfully check it off.
This optional objective is a tricky one. And this is the reason why we're cooking up this definite guide, which will take you through the start to finish that'll help you complete this particular objective. So if you're one of them who's continually failing over this objective, then we believe this guide will be of great value to you. So without bragging away, let's look right at how to destroy a building with a Majestic Agent in Destroy All Humans.
Destroy All Humans: Destroy a Building With a Majestic Agent
Step 1 – Weaken the Building
If you're trying to destroy a building with a Majestic Agent in Destroy All Humans, then the first thing you need to do is take advantage of the quick laser beam blasts. What you are to do is fire a couple of these beams right at the marked building that you need to destroy. Make sure you only fire a few of those laser beams just to weaken the building and not destroy it. Stop firing when you start to see fire lighting out of it.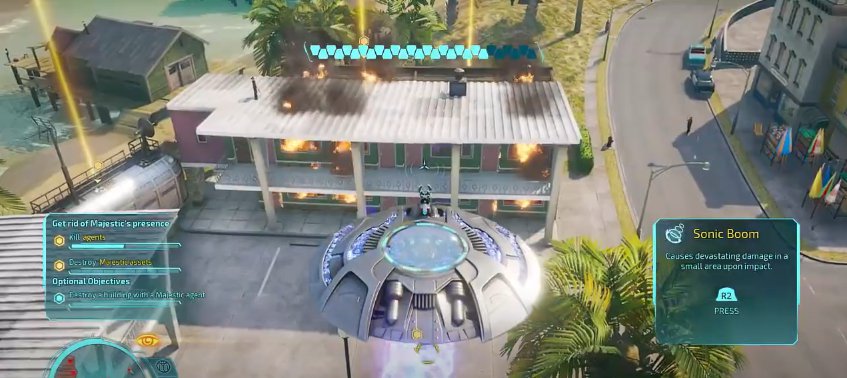 Step 2 – identifying and picking up a Majestic Agent
Once you're done with that, the next step is to pick up a majestic agent. One of the hardest things in this game is determining if you're picking up an agent or not. However, the fact that the majestic agents in the game are all dressed up in black suits makes it easier for us. So look out for those in black suits and pick them up. Once you get your majestic agent, make your way back to the building that we weakened before.
Step 3 – Destroying the Building
Finally, all there's left to do is position the majestic agent that you picked up and shoot the agent right at the building. You can identify a majestic agent by their voice when picking one up in your tractor beam. The goal is to bring down the building with a majestic agent and it does not matter if he is dead or alive. All that matters is that the final hit that the building takes is by a majestic agent. If throwing an agent doesn't destroy the building completely, then just go about to find the same body, and throw it again until the building comes down.
Winding up, that's everything there is to learn about destroying a building with a Majestic Agent in Destroy All Humans. The key to succeeding here is weakening the building with your laser beam blasts. However, it is a vital point to keep in mind not to bring down the building while trying to weaken it. That said, we hope reading the article above has equipped you with some bit of information. Please let us know by commenting down below if you have any further queries regarding the same.
Also, check out our iPhone Tips and Tricks, PC tips and tricks, and Android Tips and Tricks if you've got queries for it or want help. Thank you!