Nokia is trying to get into the budget smartphone segment with its new launch Nokia 2.3 smartphone. The new Nokia 2.3 is an impressive device but due to recent competition from Realme devices, customers want a waterproof smartphone from Nokia. Nokia is known for making quality and durable smartphones for a long time. But they didn't launch the new Nokia 2.3 with waterproof specs. This is why most customers expect a waterproof rating in the new Nokia 2.3 smartphone. But is the new Nokia 2.3 waterproof smartphone? Well, today we will find out just that in our Nokia 2.3 waterproof test.
Nokia makes smartphones of every price range, but we rarely see any official IP67 or IP68 waterproof ratings on them. But because most smartphone companies are giving IP68 waterproof ratings in their device, sooner or later Nokia also has to give it to their smartphones as well. So many customers expect the new Nokia 2.3 to come with a waterproof body. But is it all true? We will conduct a Nokia 2.3 waterproof test to find out for sure.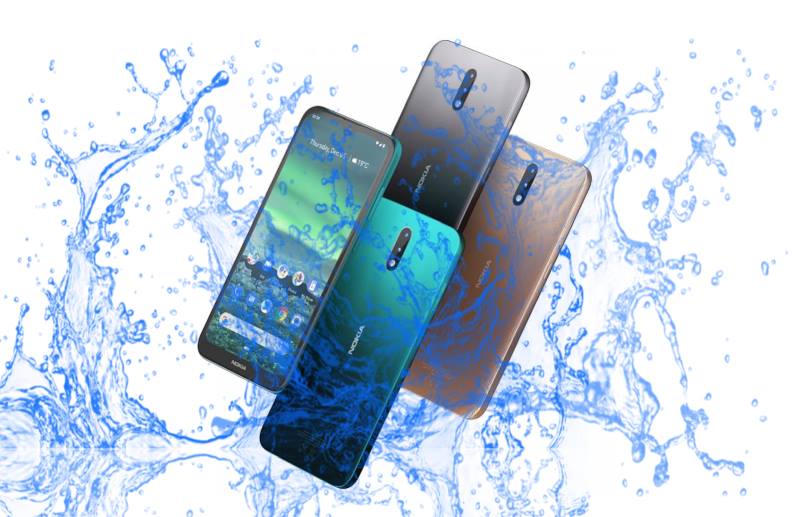 Did Nokia Launch Nokia 2.3 with Waterproof Specs
The waterproof technology is a must-have feature in any modern smartphone. Since it gives an extra layer of security and some new features to mobile, many smartphone manufacturers are now shipping their devices with official waterproof ratings. For any smartphone to be waterproof, it must possess a special IP waterproof rating. An IP rating is an international standard that is used to define levels of sealing effectiveness of modern smartphones. These IP ratings are presented in the form of IP followed by two numbers.
We have checked with the official Nokia 2.3 product page but couldn't find any official waterproof ratings. Maybe it is because of the fact that Nokia 2.3 is a budget-friendly device. Making a budget-friendly waterproof device is extremely hard for smartphone manufacturers. However, we will still do the Nokia 2.3 waterproof test to find whether it is splashproof or not.
Nokia 2.3 Device Specifications
Nokia 2.3 is an impressive smartphone primarily designed for budget segment users. It packs a 6.2-inch display with a resolution of 720 by 1520 pixels. Nokia 2.3 runs on the latest Android v9.0 pie out of the box. It runs on MediaTek Helio A22 chipset and comes with 2 GB of RAM. The weight of the device is a little heavy i.e. 183 grams since it rocks a massive 4000 mAh battery.
As far as cameras are concerned, Nokia 2.3 has a dual-camera setup at the back. With 13 + 2 MP camera sensors for portrait photos. For selfie lovers, it has got a 5MP camera. Nokia 2.3 comes with all sorts of connectivity options including Wifi, Bluetooth, GPS, 4G and VoLTE facilities. However, the device is not officially rated to be splashproof or waterproof by any means.
Nokia 2.3 Waterproof Test
Since there are no official IP67 or IP68 certification data fro Nokia 2.3, we will conduct a waterproof test. This test will comprise of waterproof, splashproof and dustproof test. After conducting thee tests, we will know whether the new Nokia 2.3 is resistant against water and dust particles.
warning
This test is purely based on individual/team observation. This test will only give an idea of whether a device is waterproof or not. We recommend users not to try this test at home, as it might damage your device.
After conducting the waterproof test on Nokia 2.3, the device malfunctioned and all I/O ports stopped working. These include the volume rocker buttons, camera hardware and display for the device. This indicates that Nokia 2.3 is not a waterproof device. However, the device passed our dustproof test.
Conclusion
| | |
| --- | --- |
| Device Name | Nokia 2.3 |
| Waterproof Ratings | None Found |
| Waterproof | No |
| Dustproof | Yes |
After conducting a waterproof test on Nokia 2.3, we can say that the device is not officially waterproof. However, it performs well in our dustproof test which means the device should work fine in dusty or windy weather. However, Nokia 2.3 is not splashproof or waterproof by any means so users should take care fo this device while working near water or moist places. The device can not handle accidental water splashes or coffee spills and not ideal for talking in rainy conditions.