Motorola One Hyper is the latest smartphone by Motorola. Motorola is known for making quality smartphones with great durability and camera features. This time they have launched a flagship segment device. The price tag is 27,990 which is a mid-flagship segment. However, with great price comes great features. So customers are demanding to know whether the new Motorola One Hyper is waterproof or not. So today in this post, we will test the waterproofing measures of the latest Motorola One Hyper and report back to you.
Motorola One Hyper was launched in December 2019 and has a great sales year ahead. Most customers are planning to buy a new smartphone in early 2020, so it is a great selling timeframe for Motorola One Hyper. Customers want to know whether the new Motorola One Hyper is waterproof or not. So today we will perform a quick waterproof test on Motorola One Hyper smartphone. Stay tuned for the results.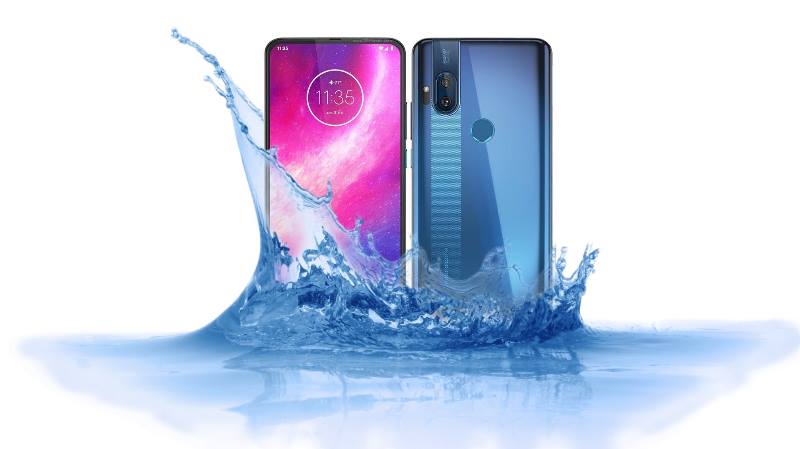 Is Motorola One Hyper Waterproof device to survive under water?
Most people buy waterproof smartphones in order to use it underwater. A waterproof smartphone can withstand underwater for an extended period of time. And with a waterproof smartphone, users can enjoy features like underwater photography, take underwater selfies and much more. These features make waterproof smartphone very high demanding products in the modern smartphone market.
The waterproof technology is a must-have feature in any modern smartphone. Since it gives an extra layer of security and some new features to mobile, many smartphone manufacturers are now shipping their devices with official waterproof ratings. For any smartphone to be waterproof, it must possess a special IP waterproof rating. An IP rating is an international standard that is used to define levels of sealing effectiveness of modern smartphones. These IP ratings are presented in the form of IP followed by two numbers. The IP68 rating is the best that a smartphone can hold. However, it is important to note that this IP testing is done against freshwater. So you might end with slightly different results against saltwater or other liquids such as soft drinks.
After checking the official sources and website fo Motorola, we could not find any official IP67 or IP68 waterproofing ratings for the latest Motorola One Hyper. So officially the device is not waterproof. However, we will still continue with our Motorola One Hyper waterproof test to find out for sure.
Motorola One Hyper Specifications
The device has a comfortable to hold 6.5-inches Full-HD+ IPS LCD display at a resolution of 1080×2340 pixels. It ships with Android 10 with Android One support out of the box. Motorola one Hyper is powered by Qualcomm Snapdragon 675 SoC. While the device packs Adreno 612 GPU, 4GB RAM, 128GB of internal storage. The storage is expandable up to 1TB via a MicroSD card.
It sports a dual rear camera setup of a 64MP (f/1.8) wide-angle sensor and an 8MP ultrawide sensor. The rear cameras have PDAF, an LED flash, HDR, Panorama support. While the front features a 32MP (wide, f/2.0) motorized pop-up selfie camera with HDR mode.
The phone is backed by a 4000mAh battery with 45W fast charging support. It has the Wi-Fi 802.11 a/b/g/n/ac, a 3.5mm audio jack, Bluetooth 5.0, GPS, A-GPS, GLONASS, NFC, USB Type-C port, etc. In terms of the sensors, it has a rear-mounted fingerprint sensor, gyroscope, an accelerometer, proximity, and a compass sensor.
Motorola One Hyper Waterproof Test
In our waterproof test, we will test the device for waterproofing measures. Since the device is not officially waterproof, there are less chances that it will survive this test. After the test, we can confirm whether the device is fully waterproof or not.
warning
The above waterproof test's results are purely based on individual/team observation. These tests will only give an idea of whether a device is waterproof or not. We recommend users not to try this test at home, as it might damage your device.
| | | |
| --- | --- | --- |
| Device part | Waterproof Test | Splashproof Test |
| Camera | fail camera | camera works |
| Screen | flickers/ white screen issue | screen works |
| Speaker | muffle up sound | no problem |
After conducting the waterproof and splashproof test on the latest Motorola One Hyper smartphone, we come to the conclusion that this device is not waterproof. However Huawei V30 Pro is splashproof to some extent.
Conclusion
After conducting the waterproof test on latest Motorola One Hyper, we can say that the device is not waterproof at all. Immediate water submersion causes the device screen to fail and blackout. However, it can sustain a few accidental water or juice spills. We would not recommend users to take this device while water sports or activities like swimming, diving, river rafting, etc. Any long exposure in any kind of liquid can damage the device.