Realme 5s is the new smartphone launched by Realme this year. It is a budget-oriented smartphone that potentially comes with a splashproof design. So customers want to know whether the new Realme 5s is a waterproof device or not. So today in this article, we will cover the Realme 5s waterproof test and find out about the waterproofing measures of the latest Realme 5s smartphone.
Realme Devices are getting more advance and advance. Realme has dropped their latest Realme 5S which is an upgraded version of Realm 5 which was a huge hit in the Indian smartphone market. Since the original Realme 5 had the splashproof design so the customers have expectations that the new Realme 5S will comes with proper waterproofing measures. Because of these expectations, many customers want to know whether the new realme 5S is waterproof or not.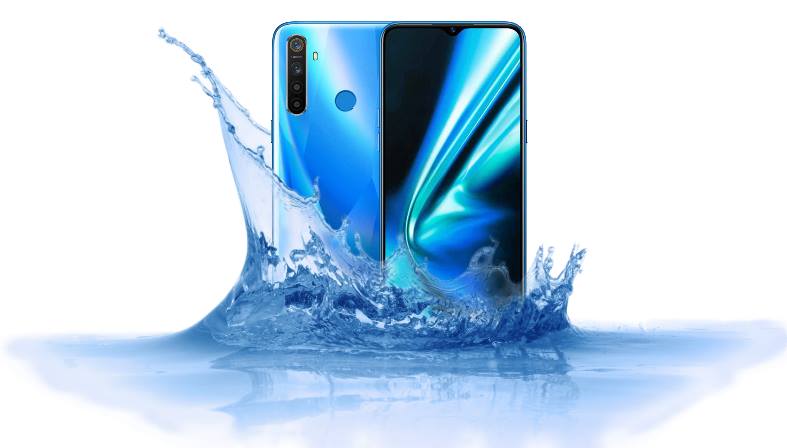 Is Realme 5s Waterproof device
Previously Realme has launched splashproof design devices. The recent Realme 5 is a great example of that. So customers are very curies whether the new flagship from Realme 5s will be waterproof or not. There are not many smartphone companies that provide a waterproof device at such a nominal price. So it will be interesting if Reme can actually provide a fully waterproof Realme 5s this year.
For any smartphone to be waterproof, it must possess a special IP waterproof rating. An IP rating is an international standard that is used to define levels of sealing effectiveness of modern smartphones. These IP ratings are presented in the form of IP followed by two numbers.
IP68 rating is the best that a smartphone can hold. However, it is important to note that this IP testing is done against freshwater. So you might end with slightly different results against saltwater or other liquids such as soft drinks.
According to tot he official website fo Realme, the new Realme 5s sure comes with a splashproof design. However, no official waterproof ratings were found for the device. This splashproof design does mean that the device is somewhat protected from water. But it's not a fully waterproof device. However, we will test that in our Realme 5S waterproof test.
Realme 5s Device specifications
Realme 5S is a budget-oriented device that comes with an exceptional build quality and specs list. It is a device-oriented for camera enthusiasts as it bags a 48-MP primary camera on its rear. Realme 5s was launched in December 2019. The device comes with a comfortable to hold 6.50-inch display with a resolution of 720 by 1600 pixels. Realme is powered by a 2GHz octa-core Qualcomm Snapdragon 665 processor coupled with 4GB of RAM. Moreover, it comes with a splashproof design. The device comes with the latest Android 9.0 Pie out of the box with Color OS 6.0 skin on top of it. The devices come with a massive battery capacity of 5000mAh for extensive users.
As far as the cameras are concerned, the Realme 5s on the rear packs a 48-megapixel primary camera with an f/1.8 aperture and a pixel size of 1.6-micron; a second 8-megapixel camera with an f/2.25 aperture; a third 2-megapixel camera with an f/2.4 aperture and a fourth 2-megapixel camera with an f/2.4 aperture. The rear camera setup has phase detection autofocus. It sports a 13-megapixel camera on the front for selfies.
Realme 5s Waterproof Test
Despite the attractive features, the new Realme 5s is still not officially a waterproof device. So we will test it in our Realme 5s waterproof test. This test comprises of splashproof test and waterproof test. After doing these tests, we will be able to know whether the new realme 5s can hold itself underwater or not.
warning
This test is purely based on individual/team observation. This test will only give an idea of whether a device is waterproof or not. We recommend users not to try this test at home, as it might damage your device.
| | | |
| --- | --- | --- |
| Device part | Waterproof Test | Splashproof Test |
| Camera | no issues | camera works |
| Screen | flickers/ white screen issue | screen works |
| Speaker | works | no problem |
As you can see from the above result that the device doesn't perform so good when immersed in water. The device holds good for the first 20 seconds, but then little bubbles appear. This means that the device is not waterproof and water is going inside the device's chassis. However, Realme 5s sure is splashproof since it passes our splashproof test.
What to do if your device is not waterproof?
Since your device is not waterproof, we advise you to take proper care of your device. You can follow these steps to do so:
Not to take underwater photos with the device
Don't make or receive calls in rain or while taking a shower
Not to take underwater selfies etc.
Do not drink coffee, soft drink or alcohol when you're using your device.
In case your device gets water damage, keep the device in a box full of rice for 1 hour and check with the nearest service center.