Disney+ is an American video-on-demand subscription-based OTT platform under The Walt Disney Company. But it seems that the Disney Plus Error Code 41 is appearing to a lot of users that simply don't let them play the requested videos online. It indicates that the content you're trying to stream isn't available from the Disney Plus servers. Now, if you're also one of the victims, follow this troubleshooting guide to fix it.
Even if you try restarting the Disney Plus application and retry playing the content again, the error won't go away which is another frustrating thing for the subscribers. But this doesn't mean only the Disney Plus server has such an issue. Because it may also be possible that your internet connection is causing this error, luckily, we've shared a couple of possible workarounds below that should help you out of this error.
How to Fix Disney Plus Error Code 41
Well, according to the Disney Plus Support team, the particular error code 41 is a digital rights issue and nothing else. It basically happens whenever a user tries to play content which the service doesn't have any rights to stream or region-wise as well.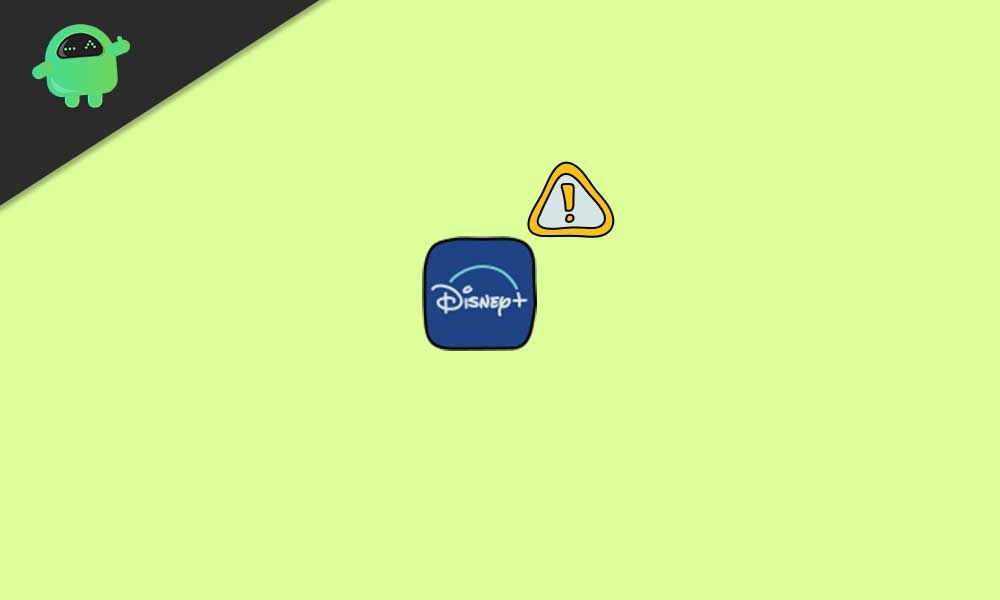 The complete error message looks like "We're sorry, but we cannot play the video you requested. Please try again." Now, without wasting any more time, let's get into it.
1. Reboot Your Device
Whether you're using a mobile or desktop to stream Disney Plus content, make sure to restart the device once to ensure that there is no issue happening due to a system glitch or temporary cache data. If you're a TV user and prefer a Firestick-like streaming device then you should restart the streaming device too.
2. Retry Playing or Stream Another Video
It seems that if a normal reboot to your device or the streaming device doesn't fix the issue, make sure to keep retrying the play the specific content multiple times, as it can become useful in some scenarios. Maybe some kind of glitch in the application, or the web player fails to stream the content due to the rights management issue.
However, if the multiple attempts don't work for you, try playing a different video on the Disney Plus platform using the same account and internet connection to ensure what's going on. If in case, the same error code appears again & again, that means the problem is maybe triggering due to your network connectivity.
3. Power Cycle Networking Device
Well, the chances are high enough that somehow your networking device like Wi-Fi router has some issues with the networking connectivity or system glitch. It can be easily fixed by performing a power cycle to your router. To do that:
Switch off the Wi-Fi router and let the LED indicators stop blinking completely.
Now, unplug the power cable from the router and power source.
Wait for around a minute and plug back the cable in.
Finally, power on your router > Connect to the Wi-Fi and check if you're able to fix the Disney Plus Error Code 41 or not.
4. Check Your Internet Speed
Another easy method you can follow is to simply test out your internet connection speed like what's the current download & upload speed you've. To do so, you can visit Ookla Speed Test or Fast.com service from your web browser to check for real-time internet speed.
Just make sure that you're checking for the same internet connection speed to which you're connected and trying to stream Disney Plus content. It's worth mentioning that your internet speed should be quite fast in order to properly stream or load the content from its server. The Disney Plus service requires the following speeds:
High Definition content: 5.0+ Mbps
4K UHD content: 25.0+ Mbps
5. Temporarily Use a Mobile Hotspot
If in case, you're having issues with the Wi-Fi network or feeling that maybe your ISP gets blocked by Disney Plus servers, we'll recommend you to try using the mobile hotspot temporarily. It'll ensure whether the problem is happening at your end or not.
If you don't get the error code anymore that means there is some issue with your ISP or Wi-Fi network. So, contact your ISP (Internet Service Provider) for further assistance.
Meanwhile, if you're still receiving the problem while using the mobile hotspot, the problem is happening from the Disney Plus server-side. In that scenario, you can't do anything except for waiting to get it fixed by developers.
6. Use Another Device
If none of the methods worked for you, try using another streaming device or the mobile/computer to retry the video streaming. It can also possible that using another device may resolve such an issue in a jiffy. It only happens due to the temporary cache data or glitch which can be found on the mobile operating system and Windows operating system.
7. Reinstall Disney Plus App
It's also highly recommended to uninstall and reinstall the Disney Plus app on your mobile device or TV. This will simply clear out all the possible issues like temporary glitches, cache data, corrupted app files, etc. Additionally, this will also force the Disney Plus app and the server to log back into the account freshly.
8. Check Disney Plus Server Status
It seems that the actual problem is having from the server end and in order to ensure it, you should visit the third-party Down Detector Disney Plus Server Status page to get all the real-time info. Additionally, you'll get the last 24 hours details, most reported problems, live outage map, and more.
At the time of writing this article, we can see that plenty of users are facing the Disney Plus video streaming and account log-in issues for a couple of days or so. In that scenario, you should have to wait until the problem gets solved. We can expect that the technical team will quickly try to fix the server-related issues.
9. Contact Customer Support
If nothing worked for you and even after waiting for hours, the Disney Plus Error Code 41 is still appearing to you randomly, make sure to contact the Disney Plus Custom Support for additional help. You can also submit a resolution ticket with all the necessary info and screenshots to get it fixed asap.
That's it, guys. We assume this guide was helpful to you. For further queries, you can comment below.