Many Windows users started reporting a weird error with their operating system. When they try to use the system restore, an error pops out with the "DLLRegisterServer failed with error code 0x80070715" message. This doesn't happen on the first step but when running a specific command to fix another issue.
The main reason behind 0x80070715 error code is that some important DLL file is missing. Now we have discussed about what are DLL files before, but in short, they are important configuration files for Windows to run certain programs. Because of missing DLL files or configuration issue, you might get DLLRegisterserver Failed with Error 0x80070715. With this error, you will not be able to access certain applications on your System.
I have faced DLL similar issues multiple times as I'm a Windows user myself, and fixing such issues is no big deal. Today in this article, I will show you how to fix DLLRegisterserver Failed with Error 0x80070715 error message on your Windows 10 PC screen.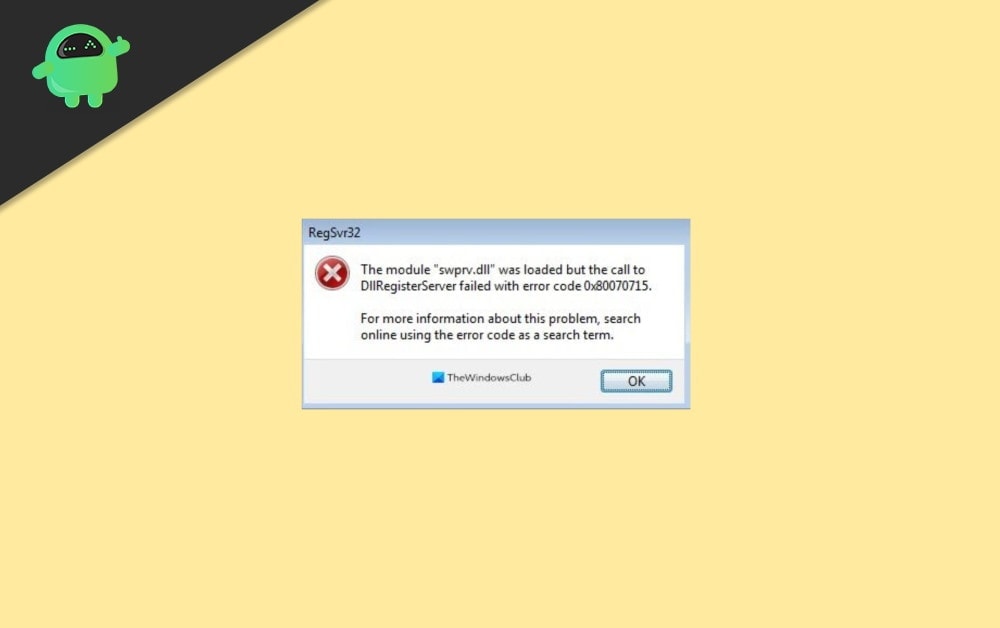 Fix: DLLRegisterserver Failed with Error 0x80070715
DLL issues are very common on Windows PC, and in most cases, they possess no harms as they fix themselves up while a simple PC reboot. So in case you are facing some DLLRegsterserver failed error message on your screen, give your PC a simple Reset. If it doesn't solve the problem, down below are some troubleshooting methods that can help you solve the problem.
Method 1: Use an Elevated Command Prompt
Some users also reported that the issue was fixed by running those commands as an administrator. To do so, simply search the start menu for cmd and right-click on it, and select Run as administrator.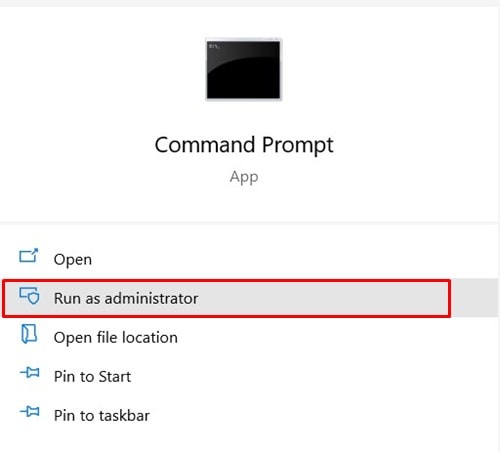 Now try going what you were doing before, and the issue should not occur again. But in some other cases, it requires much more than that. So here are some other solutions to fix the issue.
Method 2: Start the Volume Shadow Copy service
In many cases, it was found that this error occurs if the Volume shadow copy service is not started or running on your system. So to manually start this process, you have to.
Press Windows key and R key to bring up the Run box.
Type in Services.msc and hit enter.

Now Scroll down on the list of services to find Volume shadow copy service.

Right-click on it and select Start.
That's it, now go back and see if the issue is solved.
Method 3: Reset Windows Security App
Sometimes, the Windows security app could be corrupt, causing this issue to occur. So it can be fixed by resetting the Windows security application.
Click on the start menu and search for Windows Security.
Right-click on the app and click on Properties

Now when the Settings app opens, click on reset, and the app will be reset.
Now check if the issue is occurring again.
Method 4: Set automatic startup of Windows update:
Sometimes, certain services like the Windows update service may not start automatically. This could cause many errors, including the "DLLRegisterServer failed" error. So to fix this issue, you have to set the services to start automatically.
To do so,
Open services as mentioned in the first method.
Now Search for a service with the name "Windows Update".
Right-click on it ad select properties.

Under startup, type changes it to Automatic (not delayed).
Click on Okay and then restart your system. now check if the issue is solved.
Method 5: Update Windows
This issue occurs most of the time if you are running an older version of windows or previous versions like Windows 7. In this case, you have to download and install all pending updates to eliminate this issue.
So to update windows 10:
Press the Windows key and I to open Windows Settings.
Click on Updates and security.

Click on check for updates and let it download and install all available updates.
Method 6: Re-install Windows OS
Before reinstalling the entire operating system, you can try some fixes like running sfc /scannow on the command prompt. This should fix any issues with windows system files. Although in some cases, you cannot fix those errors. So it becomes mandatory to reinstall the OS to fix all those errors.
Note: Reinstalling the OS may result in Data Loss if done improperly. So only do it if you know what you are doing. Always make sure to take a complete backup of all important files before reinstalling the operating system.
Conclusion
So these were some fixes for the DLLRegisterServer error. This issue is very new, and there are only a few fixes out there. However, it has been fixed for us by doing the first method. But you're case may vary. Depending on it, a full re-install of the operating system might be the only fix for the issue.