Doogee is a Chinese smartphone company which was established in 2002 in order to contribute high-performance products to the global market with beautiful devices having smart features and design along with perfect operation. Doogee is enthusiastic and with a positive attitude towards life, Doogee always focuses on improving the user experience and to bring more convenience and joy for its users. The company is known for its making of a wide range of high-end devices within affordable range. It entered the smartphone market since 2013 and every year they unpack a set of high-end smartphones to the users with a pocket-friendly price.
Doogee has announced 6 flagship smartphones till date this year out of which Doogee S50, X60L, X53, X55, and S60 Lite have the Android 7 Nougat OS and the latest amongst them, Doogee X50 have the latest Android Oreo 8.1 update. Doogee also has a good count of smartphones with appreciable specifications in its backpack. While providing a set of good specifications at a comparatively low rate, Doogee is facing with some issues related to the device most of which can be fixed ourselves. Here in this article, we are going to fix the issue of sudden stoppage of charging and the steps to fix the issue.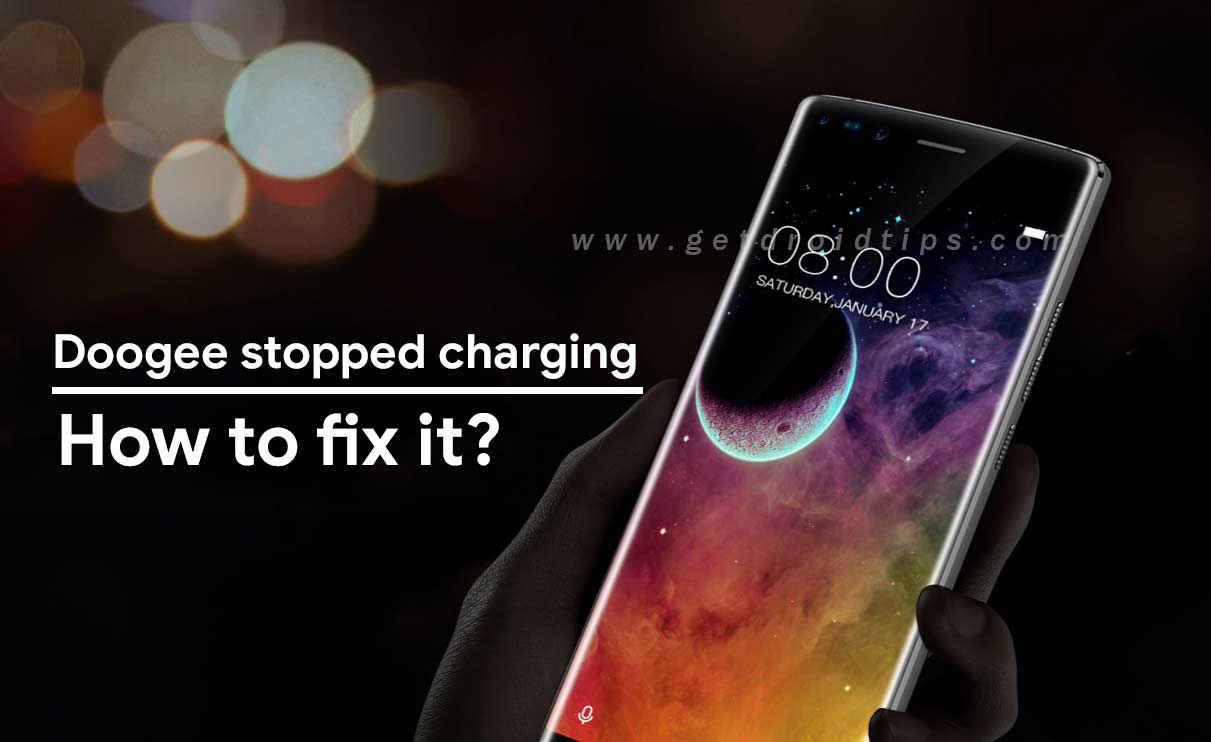 How to fix a Doogee device which stopped charging suddenly?
If you have a serious issue with your Doogee device when it suddenly stops charging, this article might be helpful to you explaining how to fix that issue. There can be a few problems related to this issue, like, your device might be refusing to charge as a whole, or it could be really slow charging to the extent that it is consuming the power faster than gaining it. If you are having any of these issues, here we are to help you to diagnose your battery blues and fix the problem.
Before the steps to fix the issue of charging problem of Doogee device, Try downloading "Ampere".
With this tool, you can check whether is the phone is charging and how much it is getting charged. Ampere can identify how much current is being drawn from your Doogee device while charging and it can also help you with suggesting the best charging method. In the app, if you the number in green colour, it indicates that it is charging and when the colour is orange and the number is minus, then your device is consuming power while charging.
Steps to fix When your Doogee device stopped charging suddenly.
1. Try with a different power source.
Sometimes there are chances that the issue may not be with your device or even the charger but maybe with the power outlet, we use to charge. So when the device is not charging, try to change the power source when we are regularly charging from a wall socket to direct charging from a computer and vice versa. If you are finding that the device starts charging on changing the source, the problem is diagnosed and you can hire an electrician to sort out the problem.
2. Check your charging cable.
When the Doogee device stopped charging suddenly, you should check two components before restarting your device and trying to fix the USB sockets. That is you should check the wall adapter and the charging cable. The most common charging problem lies with the charging cable as they have to cope with a lot of unwrapping and rewrapping, flexing and even trying to plug in them in weird angles, all which causes damage to the cable.
To detect the charging cable issue you can try switching to other charging cables and if found the issue lies with your cable you may need to change it.
3. Check the wall adapter
Wall adapter is the other components you need to check before you try other fixing techniques. This happens mostly with an adapter with a removable cable where there are chances that the USB port has been broken. So you can try with another adapter to check whether your Doogee device gets charged or not. Or else you can try charging your device with the same cable and if it gets charged you can confirm the issue lies with your adapter.
4. Try to charge by turning off the mobile.
If your Doogee device stopped charging suddenly, you can try to charge your device by turning to off or at least turning the screen off. Or else you can simply activate the aeroplane mode which can seriously speed up your charging time.
5. Check your device's USB socket.
If you have ruled out the possibilities of the abovementioned problems, then you need to move on to sort out the technical issues. In many cases the problem of charging lies at the small metal connector in the USB port which got slightly bent with which it can't make good contact with the charging cable.
To fix this problem, you need to switch off the phone and take a small pin and straighten the small metal tab inside the USB port.
6. Replace the battery.
Most of the devices come up with a non-removable battery. So in such cases, if you are sure that the problem is with your battery, you should take your phone to a repair shop to see if they can help you with the whole battery replacement situation. But if you have a removable battery in your Doogee device then you can try replacing your battery to fix the charging issue related to the battery.
7. Try to be up to date with your software.
Any change in the software running on your device can have a huge effect on the battery life. The updated software optimized to save the battery life. But some old phones can't handle the update software rollout and can't actually say how it can handle the battery life. If you find that your Doogee device stopped charging suddenly with a new software update, then you need to roll out to your older Android version.
And if you are running an older version and have a charging issue then you should try upgrading the software to sort out the charging issue.
Hope all these solutions will help to fix when your Doogee device stopped charging suddenly. If you have any queries, feel free to ask via comment or contact us page.