A mobile phone camera becomes an important option or feature we can say. If we talk about any smartphones, we definitely ask for camera features and specs at first nowadays. In the past few years, the Android Operating System and smartphones have improved a lot. Most of the devices are now come with a dual or triple rear camera setup while some of the devices come with a quad-camera and Penta camera setup. But Google is still providing a single camera lens on its Pixel-series devices. The camera software is way more powerful and improved than the others. Therefore, the Google Camera application on Pixel devices is just amazing. Thanks to all developers who have ported the Pixel GCam for so many devices to make it compatible and work perfectly for both Android Oreo and Pie. Now, you can Download Google Camera for Realme 3/3 Pro with all features working [GCam].
Google Camera Port and features
For those who don't have a clear idea about Google cameras, it's also known as the GCam. The latest version of GCam has been ported from the 3rd generation of Pixel phones based on Android 9 Pie with Night mode. It brings so many features such as Night Sight, HDR+, Lens Blur, PhotoSphere, slow motion, HDR+ enhanced mode, etc. The Night mode allows the user to click photos brighter even in dark conditions with a good amount of detail. It even offers better Portrait images, RAW file editing/saving, Video Stabilization, Google Lens, etc.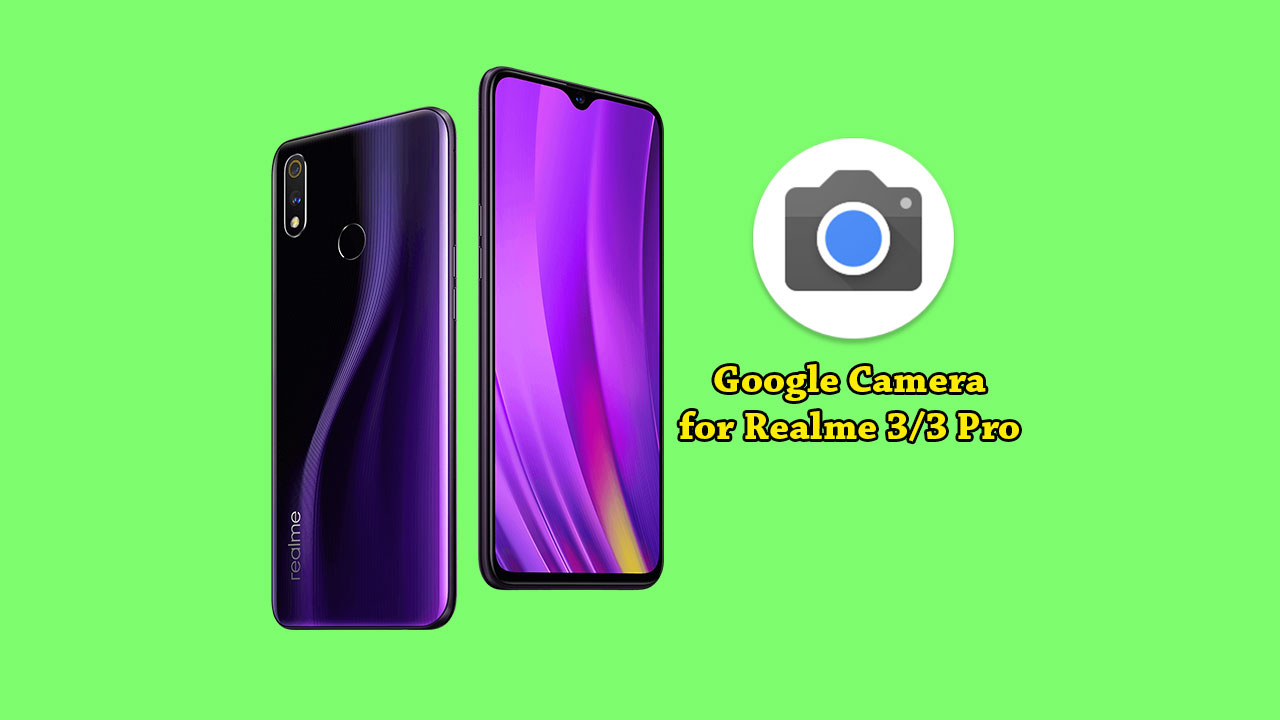 But other devices don't have such image quality like GCam images. Whereas, entry-level and mid-range devices won't get this feature. Google only provides this to its flagship devices. But the Android developers have made this easy for us to download and install the correct google camera for the compatible device model. Especially thanks to Arnova8G2 to provide such amazing google camera ports for most of the devices available in the market.
Here in this article, we will share with you the download link and steps to install the config file for GCam on Realme 3/3 Pro model.
Read More: Download Google Camera for Nokia 8 Sirocco [Portrait, Night Sight, and HDR+]
GetDroidTips will not be responsible for any issue that occurred to your device, boot loops after installing this ported APK. Use third-party APKs at your own risk.
Download Google Camera for Realme 3/3 Pro
Here are the steps to download for the ported Google camera for Realme 3/3 Pro model.
Download Realme 3/3 Pro Google Camera |
APK
Now, install the ported app like a regular apk file on your phone. It may ask you to enable app permission on your device to allow install the APK from third-party sources. Go to Settings > Apps & Notifications > Allow Apps from Unknown Sources.
Steps to Install/Load Config.xml File
After installing the APK, now you need to move the Realme_3_Config.xml file to the

/Internal Storage/GCam/Configs/

(the folder/path needs to be created manually)
Now, open the GCam app and allow the permissions if required.
Double-tap near the shutter button (dark area around capture icon) and a menu will pop up for config.
Tap on the Restore button. It will execute the downloaded Config.xml file automatically.
Steps to Export/Save the Config.xml File
In order to back up your settings, go to the settings menu.
Your configuration will be saved in the default

/GCam/Configs/

folder (i,e

/GCam/Configs/config-name.xml

). This file can be used on another GCam version which supports this feature as well.
That's it. You're done. Now you can enjoy the Google Camera Realme 3/3 Pro. We hope you found this guide helpful. Stay tuned to GetDroidTips for more info.