Whenever you need to fix any Mediatek smartphone, you need to use its secure boot download agent file. These files help you to locate and update firmware files easily. Without these files, you won't be able to use any MTK flash tools. So today, in this post we will give you latest Hisense MTK secure boot Download agent loader files. In the end, we will also guide you on how to use them properly.
Hisense is a great smartphone manufacturer with quality and reliable products. But sometimes, their device needs time to time software repairs. To do this, we need to use special Mediatek tools to fix or update device software. To use these Mediatek repairing tools, we need to use its special secure boot DA files.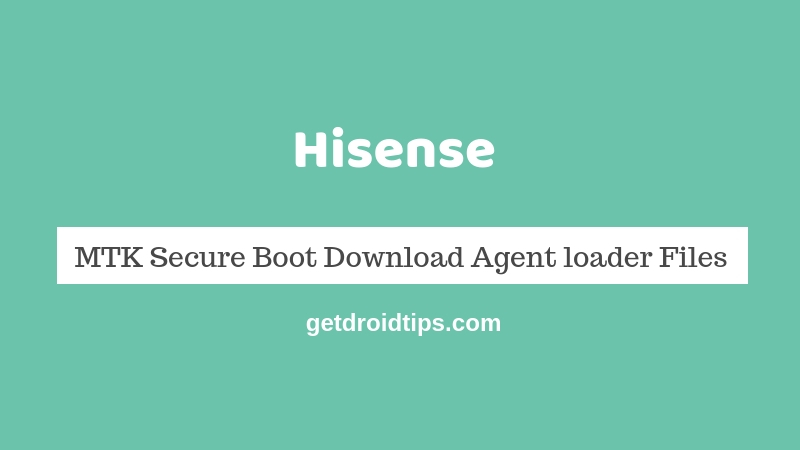 What are secure boot DA files
Before proceeding with Hisense MTK Secure Boot Download Agent loader Files, let's get to know a little about these files first. Secure Boot Download Agents are commonly known by the name of Secure DA files. These files play a significant role in any MediaTek flashing process.
Must read: Xiaomi Mi Pay Launches in India
These Secure DA files hold the key to access and update the internal storage of any device. With these secure Download Agent files, we can backup, flash, bypass Factory Reset protection (FRP lock) etc. So if you have a device in which you need to flash a custom ROM of IMG recovery file, then you will need its particular Secure DA files.
Advantages of Hisense Mediatek Secure boot DA loader files
These new Hisense MTK secure boot Download Agent Loader files will help you to access the main storage. After that, you can perform the following functions:
Also read: Nokia 6.1 (2018) receives December 2018 Patch
Bypassing Factory Reset Protection (FRP lock) system
Backup the device system image
Reading security codes of a particular MediaTek device
Flash new ROMs/Firmware in new MediaTek device
Download Hisense Mediatek Secure Boot Download Agent loader Files
Down below are links to download Hisense MTK secure Boot DA files for latest Hisense devices. You can use these files instead of the basic/generic MediaTek DA fie while using SP Flash tool or miracle box. We will also give step by step instructions for using these files using various MediaTek flash tools.
Note: If you're not able to access the download link, then try again with a VPN service. Some countries/ISPs have blocked Mega.nz servers on their network. So users need to use a third party VPN service to access Mega.nz server.
How to use Hisense MediaTek Secure Boot DA files
If you're already familiar with MTK flashing tools, then it is a super easy task. You only have to replace the generic DA file with the latest secure boot DA files.
Disclaimer: We are at GetDroidTips will not be responsible for any bricking/damage to your phone while/after using these Download agent files.
Pre-Requisites:
Download SP Flash tool latest version software
A working windows computer and a good quality USB cable
take a backup of your Android Device.
Charge your phone to at least 50% or more.
Download Android USB drivers.
Click on the button below for a complete guide on using these download agent files:
How to Use MTK Secure Boot DA file
Why Do we need Secure Boot Download Agent Loader Files
Many new Hisense MTK devices are now coming with a secure boot system. This system doesn't allow any DA file to access the internal contents of Hisense devices. So to bypass this secure boot lock on Hisense MTK devices, we need to use a special type of Secure Boot DA files. These files will allow us to access the internal storage of the device. In order to do that, we need to use a Hisense MTK Secure Boot Download Agent Loader files.
These files will work with almost all MTK flashing tools. However, if you're facing any problem using these files, then you can comment down below. I will be happy to help you out. Thanks for stopping by and have a great day!