If you are an Android user wanting to get the latest iOS 17 emojis on your smartphone, you have landed on the right page. In this simple guide, we will walk you through many ways to download and install iOS 17 emojis on any Android phone.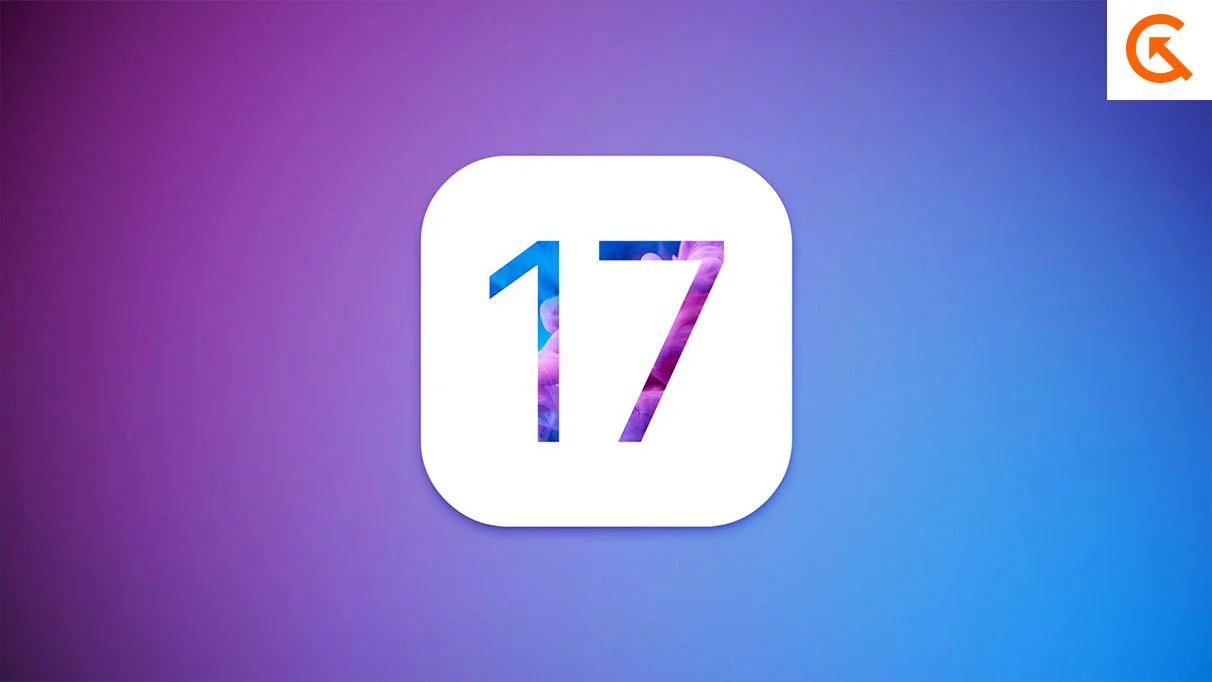 Emojis spice up the conversation a little bit. However, using the same set of emojis is just okay. It won't make the conversation great and fun. If you are someone like me who uses emojis a lot, you would be looking to refresh your smartphone with a new set of emojis. We all are aware that the latest iOS update brings new emojis.
If you are a fan of Apple emojis, let me tell you a good thing. You can download and install them on your Android smartphone. One thing to note here is that Apple's emojis are restricted to iOS devices. There's no official app or emoji set for Android. However, there are third-party Android developers who have made it super easy to install emojis on any Android phone. We'll be looking at them subsequently in this step-by-step guide.
How to Download and Install iOS 17 Emojis on Android Phones
You can easily get iOS 17 emojis on your Android phone. We have outlined four methods below. The first three do not require a rooted phone, but the fourth method requires your Android to be rooted. Go with the one of your choice.
Method 1: Using an iOS Emoji Keyboard App
There are plenty of iOS emoji keyboard apps on Google Play Store that lets you use your favorite emojis from iOS 17. Simply search for "iOS emoji keyboard" on the Google Play Store and you'll find dozens of apps. Some of these include Kika Keyboard, iOS Emojis for Android, and Facemoji.
In the below steps, I am using iOS Emojis for Android app to install iOS 17 emojis.
1. Download and install the iOS Emojis for Android app from Google Play Store.
2. Launch the app and tap on ENABLE IOS EMOJIS KEYBOARD.
3. Enable the toggle for iOS emojis Keyboard and click OK.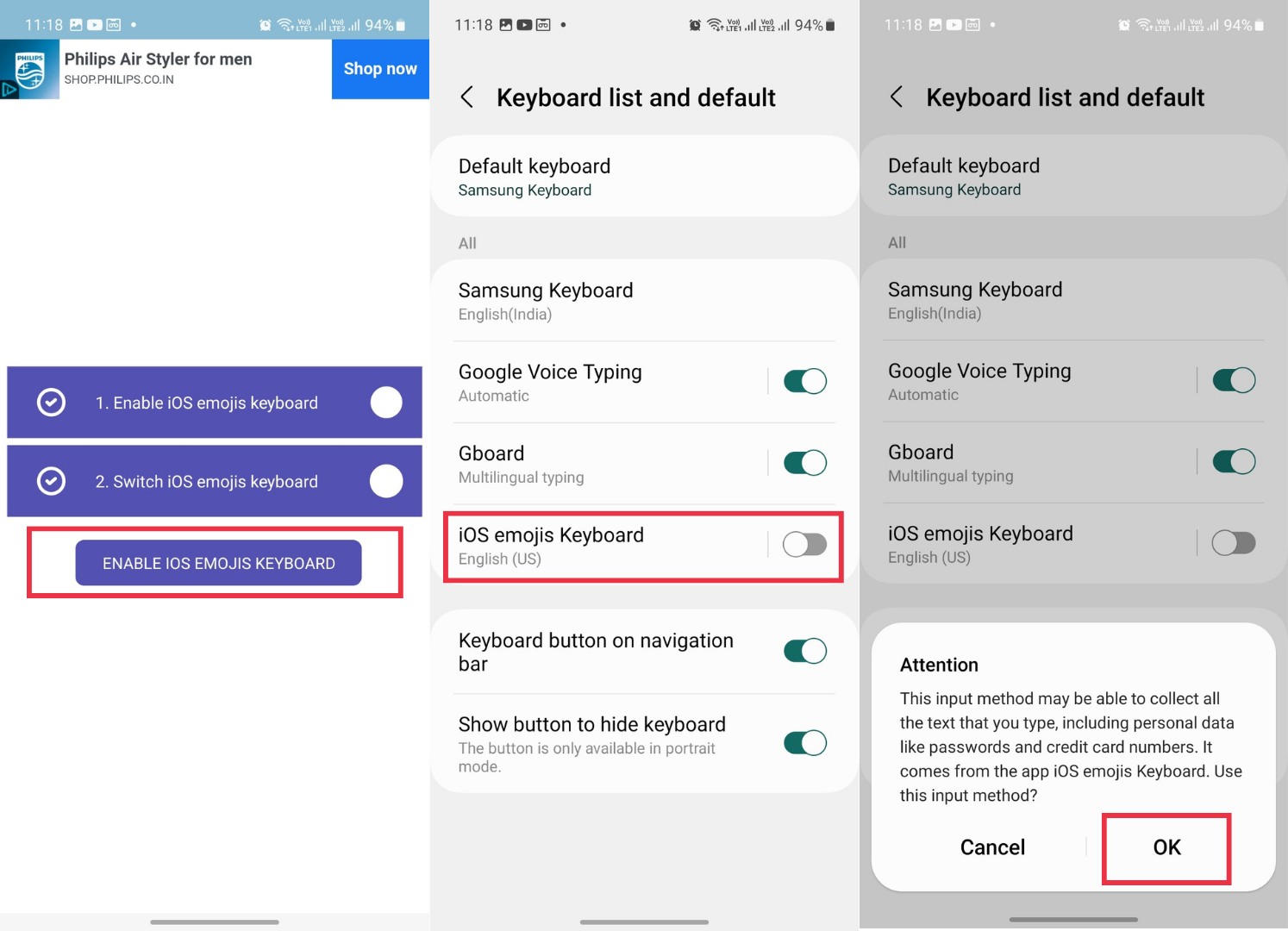 4. Now, go back to the app and click on SWITCH IOS EMOJIS KEYBOARD.
5. Select iOS emojis Keyboard.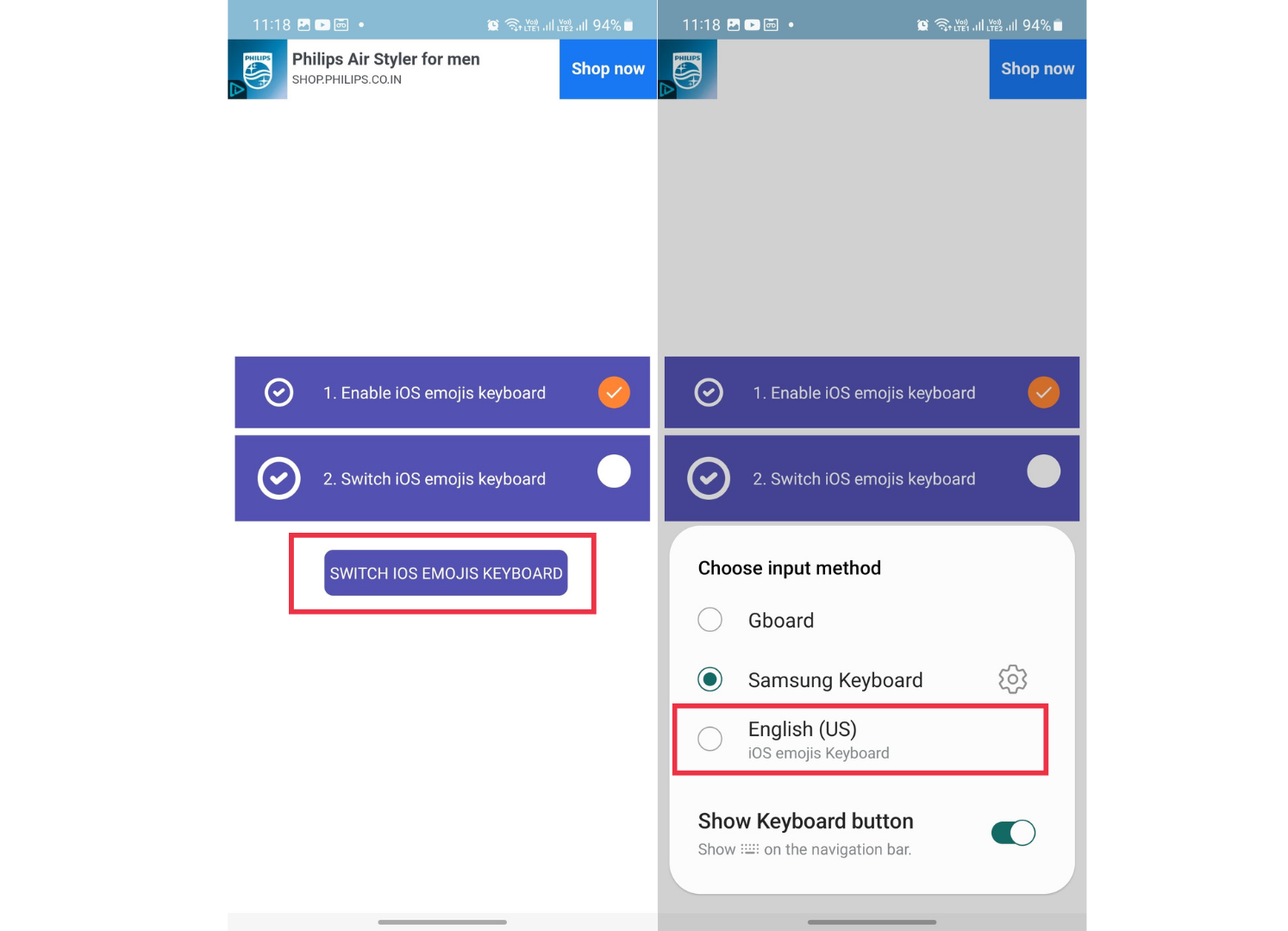 After applying these steps, launch any messaging app (WhatsApp, Telegram, etc) and start using your favorite iOS 17 emojis.
The developer constantly updates the app with the latest Apple iOS emojis. So, you do not have to download a separate app if you release new emojis. The only thing you need to do is to update the app.
Method 2: Using a New Font App
You can easily get the latest iOS emojis just by changing the default font type. The sad part is that not all Android smartphone manufacturers allow users to do this. If you are a Samsung user, you are in for luck. To check if your phone has this option, go to Settings and find the option to change the default font.
Download an iOS font app from Google Play Store such as zFont3. Install the app, download the font, and follow the steps mentioned on your screen to get the latest iOS emoji.
The app is constantly updated with the latest iOS emojis and other emojis. However, it may take a while for the latest iOS emojis to get uploaded.
Method 3: Using Emoji Replacer (Requires Root)
Developed by an XDA member rickybush_555, Emoji Replace is another great application to get the latest iOS emojis on your Android phone. Unlike other solutions we have mentioned above, this one requires a rooted phone. You'll need to have Magisk installed on your phone if not a rooted phone.
Download the Emoji Replacer APK using this link.
Install the app on your Android phone.
Open the app and allow the superuser access (on rooted phones).
Out of all emoji packs, download the latest iOS emoji pack.
Select one of the installation methods: Create a Magisk Module or Change With Root.
The device will reboot itself to apply changes.
Conclusion
Getting those wonderful iOS 17 emojis should not be a wish if you're an Android user. There are numerous ways to achieve it, which we just walked you through in this guide. We hope this guide was useful to you. If questions or queries are popping up in your mind, feel free to write them in the comment section below. We will try to respond at the earliest.