YouTube is one of the best platforms to watch online videos. It contains all kinds of videos ranging within different genres. Although YouTube allows some of these videos to be saved offline with their official YouTube app. However, this isn't true with all the videos, especially music content and other copyright videos. However, the good news is that you can unlock all such downloadable content with the help of AllDownloader website. Thanks to their complete web UI which brings the ability to download any youtube video on Go. Today we are reviewing the AllDownloader website which is one popular YouTube video downloader without any restrictions.
Downloading videos from YouTube still remains a complicated task. Where you can efficiently download the video from official app, but you can't share that video file with anyone else. These are some of the limitations why people prefer using AllDownloader to download videos all over the internet.
What is AllDownloader Website?
AllDownloader is a modern video downloading website which is able to catch high-quality downloads from YouTube server. If you love downloading videos from YouTube then you will fall in love with this website. This is because of its easy to use nature and it is completely free to use. There are many more additional features which make AllDownloader apart from other video downloaders available in the market. Yes, with this site, you can even download Instagram, Facebook, Vimeo and more.
Advantages of AllDownloader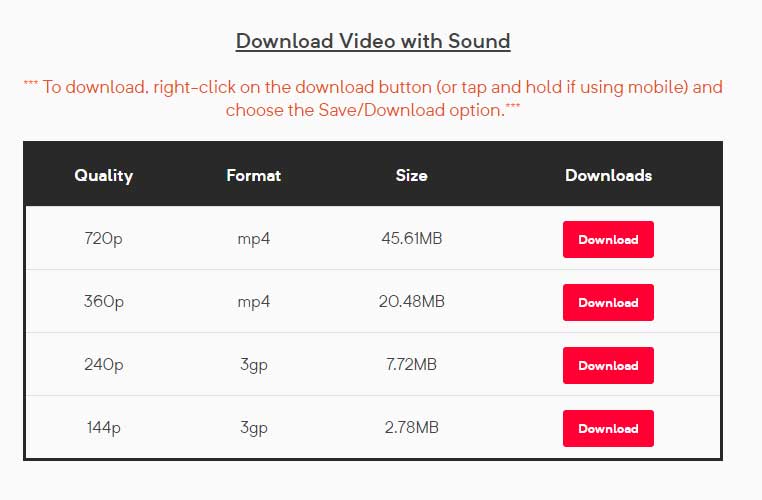 The main advantage of AllDownloader YouTube downloader is, of course, its video downloading capabilities. You can easily download thousands of videos without worrying about anything. The website is completely free to use so you don't have to worry about any trial periods as well. Apart from that, you can download YouTube videos ranging from 144p to 4k resolution.

This isn't the end of the list. Apart from YouTube, you can also download your favorite Facebook videos, Instagram, Tumblr, Vimeo, DailyMotion etc. AllDownloader supports all platforms. It comes with a super fast download algorithm which allows users to download content even with low data speed rates. On top of that, you won't be bombarded with weird ads like other platforms. All downloader is completely ad-free. The best part is, that all of these features are completely free – for a lifetime!
How to download YouTube Videos with AllDownloader?
We have talked about all the features, now let's learn how to download the videos using this site.
First of all, you need to open the link AllDownloader
Now put your favorite Youtube video link in the URL box.
Tap on Download option and wait until it shows all the video format
Now Select the quality of the video you want to download and tap download. Your video will be downloaded instantly.
That's it! Enjoy
After downloading the video, you can either watch it in any video player on your device/PC. Now you can download and enjoy as many videos as you like. Have fun!
So this is how you can easily download YouTube videos on your Android/Windows. If you're a huge movie buff who generally like watching videos offline then this website is a blessing for you. You can download unlimited videos for absolutely free. Be sure to share this article with your friends to let them know about AllDownloader. Thanks for reading and have a wonderful day!