In this guide, we will show you how to fix the Ethernet Unidentified Network issue on Windows 10. As and when this happens, you wouldn't be able to access the internet, although the network will be up and running. In some cases, your Ethernet network might display a yellow exclamation mark, while in others, you might be greeted with the 'No network access message. This would be in addition to the Unidentified Network message that would be displayed inside the Network Connection screen.
Well, not getting access to the World Wide Web is, without a shadow of a doubt, the most infuriating issue for every user. Many users have already shared their concerns about this error across the Microsoft Forums. If you are among them, then this guide will help you out. Today, we will discuss all the plausible causes for this issue and more importantly how could you fix this Ethernet Unidentified Network issue on Windows 10. Follow along for the detailed instructions.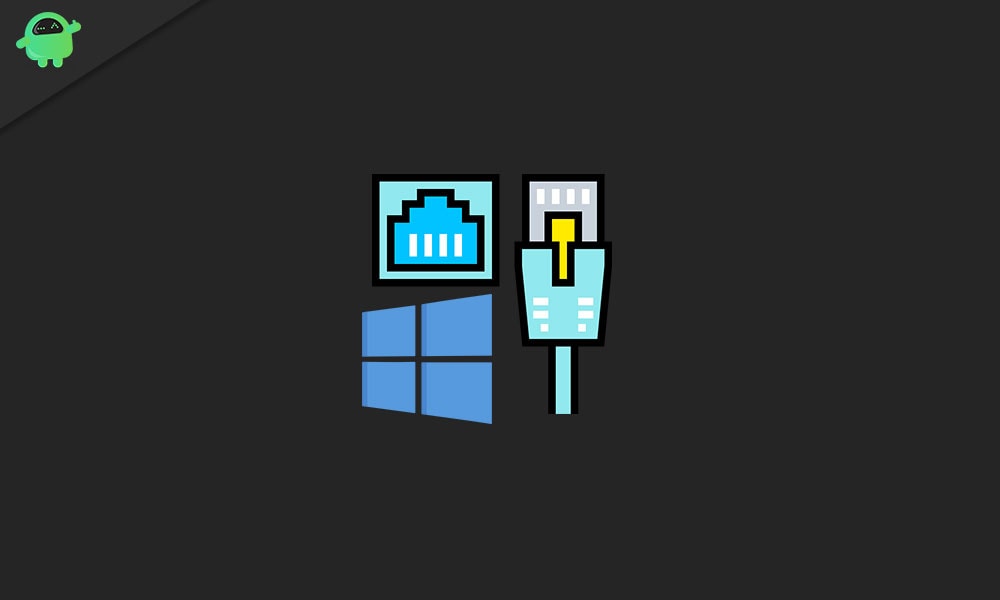 Fix: Ethernet Unidentified Network on Windows 10
While there could be quite a few reasons for the aforementioned error, yet an Incorrect IP configuration seems to be the most common one. Along the same lines, corrupt network settings could also show in this error. In some cases, the issue could be attributed to the Windows Defender Firewall. Not to mention the fact that if you are using an old network driver, then the said issue is imminent as well. With that said, this guide will outline the various methods to fix these issues which in turn will fix the Ethernet Unidentified Network issue on your Windows 10 PC as well.
Fix 1: Use the Network Troubleshooter
While it may be a tough job manually identifying the root cause of this issue, fortunately, you could leave it to Windows this time around. Microsoft comes with a baked-in troubleshooter that focuses on identifying and fixing the network issues. Here's how to make full use of this feature:
Hit the Windows+I shortcut key combinations to launch the Settings page.
WIthin that go to Network and Internet and click on Network Troubleshooter.
It will now scan for potential network issues and will list out the issues that you might be facing.
Select the one that is in sync with the current situation and proceed with the on-screen instructions.
Once done, restart your PC and check if the Ethernet Unidentified Network issue on Windows 10 has been fixed or not. If it is still there, then here are few other workarounds that you could try out.
Fix 2: Flush DNS/Renew IP Address
As already mentioned, issues with your current IP Address could well be the root cause of this error. In this regard, you could renew a new IP Address for your setup. Along the same lines, flushing the DNS could also prove to be useful in such cases. Both of these are explained below.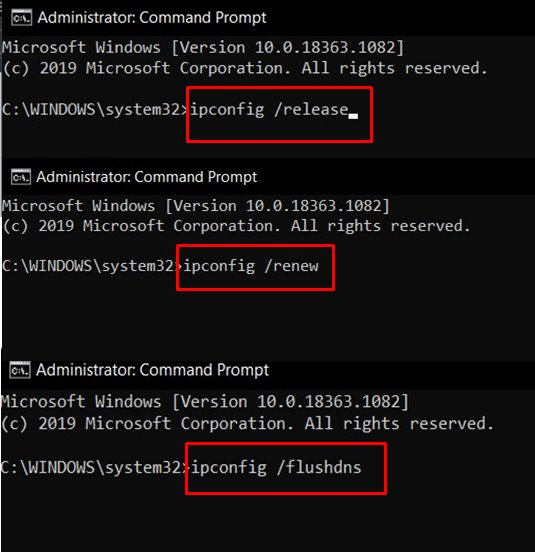 First and foremost, head over to the Start menu and search for CMD.
Then launch this Command Prompt window as an admin.
Now type in both these commands in the CMD window to release the current IP Address and renew a new one

ipconfig /release
ipconfig /renew

Once that is done, it's time to flush the DNS. Use the below commands for that:

ipconfig /flushdns
Now close the Command Prompt and see if fixes the Ethernet Unidentified Network issue on your Windows 10 PC.
Fix 3: Reset TCP/IP
In simplest terms, the TCP/IP is a networking protocol that allows two computers to communicate with each other. Issues with either the Transmission Control Protocol or Internet Protocol will straightaway results in the inability of your PC to send or receive data packets. The best bet, in that case, is to reset the network TCP/IP, as follows:
Launch the CMD window as an admin from the Start menu.

Then execute the following two commands within it:

netsh winsock reset
netsh int ip reset

Once done, close the CMD window and check if it fixes the Ethernet Unidentified Network issue on your Windows 10 PC.
Fix 4: Disable Windows Defender Firewall
n some instances, the Windows Firewall or a third-party Antivirus app might conflict with the network and would prevent it from establishing a connection. This usually happens when the antivirus acts a little overprotective and ends up flagging a false positive. In that case, you could temporarily disable your antivirus or Windows Firewall and see if it gives out any favorable result or not.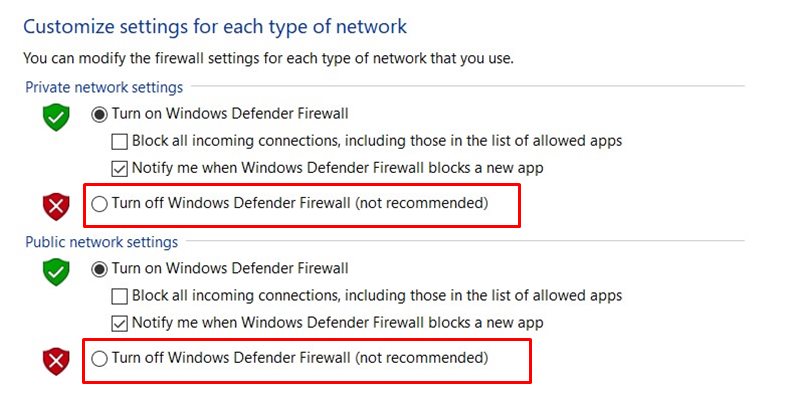 So search for Windows Defender Firewall from the Start menu.
Then click on Turn Windows Defender Firewall On or Off option from the left menu bar.
Finally, select Turn off Windows Defender Firewall under both the Public and Private network sections.
See if it is able to fix the Windows 10 Ethernet Unidentified Network issue or not.
Fix 5: Update Network Driver
Using an outdated network driver is sure to cause quite a few issues and could well be the reason behind this ethernet issue as well. So it is highly recommended that you check for and install the latest version of these drivers. Here are the steps for the same.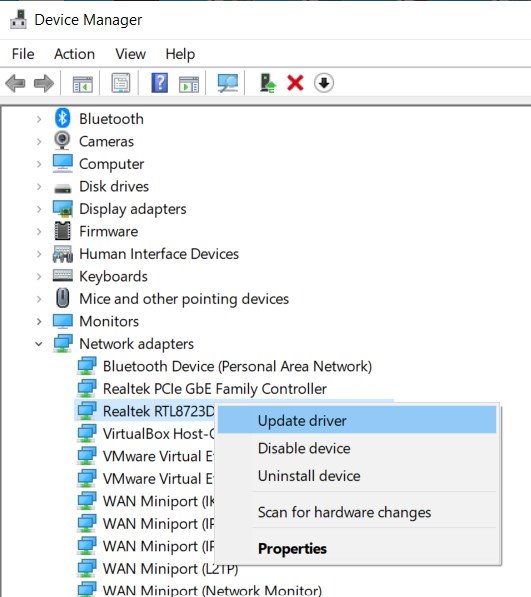 Use the WIndows+X shortcut keys and select Device Manager from the menu that appears,
Within that, go to Network adapters and click to expand it.
Then right-click on your adapter and select Update driver
next up, select Search automatically for updated driver software.
Windows will now search for the latest drivers online and will install them automatically.
Once done, restart your PC and check for the Windows 10 Ethernet Unidentified Network issue. If you are using facing it, then there's one more thing to try out.
Fix 6: Reinstall Drivers
If none of the above methods managed to give out favorable results, then you could consider uninstalling the network drivers and then re-installing them.
So right-click on the Windows icon on the taskbar and select Device Manager.
Head over to the Network adapters section and click to expand it.
Right-click on it and select Uninstall device.

Once removed, reboot your PC and the drivers should be automatically installed.
If that doesn't happen, then again go to Device Manager.
Right-click on your PC name situated at the top and select Scan for hardware changes.

It will then search for the missing network drivers and will then install it as well. Your issue should now be rectified.
With this, we conclude the guide on how to fix the Ethernet Unidentified Network issue on your Windows 10 PC. We have shared six different methods for the same, do let us know in the comments which one spelled out success in your case. Rounding off, here are some iPhone Tips and Tricks, PC tips and tricks, and Android Tips and Tricks that deserve your attention as well.