With HyperMotion2 technology that brings even more gameplay realism, men's and women's FIFA World Cup competitions during the season, women's club teams, and cross-play features, FIFA 23 brings The World's Game to the pitch. It is important to note, however, that your upgrades are not limited to your graphics.
Many players have turned up for this eagerly, but they have been having a problem launching the game. This troubleshooting article will teach you how to fix FIFA 23 won't launch or start issues on Windows PC. Check out this guide and see if it fixes the issue you have been experiencing.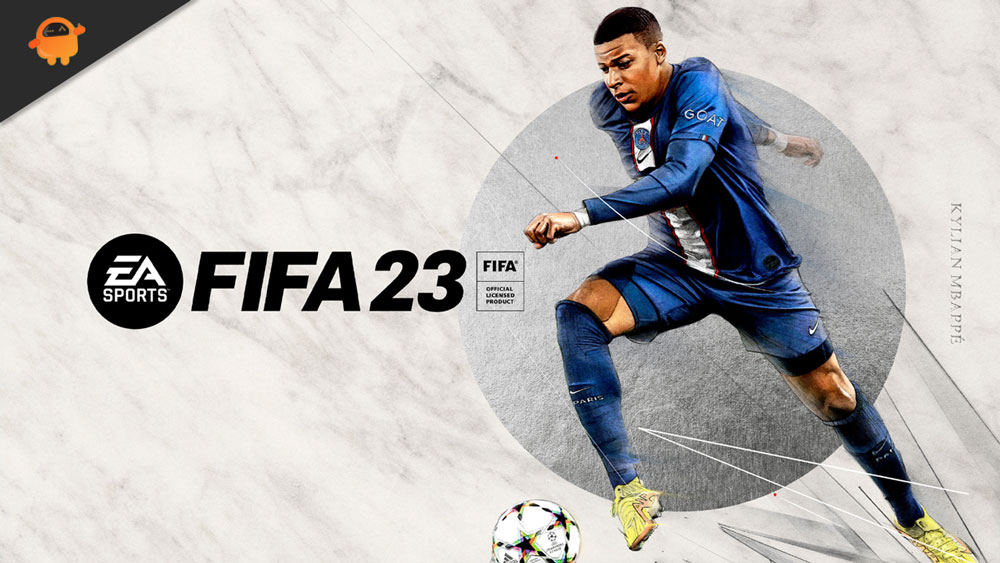 Fix: FIFA 23 Won't Launch or Not Starting on PC
There is no doubt why players are so excited about the AI motion and movement, upgrading skills, dribbling, and defending. I know how frustrating it can be to try and get some game time and get a won't launch or not starting message. Let's look at some of the needed fixes to fix the FIFA 23 won't launch issue.
Fix 1: Restart the PC
Your issue may also be temporary despite this being a temporary solution. It would be best if you restarted your PC and then restarted FIFA 23 before you tried any kind of fix that might affect some settings. As a result, FIFA 23 should no longer display any launching error. The next solution should be tried if the previous one does not work.
Fix 2: Update GPU Drivers
Players reporting the outdated graphics driver seem to be in the majority. The following steps will help you check for graphics driver updates if you're also using an outdated one
Click

Windows + X

to open the

Quick Link Menu

.

Go to

Device Manager >

Double-click

Display adapters.

Click on the dedicated graphics card you would like to use and then right-click it.

You can then click

Update driver > Automatically search for the driver

.

An update will be automatically downloaded and installed whenever it becomes available.

It is necessary to restart the computer in order for the changes to take effect.
Using this troubleshooting method, you should be able to fix the FIFA 23 not launching on PC issue.
Fix 3: Run FIFA 23 as Administrator
An application can be run as an administrator as it will be able to process more quickly on the computer. You might want to try this out if you have FIFA 23's won't launch issue. To get started, follow these steps:
Right-click

the FIFA 23 application and select Properties.

Select the

Compatibility

section in the

Properties

tab.

Here, check the box for

Run as Administrator

.

Last but not least, click

OK

after clicking on

Apply

.
Fix 4: Accessibility Settings
There are a few settings on your PC that might be causing the won't launch issue with FIFA 23. Here are the settings you need to adjust:
Go to Ease of Access in the Settings menu.

Select Display and then choose Simplify and personalize Windows from the options.

When playing FIFA 23, be sure that all animations, transparency, and hide scroll bars are turned off.
You can find this option under the Accessibility menu in Windows 11. It is still necessary to turn off the same settings.
Fix 5: Allow FIFA 23 on the Firewall
Some important features of FIFA 23 may not be accessible due to your antivirus or firewall. The won't launch issue you are experiencing on FIFA 23 may be caused by this. If this happens to you, here's what you can do:
On the Start Menu, click on Settings, then Update & Security.

Select Windows Security from the left-hand menu in the new window.

The Open Window Settings tab will appear once you click on it.

Once the new window has opened, click Firewall and Network Protection.

Ensure that the Allow an app through firewall option is selected, then click on it to open a new window.

Select Allow Another App from the Change Settings menu at the top.

To add the FIFA 23 game to the firewall, use the browse option.
Fix 6: Verify Integrity of Game Files
It can be very helpful if your game files are corrupted or missing for unexpected reasons if you are using a game launcher for those situations. Meanwhile, we have observed that corrupted game files are often responsible for the FIFA 23 not launching error. In order to verify the game files, you need to do the following:
For Steam Client:
Click on

Library

in Steam.

From the installed games list, select

FIFA 23

.

Go to

Properties > Local Files

.

Then, using the

Verify Integrity of Game Files

button, you can verify the integrity of your game files.
For Origin Client:
Launch

Origin

on your PC.

Locate

FIFA 23

in

My Game Library

.

Then click

Repair

(Gear icon) under

Settings

(left side of the screen).
Fix 7: Adjust the Power Option
It is possible that, in some cases, you can improve the performance of your computer by changing its power plan. The FIFA 23 won't launch issue has also been reported to be resolved using the performance option in power mode. Whoever is unfamiliar with the process, here's how to do it:
The first step is to open the

Windows Settings

.

Click on

Power & Battery

.

Click on

Power Mode

.

Click

Performance

.
Fix 8: Set High Priority
It may also be possible to fix the FIFA 23 PC won't launch issue by setting the application to a high priority on Windows PCs. Here are the steps you need to follow in order to set high priority:
On the Start menu, right-click.

Click on Task Manager.

By right-clicking on your game, you can access its details.

Then select High under Set Priority.
Fix 9: Reinstall The FIFA 23
Have you tried all the fixes, only to find that FIFA 23 PC does not launch? It's okay! You may still have a chance to fix the problem by reinstalling the game, but it is your last option. As a result, you should reinstall FIFA 23 on your computer and see if that solves the problem.
So, that's how to fix the FIFA 23 won't launch issue on Windows PC. We hope that you find this guide helpful. For more info, comment below and let us know.