Activision has had mastery in understanding the concept of a battle royale game. That's how they created a super insane delightful game Warzone! Notwithstanding, some things in the game aren't as realistic as they may seem. There was a time when it actually works really well. But, in the current scenario, the Warzone is plagued with bugs, horrible latency issues, and generally garbage servers. Currently, users are bothered because they were flagged with an unwanted dev error 5573 that kicks them out of the game's lobby.
If you are deadlocked due to this error! Then, most probably, you are in the right place. Although the developers are yet to address the dev error 5573 officially. But, guess what? After many investigations and trials, our team finds some really useful workarounds in order to fix this dev error. So, before it's too late, just follow the troubleshooting steps listed below and fix this distressing error.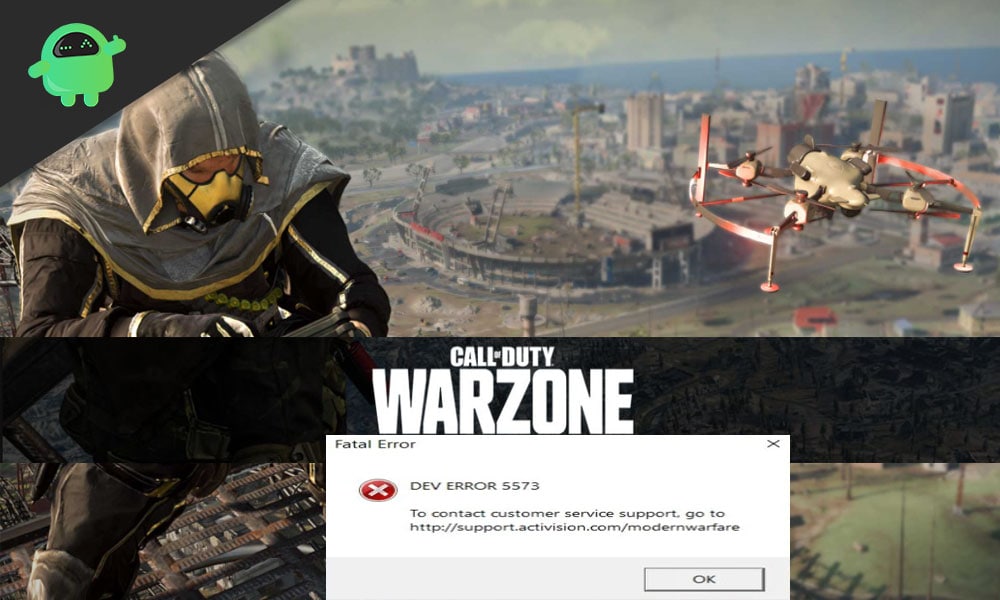 How to Fix COD Warzone Dev Error 5573
This article is divided into two-part first one describes how to fix this if you are playing this game on your PC and Console. So, if you are a console player, scroll down for fixes.
Fix 1: Install all Windows Updates
We always have to update our windows system software to avoid any compatibility issues. However, if you don't know how to install all the Windows updates on your PC.
Using your keyboard, press and hold Win+I. This will open the Windows Settings on your PC. After that, click on the Update & Security tab.
Using your keyboard, press and hold Win+I. This will open the Windows Settings on your PC. After that, you must click on the Update & Security tab.
Now, simply tap on the Check for updates button. Then, just wait and watch until your system searches for updates online. Also, you do not have to do anything more than clicking on Check for update button as windows can automatically download and install all the latest available.
Once all the system updates get installed on your PC. Go to the start and click on restart. Then, open the game and check if the problem persists.
Fix 2: Verify The Game Files
The dev error 5573 might indicate that something is missing on your files within the game folders. In that case, you need to verify your game file integrity on battle.net. Follow the steps given below to verify the Warzone game files:
First of all, launch your Battle.net client app.
Now, look at your left menu and find out Call of Duty: MW. Then, select it and click on Options, followed by Scan and Repair.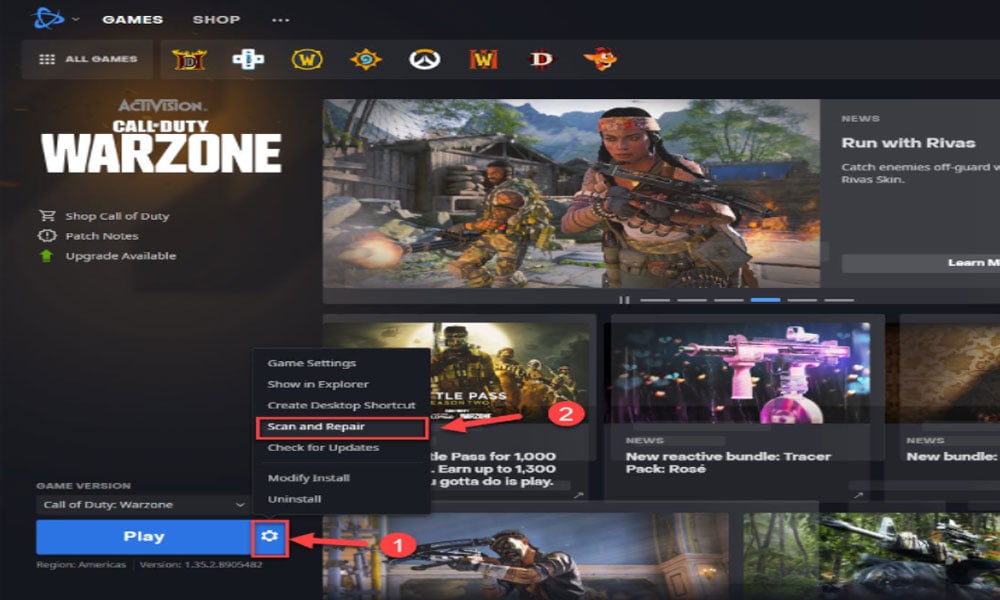 That's it. Now, hit the Begin Scan button and wait till your game files get verified and repaired.
Fix 3: Perform a Clean Boot
There is a huge possibility that some of your apps running in the background conflict with your game and prevent it from running smoothly on your Windows PC.
Using your keyboard, press and hold Win+R simultaneously to launch the Run prompt box. Then, you need to type msconfig inside the run box and hit the OK.
Now, in the next pop-up windows, switch to the Services tab, and you will see a box in front of the Hide all Microsoft services option, checkmark the box with the help of your mouse.
Also, Uncheck the services except for the service that is related to your hardware manufacturers, like NVIDIA, Realtek, AMD,
Click OK to save the settings.
Use your keyboard, press, and hold Ctrl + Shift + Esc simultaneously. This will open Task Manager on your computer screen. Then, shift to the Startup tab.
Select the programs that you think are interfering with your game, and click Disable option as shown in the picture.
Restart your PC and launch the Warzone to see if the dev error 5573 disappear.
Fix 4: Update Your Graphics Driver
Multiple reports are there that are also indicate that dev error 5573 is occurring due to an outdated graphics card driver. So, in a nutshell, dev error 5573 occur due to a damaged or outdated graphics driver. Use our comment box and tell us do you remember when you checked for a driver update last time?
However, there are two methods that you can use to update your GPU drivers: Manually & Automatically. Although we always recommend you to update your GPU drivers manually as this is the safest and perfect method to do so. But, you can also go for a third-party software application to update your drivers (at your own risk).
Fix 5: Rebuild Your Settings
Rebuilding your setting is also an option that helps you to fix the Warzone dev error 5573. So, we recommend you try this out. Follow the easy steps given below to do so:
Using your keyboard, press and hold Win+R. This will open the Run dialog box. Copy and paste the following text mentioned below in the search field and hit the OK button. %USERPROFILE%\Documents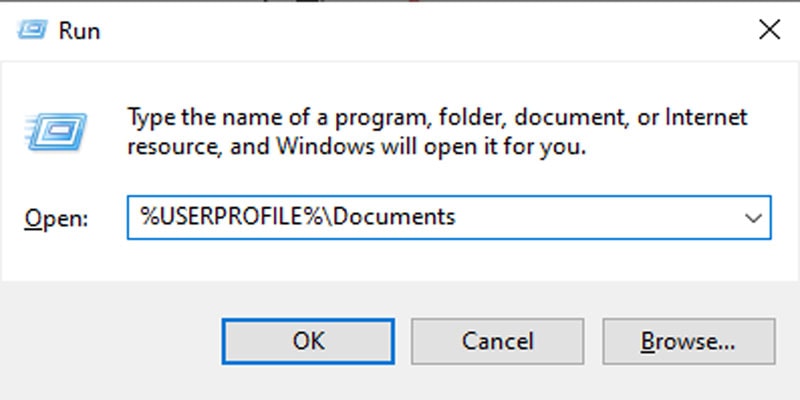 In the next opened window, delete all the files located inside the Call of Duty Modern Warfare/Call of Duty folder. Then, rerun the Warzone and check if the error code 5573 get disappear.
For Console Players
Fix 1: Switch to Another Account
After switching to their second account, many players are reported that the Dev Error 5573 get disappear. This simply means that this error is restricted to specific accounts. So if you have another account, then we suggest you switch to that account. However, if you don't know, then create one. Then, check if the error appears again on your PC while playing the Warzone.
Fix 2: Change to Windowed Mode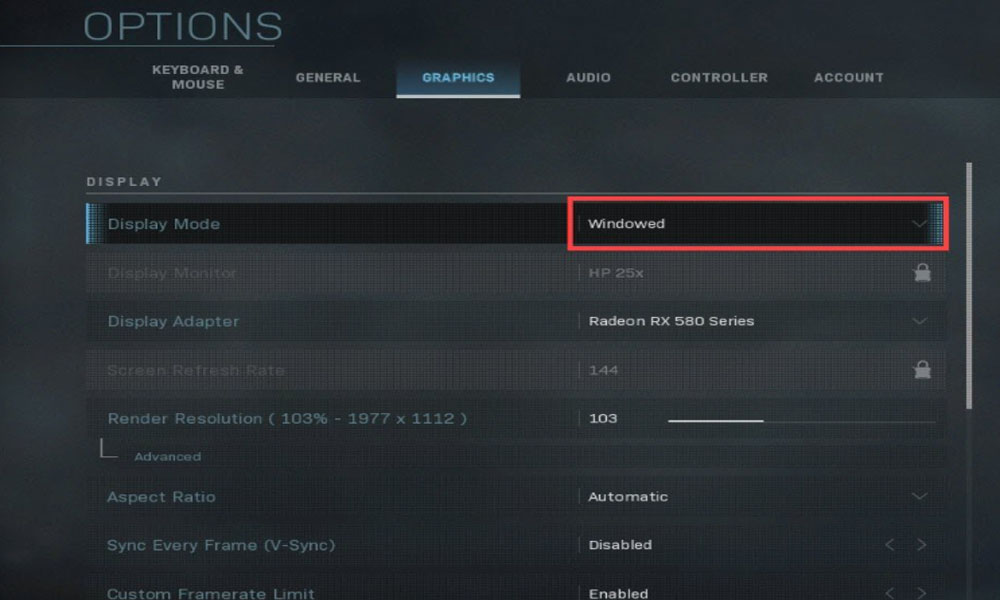 You may try opening the game in windowed mode just by heading towards the OPTIONS and then GRAPHICS. After that, inside the DISPLAY tab, you have to set Display Mode to Windowed.
That's it. Now, launch the game and check if changing the display mode to windowed solve your problem or not.
Fix 3: Switch to Modern Warfare Operators
Most of the users are reported that the error code 5573 get resolved when using an operator from Modern Warfare instead of using the Black Ops Cold War. Although it's unclear that if this step fixes the issue or not, many users can get rid of this dev error 5573 from their PC as per reports. So, what goes in giving it a try?
The game isn't too good to play. But, you may try once as it's undoubtedly an enjoyable game. Yeah! I agree there are many things in the game that need to be polished. Anyway, guys! These were some fixes that you need to know in order to fix the dev error 5573. We assume that this guide helped you. Also, you can check out our other latest gaming guide by clicking here. Furthermore, if you have any queries, use of comment box to let us know.