One of the best ways of exchanging files between your Mac and other compatible devices is via Bluetooth. It is wireless, easy to use, and is highly portable.
Unfortunately, there are specific issues at times that lead to loss of Bluetooth connectivity. In this guide, we will help you get acquainted with the causes behind Bluetooth connection problems in macOS, and their potential solutions.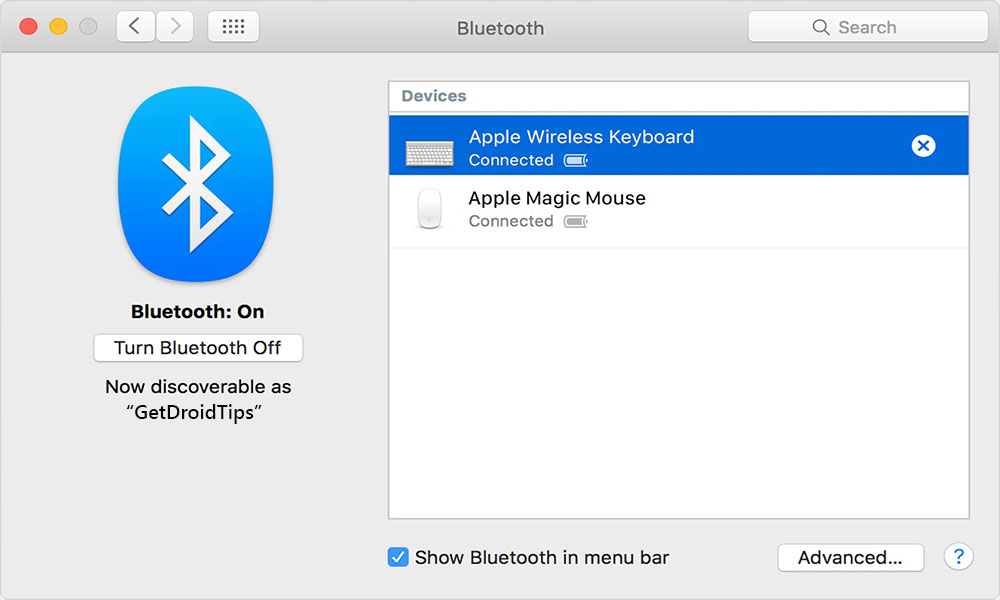 macOS Bluetooth Connection Problems and Their Fixes
Now we will discuss the potential fixes to solve Bluetooth connection problems. We recommend going through all the fixes as one or the other would surely help you solve the ongoing connection issue. Moreover, don't skip any one of them. Now that being said, let's jump into the fixes.
Confirm that Bluetooth has been enabled on both of your devices
Sometimes, loss of connectivity is simply because you mistakenly disabled Bluetooth on either your Mac or the other device. Make sure that both of your devices have Bluetooth up and running.
On your macOS, check the menu bar for the Bluetooth icon (if it has been added over there). If it has been greyed out, it means that Bluetooth is disabled. In that case, click it and choose "Turn Bluetooth On." If the Bluetooth icon is not present in your Mac's menu bar, just follow the instructions given below:
In the upper left corner of your screen, click on the Apple icon.
Go over to System Preferences -> Bluetooth.
See if you come across a "Bluetooth: Off" message over there. If yes, then click on the "Turn Bluetooth On" button to activate it.
If you wish, you can also take this chance to choose the "Show Bluetooth in menu bar" option over there. It will make this process faster and more convenient for you in the future.
Similarly, you can check your target device's settings to ensure that Bluetooth has been enabled in it. In case the device is a peripheral one, such as a mouse or keyboard, then press the switch to activate Bluetooth on it.
Ensure that your peripheral device has power
Sometimes, peripheral devices like computer mice and keyboards can get discharged without displaying any overt signs of the same. If your device has an LED that is illuminated when it is switched on, have a look at it. If your device is powered by batteries, then make sure that the batteries have been inserted properly and not run out of power.
In case your peripheral device has entered sleep mode due to inactivity, try interacting with it to re-activate it. Sometimes, Bluetooth also gets disabled if your peripheral device's battery power goes below a certain level. In all of these cases, powering up your device will get it ready to connect to your Mac via Bluetooth.
Check if there is some outstanding Setup.
In case you are attempting to connect a device for the first time, you will have to carry out a certain pairing process first. You will be required to carry out the setup process even if you connected this device before but updated your macOS after that. Just follow the steps given below:
Click on the Apple icon in the menu bar of your Mac.
Click on "System Preferences."
Select the preference corresponding to the device that is causing the problem. You should see some options to connect this device to your Mac. For example, in the case of a keyboard, you should see "Set Up Bluetooth Keyboard," and so on.
Check if your Bluetooth preference list is Corrupted.
If none of the above solutions work for you, it is possible that your Bluetooth.plist file has become corrupt. In that case, you can delete this file and let your macOS regenerate it. This step can help you overcome a number of problems related to Bluetooth. In order to do this, simply follow the instructions given below:
Go over to Applications -> Utilities and open up the Terminal application.
Copy and paste this command in the Terminal window: sudo rm -R /Library/Preferences/com.apple.Bluetooth.plist
Enter your password when asked, and then proceed to reboot your Mac.
After this, your Mac will automatically regenerate the Bluetooth preference list.
Reset your Mac's NVRAM
Non-volatile random access memory, also known as NVRAM, is a tiny part of your system's memory where macOS stores certain settings that it needs to access quickly. These include some settings associated with Bluetooth. If they happen to get corrupted, it can lead to a number of problems. Thus, you can try resetting your NVRAM and see if your Bluetooth connectivity issues get fixed. Keep in mind, though, that doing this will also reset your system preferences and settings. You will have to reapply them manually after the NVRAM reset has been carried out.
To reset your Mac's NVRAM, follow the instructions given below:
Close down your Mac as you usually do.
Now proceed to power up your Mac, and swiftly press Option + Command + R. Hold down this combination of keys until your Mac is restarted.
Release the keys; your Mac's NVRAM should be reset now.
Try resetting your Bluetooth Module.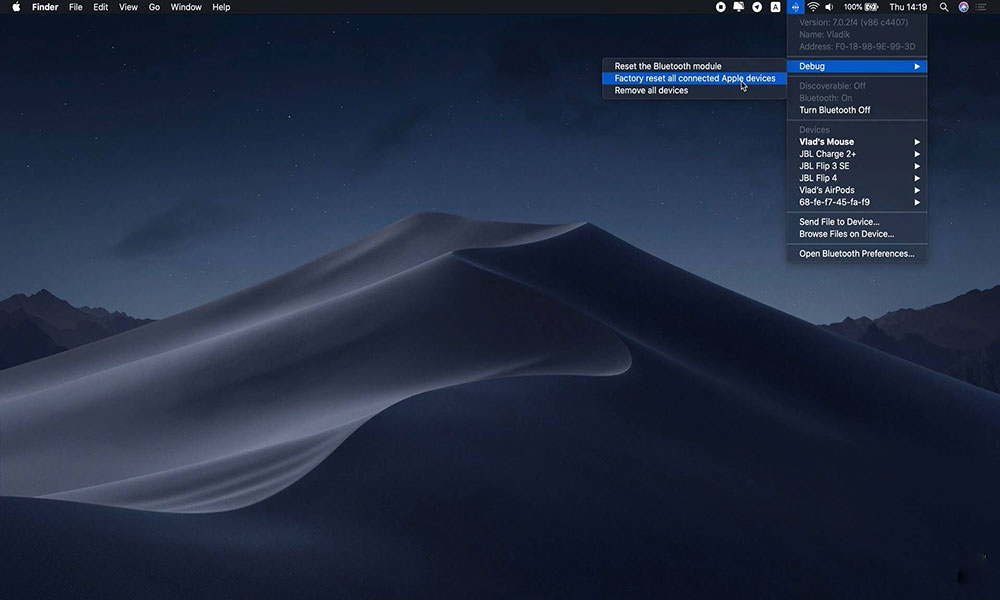 Press down the Shift + Option keys on your desktop.
Now, click on the Bluetooth icon present in the menu bar of your Mac and choose "Debug."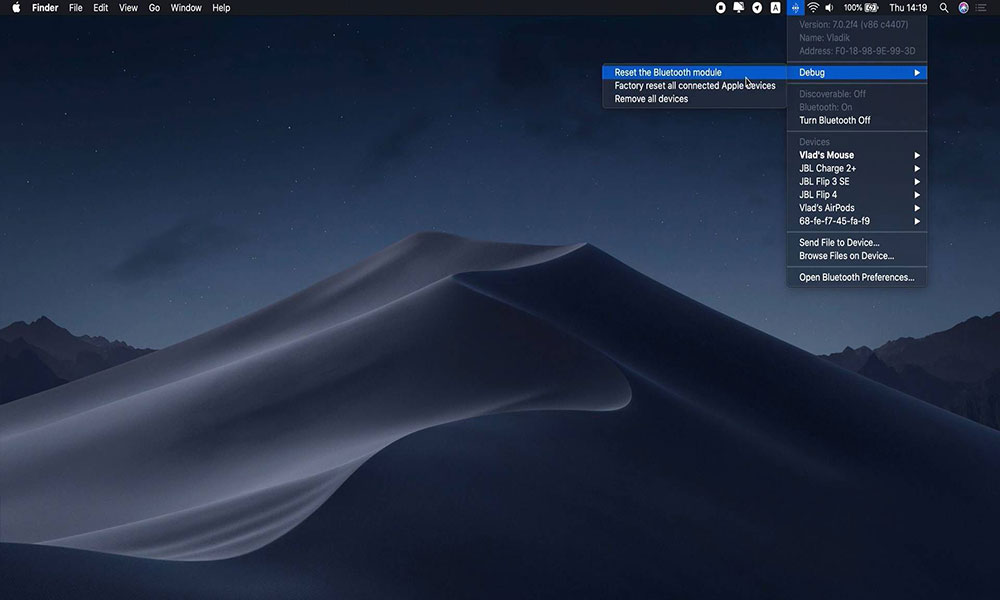 You will now be able to reset your Mac's Bluetooth settings via two different debug settings:
Reset the Bluetooth module – Choosing this will clear all the settings associated with the Bluetooth hardware module. When you reset the module, all the devices and peripherals connected to your Mac through Bluetooth will get disconnected as well. Thus, you will have to reconnect them manually afterward.
Perform a factory reset on all connected Apple devices – Doing this will bring back factory settings for all the Apple devices connected to your Mac at the moment.
We hope our guide helps you understand and fix the Bluetooth connection problems in macOS. If you liked this, do remember t to check our other Windows Guides, Gaming Guides, Social Media, iPhone Guides, and Android Guides to read more. If you have any doubts or feedback, comment down with your name along with the email ID, and we will reply shortly. Also, subscribe to our YouTube Channel to win our $150 giveaway contest. Thank you.