Starting off, the Nvidia ShadowPlay is a useful and powerful tool for Windows PCs that offers gameplay recording and capturing easily. It's one of the easiest ways to record and share high-quality gameplay videos, capturing screenshots, doing live streams with your friends, etc. However, it seems that several users are facing the Nvidia ShadowPlay Screen Recording Error. If you're also experiencing the same, check out this troubleshooting guide to completely resolve this issue on your PC.
The instant replay and recording feature is stunning with a high-quality resolution that offers up to 4K HDR @60fps and 8K HDR @30fps on RTX 30 series GPUs. Nvidia ShadowPlay is a hardware-accelerated tool that doesn't compromise with the background capturing or gameplay performance at all. Now, plenty of reports are coming out that whenever users click on start recording, it automatically gets ended in a few seconds without any specific error notice.
Whereas some of the unfortunate users are also reporting that after clicking on the end record option, the start recording doesn't work for the second time. So, both of these issues are very frustrating for all the affected Nvidia ShadowPlay users. Though reinstalling the ShadowPlay tool can fix the particular issue for most of the users, we'll recommend following other solutions first.
How to Fix Nvidia ShadowPlay Screen Recording Error
Here we've provided some of the possible workarounds that you should try once before heading over to any conclusion. However, you should keep updating your Windows OS build to reduce plenty of issues.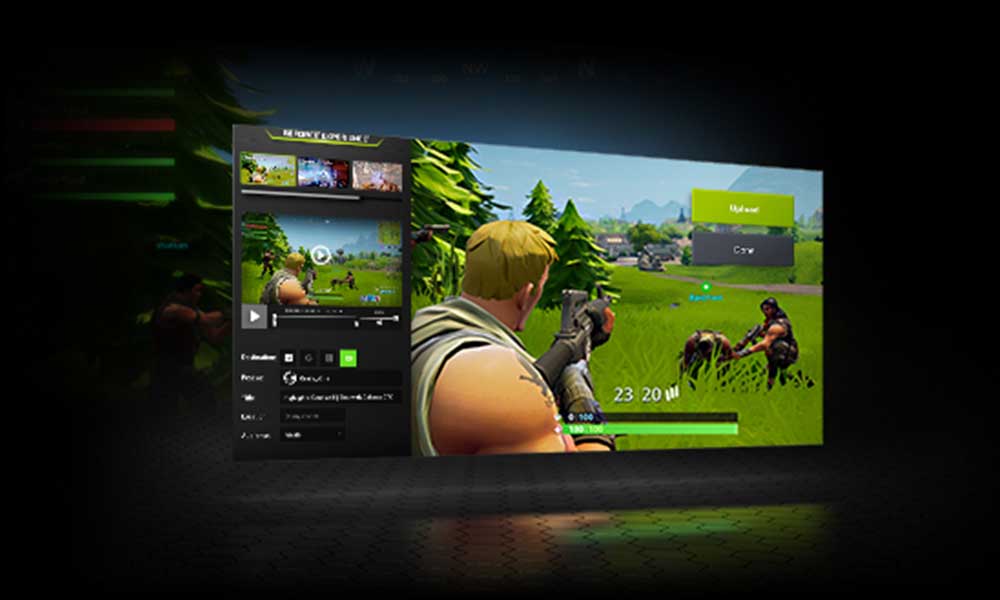 1. Turn Off & Turn Back On In-Game Overlay
It's quite common these days to have multiple issues with the in-game overlay feature whether you're using any recording or broadcasting tool or any game launcher & its default overlay application. In-game overlay apps can literally ruin the gameplay experience and in some cases, it can occur multiple issues also.
So, just try turning off and on the in-game overlay from the Nvidia GeForce Experience software on your PC. To do this:
Open the Nvidia GeForce Experience software.
Click on Options (gear icon) from the top right corner.
Just turn off the In-Game Overlay toggle and turn it on again.
Once done, you can now use your ShadowPlay capturing and recording without any issue.
Also Read: Fix: NVIDIA High Definition Audio Not Plugged In Error
2. Turn On Desktop Capture
It can also possible that a disabled desktop capture option in the ShadowPlay won't detect the full-screen gameplay somehow. Make sure to check whether the option is turned on or not.
Launch the Nvidia ShadowPlay on the PC.
Click on Preference > Enable the checkbox 'Allow desktop capture'.
Now, check if the recording error is occurring again or not.
3. Restart Nvidia Streamer Service
Press Windows + R keys to open up the Run dialog box.
Now, type services.msc and hit Enter to open up Services.
Right-click on the Nvidia Streamer Service > Click on Restart.
Once done, try capturing or recording via ShadowPlay to check for the issue.
4. Update Nvidia Driver
Updating the Nvidia Driver or GPU driver can fix plenty of issues or glitches on your PC that you may encounter during launching or playing games. Similarly, ShadowPlay or GeForce Experience regarding issues can also be fixed easily.
Right-click on the Start menu to open up the Quick Start Menu.
Click on Device Manager > Double-click on Display adapters > Right-click on your Nvidia graphics card.
Click on Update driver > Choose Search automatically for driver.
If the update is available, it'll automatically download and install the update.
Once done, restart your PC.
Finally, try running the Nvidia ShadowPlay screen recording from the overlay to check whether the error is fixed or not.
5. Reinstall Nvidia Driver
According to Nvidia support, fully uninstall the older drivers before reinstalling or updating drivers on your PC. Though it isn't necessary, it can help a lot in some cases.
Press the Windows key to open up the Start menu.
Now, just type Control Panel and click on it from the search result.
Click on 'Uninstall a program' > Search for the Nvidia software.
Right-click on it and select 'Uninstall'.
Follow the on-screen prompts and restart your PC.
Now, go to the official Nvidia website and download the latest GeForce Drivers for your PC.
Install the driver > Use Custom option and select Perform a clean install option. [No need to install Nvidia 3D Vision Controller and Driver]
Once all done, fully shut down your PC and then turn it on again. [Simple reboot doesn't clear the Windows memory cache completely]
6. Change Registry Editor Value
If the ShadowPlay desktop capture option isn't working for you or greyed out for some reason, try changing the registry editor value by following the steps below:
Note: This method won't gonna work for Optimus or switchable graphic card Notebooks.
Press Windows + R keys to open up the Run dialog box.
Type regedit and hit Enter to open up the Registry Editor.
Now, you'll need to look for the below registry: [HKEY_CURRENT_USER\Software\NVIDIA Corporation\Global\ShadowPlay\NVSPCAPS]
Then search for 'DwmEnabled' and 'DwmEnabledUser'.

Keep in mind that on some notebooks the 'DwmEnabledUser' won't be available. So you'll need to create one by going to edit > new > Binary value

You'll see the value data something like 00 00 00 00 for both of them.
Now, you'll need to delete the value and replace it with 01 00 00 00 [No need to add spaces between numbers]
Once done, save changes and restart your computer to take effects.
Now, you can easily run Nvidia ShadowPlay to check if the problem has been fixed or not.
However, if this method is hard for you to implement, then you can just download the registry file here and install it on your PC to apply changes.
That's it, guys. We assume you've found this guide very helpful. For additional queries, let us know in the comment below.