Apple recently rolled out the new iOS 14 updates on its iPhone and iPad devices. While many people have been able to update their devices easily and are already enjoying all of the perks that the new iOS update comes with, a lot of people still struggle to get their devices hooked on to this new frequency. In this article, we will show you how to fix the error of being stuck on the "Preparing Update" page while trying to update your iPhone or iPad to the new iOS 14.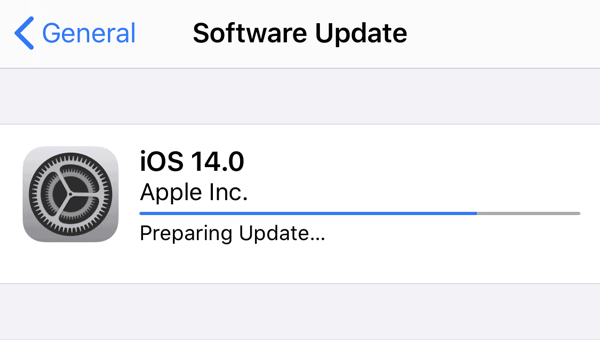 Before we go on with this article, you need to understand that a major contributor to experiencing this error is immense amounts of traffic. Whenever a new OS update is released, millions of users around the world are usually trying to update their operating systems over the air simultaneously. This can cause a huge load on relevant servers and cause you to experience this error.
Now, let us get to the business of the day – how to fix stuck on preparing updates in iOS or iPad, whether you're trying to upgrade to the latest version (iOS 14 or iPadOS 14), or an earlier version of these operating systems.
How to Fix "Preparing Update" Error
The process to fix this error is pretty straightforward. It involves having to restart the update process (which is understandably very annoying) because you lose time and consumed data (running up to megabytes and possibly even gigabytes).
However, at the end of the day, it could be worth it, because the new iOS update comes with so many intuitive new features that we are pretty convinced you will fall in love with. Apple provided a comprehensive report of all that this new operating system update has to offer all its users on its official website, and we gave a rundown of these features here.
That being said, the following are the steps to take if you want to make it past being stuck on the "Preparing Update" error page:
Open up the

Settings app on your iPhone or iPad.


Scroll down a little and click on the

General option.


Open up your iPhone or your iPad's storage menu.



On this page, you will find your iPhone's or your iPad's iOS 14 update file. It should be labeled

iOS 14 Developer Beta 2.



Tap on it and then click on the "Delete Update" option underneath it.

You will be prompted to confirm your action. Tap on

Delete Update

again to confirm the action.

When you have done this, restart your iPhone or your iPad.

Finally, go back to your

Settings

menu, tap on

General

, then tap on

Software Update.



Click on

Download and Install to begin the software update process all over again, and your problem should be solved.

Like we said earlier in this article, this process is an annoying one that requires a lot of patience and data sacrifices. However, we still think it is one that would be worth it in the end. If this article has been helpful to you, kindly let us know in the comments section below. We love to hear from you, and we hope you enjoy the new and improved iOS 14 operating system update on your iPhone or iPad.