iPhones and iPads are some of the most trending devices offered by Apple. We all know who is Steve Jobs a perfectionist, a visionary, an inventor, and perhaps a genius. Over the decade, Jobs have made Apple reaches new heights.
Talking about the current situation, then right now, after the recent iOS update, many users reported that the iPhone could not be restored because the firmware file was corrupted. Well, when we investigate this error, we have found some shocking facts behind this. And guess what? Our team successfully found some fixes regarding this, and that too we have mentioned in this guide. So, make sure to follow this comprehensive guide till the end.
Can I Restore My iPhone/iPad To The Same Firmware?
Yes, of course, you will, but it totally depends on the version that you are trying to restore. Yeah! Of course, that too if you know the proper method because without having the knowledge about that, it may be possible that you can lock your device.
What Does It Mean When Firmware File Was Corrupted?
If you are getting a firmware file corrupted error on your iPhone or iPad, then it means that the file that you are trying to install on your device is either damaged or may not be supported on your iPhone. So, you just need to check the file that you have downloaded for your device and whether that is for the version of your device that you are using.
How To Fix if Firmware File Was Corrupted
It isn't rocket science to do as you can fix this easily, but only if the error is not that severe. So, now let's start with our fixes and check out if these fixes have the capability to fix this issue.
First of all, you can check if the Firmware File you have downloaded is correct. You can use Google to see the current version available for your device and match it with the version that you have downloaded.

If you are using the correct Firmware version, you can simply check if there is any update available for your iTunes/Finder app.

However, if you are using any security software, we recommend you temporarily disable it and check if it helps you.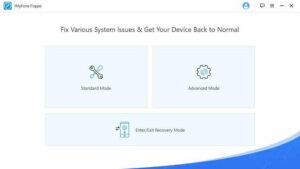 4.Still, no luck? Don't worry! At last, you can try resetting your device as many users previously reported that this helps them to fix this kind of issue. So, you can also try this out.
Additional Fixes:
There is an alternate way that you can use to fix if the iPhone could not be restored because the firmware file was corrupted. Yes, you hear it right; you can fix this issue by using the iTunes alternative, i.e., iMyFone Fixppo. iMyFone Fixppo is able to fix different iOS system problems such as the iPhone being stuck in black/white screen of death, recovery mode, and so on.
So this is a tool that will allow you to fix any phone that's stuck on a black screen or white screen or on a boot loop or just on that screen of death, and you're just not able to get back into your phone or maybe you forgot your passcode's just a fantastic tool that will allow you to bypass all that.
iMyFone Fixppo allows you to get your device up and running again without any issues or problems, and this is again an amazingly safe and a great tool to use and have on your PC.
Well, now let's take a look at the steps that will help you fix your iPhone/iPad using the iMyFone Fixppo application. So, here are the steps:
First of all, open the iMyFone Fixppo on your system and navigate to the Standard Mode. Then, choose Advanced Mode.

After that, you need to connect the device to the PC using the original cable and hit the Next button.

But, in case you are unable to connect your device, then simply follow the instruction mentioned in the below image.

After that, iMyFone Fixppo will automatically look for suitable firmware for your device. Once done, select a version that you would like to install on your iPhone and hit the Download button.

Finally, after the downloading process is completed, select the Start to Fix option. That's it. Now, it will automatically start repairing your phone. Once done, your device will automatically get rebooted.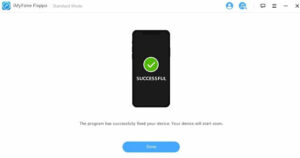 So, that's all we have for you on how to fix if the iPhone could not be restored because the firmware file was corrupted. We hope this guide has helped you. But, in case you have any issues, then let us know in the comment section.