iOS 15 beta is out for all iPhone and iPad devices, and it brings out new features and advancements. Since the software update is still in the beta stage, so few bugs and issues are expected. One common issue with iOS 15 is the focus mode not working correctly. So what are its issues, and how you can fix it up is what we are going to discuss today.
Smartphones are now taking a big chunk of our time from our productive days. Previously we could use the Do not disturb mode to have a peaceful sleep, but nowadays we start using Youtube, Facebook, and other apps which kills out time, and as a result, we get a very less amount of sleep. The new Focus mode feature in iOS 15 is something that can help us to focus better on our work and sleep schedule when it comes to our online digital usage of apps.
Also Read: Can You Jailbreak iOS 15? – What We Know So Far
Many users report that the Focus Mode is not working on their devices as per the Apple community. In iOS 15, there will be many types of focus modes have been given. Each focus mode can be linked to a dedicated home screen page that only shows compatible widgets and app icons to reduce distraction.
Fix: Focus Mode Not Working on iOS 15 / iPadOS 15 or Higher
Focus mode is designed to let you concentrate on your tasks without being distracted by random notifications and phone calls. Moreover, The feature can send notification calls and message filters or reply to others when unavailable. In addition, it comes with handy customization and automation functionality.
Focus mode is an upgraded version of the Do Not Disturb mode and brings more flexibility, control, and automation to get more focus to your digital life. Whether that's at work or reading creative time, sleep, or anything else, also, You can create a custom set of filters for how notifications call messages and auto-replies work on your iPhone or iPad.
As the iOS 15 is in the beta stage, naturally, it may have some bugs. Furthermore, the best part is the features provided in the iOS 15 are on the next level. So, here are some methods to fix the Focus mode issue on your iPhone or iPad.
Fix 1: Check for Whitelisted App
Focus Mode has a list of whitelist apps that consider being bypass the focus mode. Next, check whether the apps are in the whitelist by mistake in focus mode. Here is the process.
Open the Settings app on your device and tap on Focus.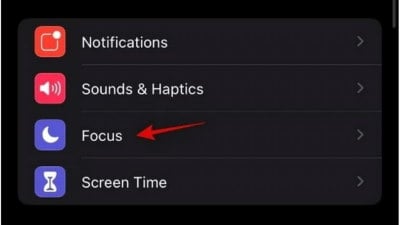 After that, tap on Do Not Disturb.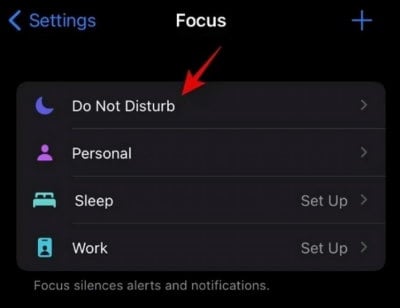 Then, Tap on Apps.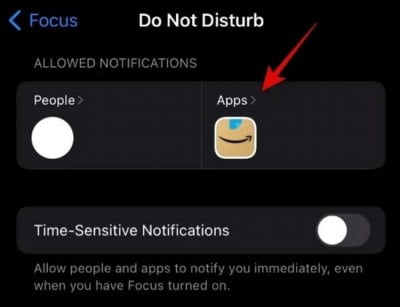 Now, Check if any app is allowed, then remove it.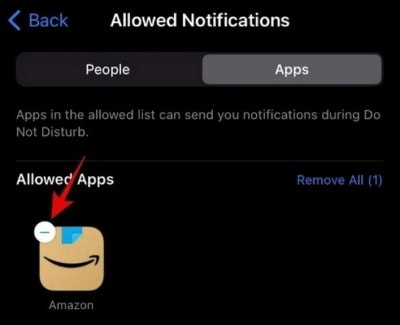 Then, check whether the Focus mode is working or not.
The exact process repeats to check for the contact. Remove to use the focus Mode. It is sporadic to bypass any app or people in the focus mode.
Fix 2: Disable the Focus Sync
Apple works on the Ecosystem to connect iDevices. So it helps to keep updated and connected. You may also face this problem if you have multiple Apple devices as Focus mode is also joined with Apple's Ecosystem. It will sync the current Focus mode to all other connected devices associated with the same Apple ID. If you find that focus mode is not working, it may have a sync issue to use focus mode, and you have to disable the cloud sync on your device. Here is the process.
Open the Settings app on your device and tap on Focus.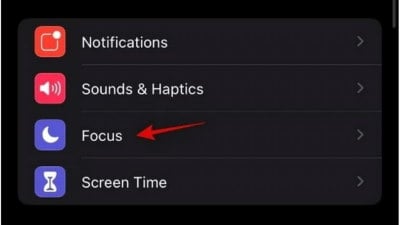 After that, turn off the Share Across Devices by a toggle switch.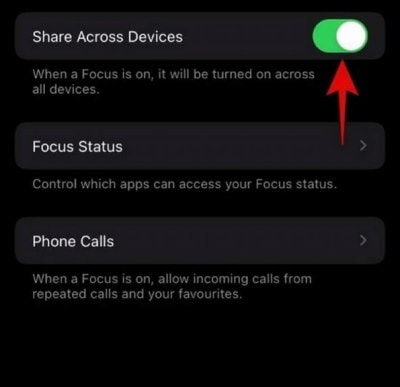 It will stop the sync in all your device. So now you can check the focus mode is working or not.
Fix 3: Turn Off the Repeated Calls
If the issue with the calls after focus mode is turn on, then maybe the repeated call feature by default. Repeated call feature permits to call multiple times without an interception in callers mobile whether the contact is in whitelist or not. This feature is help user to put emergency contact no so that they can call you at any time in case of emergency. So here is the process to turn it off.
Open the Settings app on your device and tap on Focus.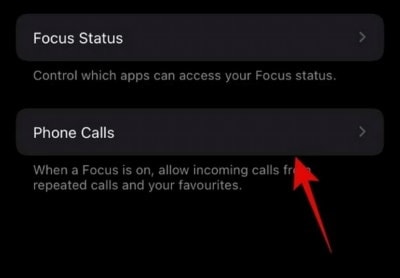 After that, tap on Phone Calls.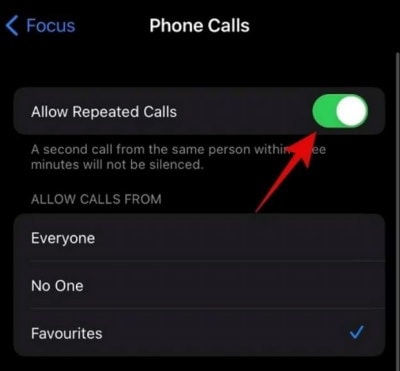 Now, turn off the Allow Repeated Call option by a toggle switch.
Fix 4: Turn Off Time-Sensitive Notification
Apple uses AI SIRI and machine learning to manage the device. Sometimes SIRI will automatically control focus mode as per the basic tome schedule. Like focus mode will automatically turn on in the night and disable in the morning. It is called Time-sensitive notification. These notifications may have vital information like OTPs, Account statements, emergency services, etc. If you don't want to use this feature, you can disable it. Here is the process.
Open the Settings app on your device and tap on Focus.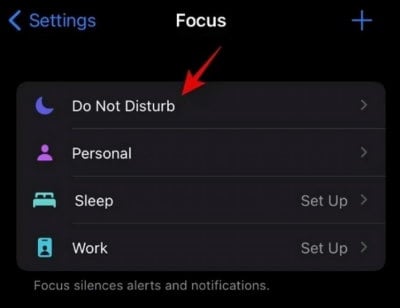 After that, tap on Do Not Disturb.
Now turn off the Time-Sensitive Notification by the toggle switch.
Fix 5: Disable the Silent Switch
Sometimes a little switch can make a difference. One of the essential and popular features is a silent switch. Check once whether it's not turn on. Due to that, your device has already activated the silent feature, so it may be why Focus Mode is not working. Please turn it off by physical toggle switch.
Fix 6: Turn On the Delayed Delivery
To identify the less critical notification Delayed delivery using Apple's Machine learning. It will automatically deduct the importance of notification and sent it to the message centre. Moreover, It will be divided into badges to not allow any interception on your Workflow. If you are getting regular notifications, then maybe the Delayed Delivery feature is disabled on your device. To turn on this feature, here is the process.
Open the Settings app on your device and tap on Focus.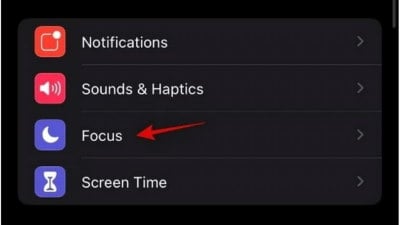 After that, tap on Do Not Disturb.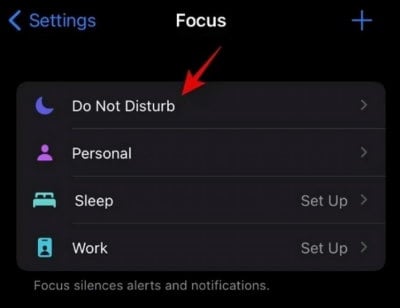 Now scroll down on the screen and tap on the Option

Then, Check whether the Delayed Delivery is turned on or not by a toggle switch.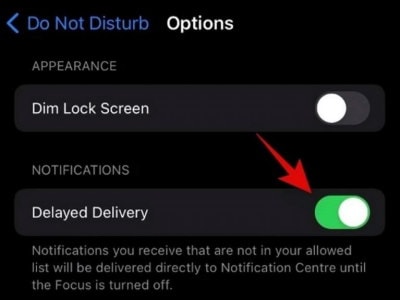 If not, then turn it on by toggle switch.
Once it enables, you will not be disturbed by any unnecessary notification on your device.
Fix 7: Reset and Reinstall the iOS
If nothing will work, the only option left is to reset and reinstall the iOS version on your device. A lot of bugs are rectified by resetting your device. Also, there may be some issue with your iOS package as it is in developers mode, so that it may have some bug. A clean install will rectify all the problems. However, if you don't want to reset or reinstall, then wait for the next update. The devs of iOS 15 will soon rectify it by providing an update.
Conclusion
Here are some methods to rectify your issue of Focus mode is not working in iOS 15. For any feedback and questions, comment down below and for more solutions for iOS 15, check our website.