In an open-world game like Genshin Impact, the toughest part indeed is finding the locations. Whether it is about a certain item, a hotspot in the questline, or the bosses, you will need to locate the right places before getting your hands on anything. Fortunately, the map of Teyvat turns out to be a blessing for the players. It simply marks the location of various items, chests, collectibles, ingredients, bosses, and routes to several other places that are essential throughout the gameplay.
No doubt, to solve this massive open-world game, many communities have come up with free maps to help the players. But none of them were as effective and detailed as the map of Teyvat. Moreover, since the interactive map was revamped in version 2.6, it now includes more updated features and locations. With that said, today we will get into more detail about what the interactive map of Teyvat has to offer to us.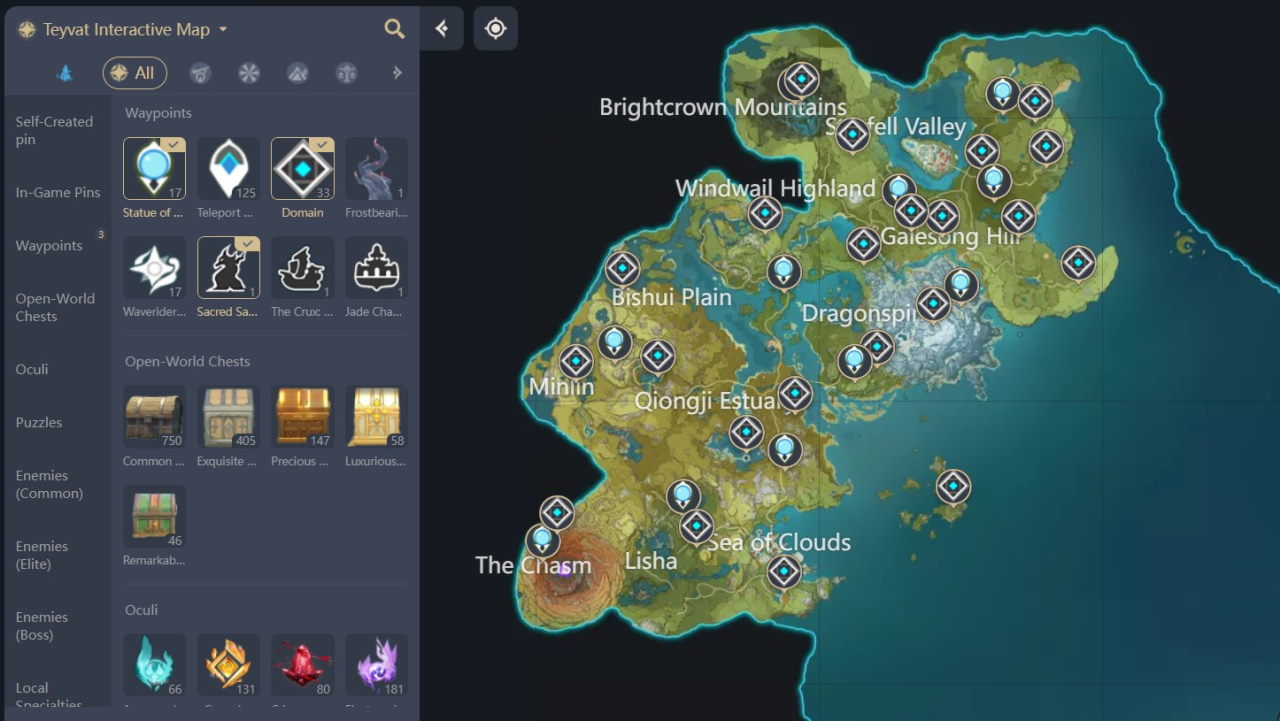 Genshin Impact: Interactive Map of Teyvat
Throughout the gameplay, players must keep lurking for various items, quest-related objects, or even different activities. The interactive map of Teyvat is just a tool to make this journey a little relaxing.
This map marks the locations making it easier for you to locate them as you go. All you need to do is search for what you need and it will display an interactive map pointing to all the locations where you can find your searched object or spot.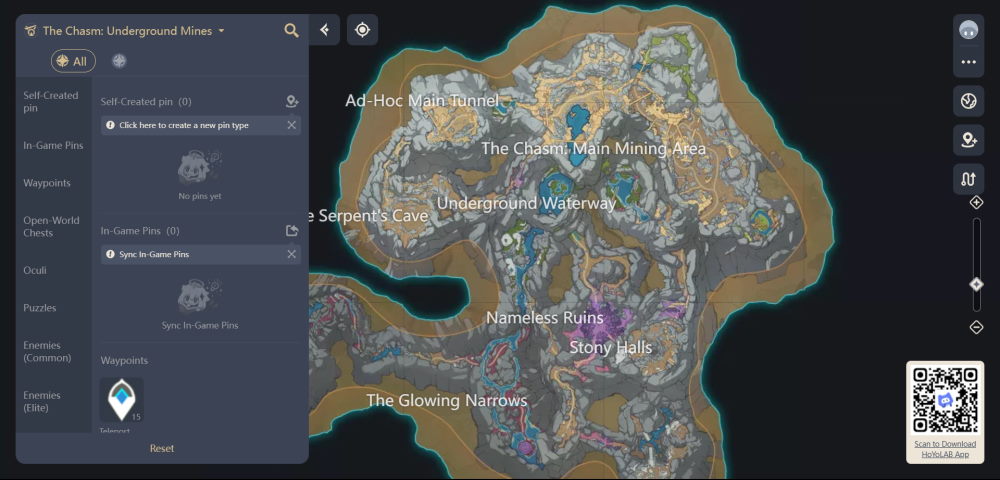 Starting from Self-created Pin, In-Game Pins, Waypoints, Chests, Puzzles, and Chests, the Geshin Impact Interactive map provides you with almost everything. Once you select what exactly you are looking for, the map will mark all the relevant locations while displaying the routes to get to them. Just zoom in to the map and follow along the route until you get there.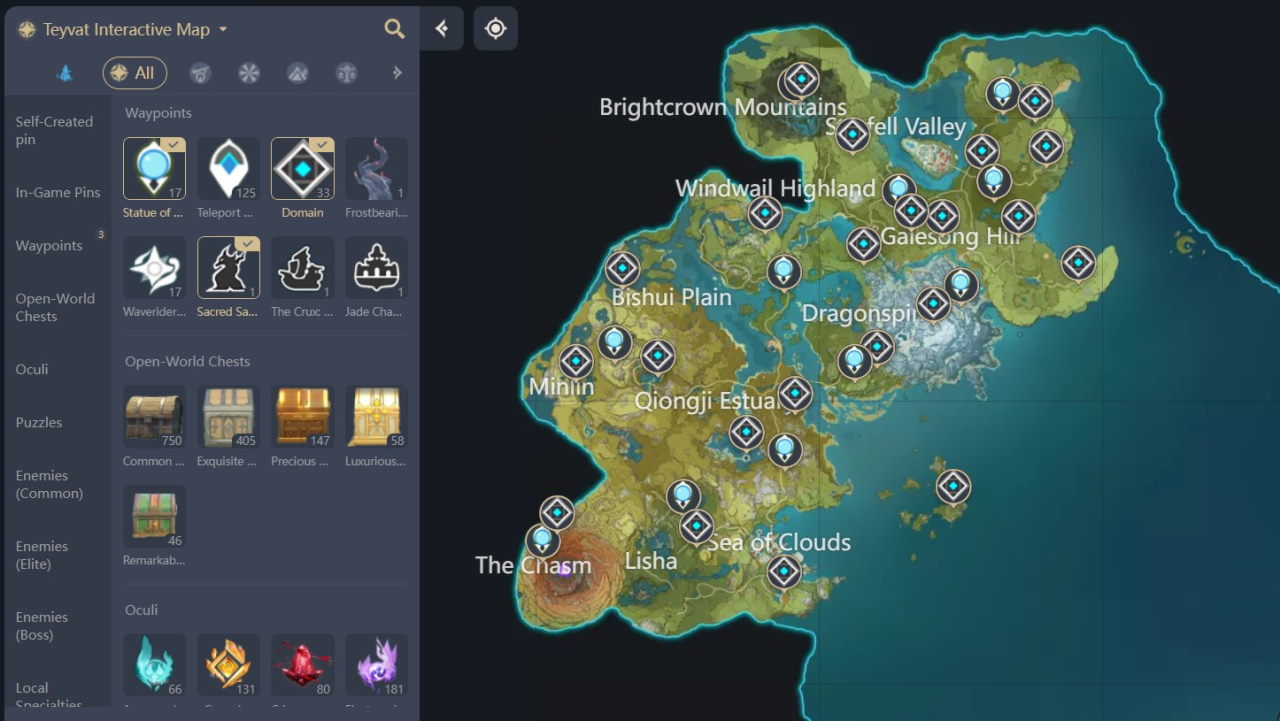 It's all thanks to this map, now all players can easily complete their quests without worrying about the routes. It also gives you the freedom to select and deselect any item for completing the quests. Let us now have a quick look at the highlighted features of the Geshin Impact: Interactive map of Teyvat.
Access to Interactive Map of Teyvat
To begin with, the latest version of the map brings in both the Chasm and the Chasm: Underground Mines. Apart from that, here is what else you get on this map:
Pin Updates
The new version of the map has introduced the following pins:
Floating Hydro Fungus
Ruin Serpent
Radiant Spincrystal
Stashroom
Puzzles
Open-World Chests
Qingxin
Shadowy Husk
Violetgrass
Besides, the interface has also been enhanced with easier access to a lot more essential options. For example, it now features a Quick Location area, New Pin Function, filter list, etc.
But even though it has introduced so many features, it would make a complete map only if it could sync with our data and tell us what we have already collected and what else we need to collect further.
For now, every time you use the map, it will show you all the marked locations whether you have already collected the item or not. And this basically happens since there is no connection between the interactive map and our in-game data. Apart from that the Geshin Impact: Interactive map of Teyvat is the best platform if you look forward to grinding in this open-world game.
Conclusion
Well, that is all you need to know about the Geshin Impact interactive map of Teyvat for now. As you start using this map, you will come across more interesting features that will help you further in the game.
Although it might lack integration with our data, we hope to see that sooner in future updates. Until then, let us know what else you would like to know about the Interactive map of Teyvat, and we will try our best to reach back to you.