Candywriter's BitLife: Life Simulator is a life simulation game where you can build up your character in a text-based virtual world. The game lets you experience the highs and lows of life through the various events the character goes through. You can take the reins of your life and work your way up to the top as you complete challenges. One of them is the Good Cop, Bad Cop Challenge in BitLife.
The game has several challenges you can overcome in addition to progressing through your life. They're quite easy once you know what to do, but they keep things interesting. You even get rewards for completing them. Each challenge generally has several tasks you must complete throughout your character's life. Regular updates add more challenges to the simulation game as players enjoy doing them. Let's find out how you can complete the Good Cop, Bad Cop Challenge in BitLife.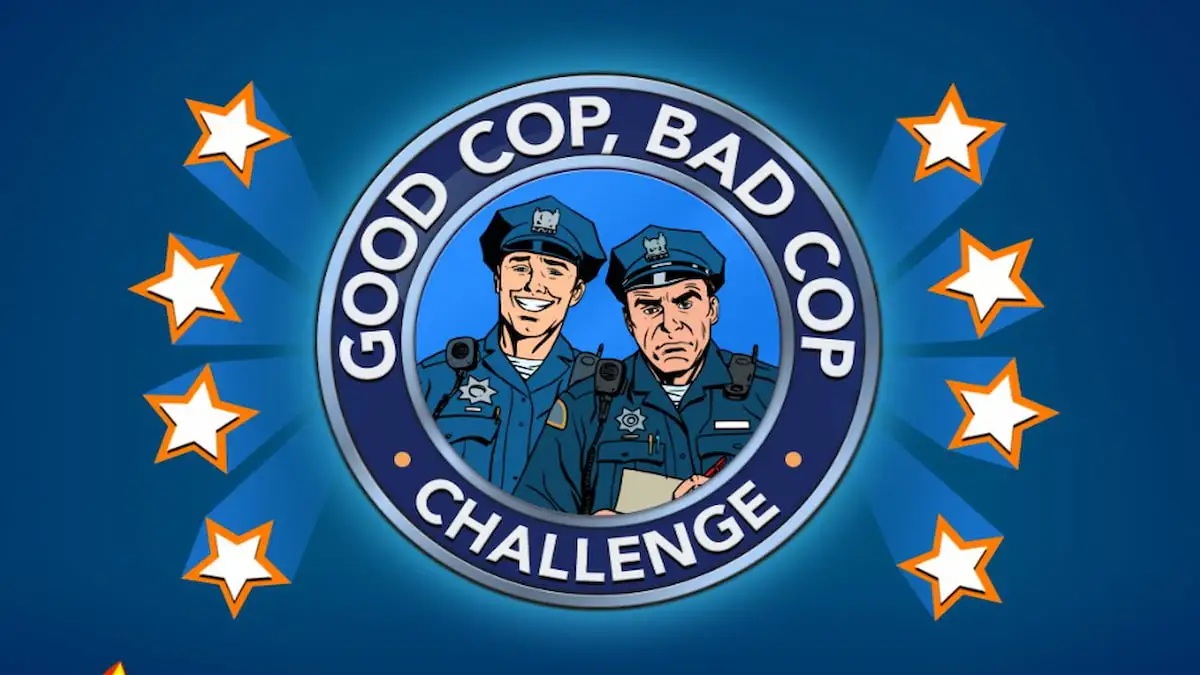 BitLife: Good Cop, Bad Cop Challenge Guide
In most challenges of BitLife, you will need to make a specific character and complete certain objectives. The Good Cop, Bad Cop Challenge is no different. You will need to start out as a police officer and become the "bad cop" occasionally. The tasks are a little all over the place as they alternate between morally good and bad actions. This can be a fun challenge to complete, so we have outlined the steps for you below.
Become A Police Officer
The first thing you will need to do to begin the Good Cop, Bad Cop Challenge is to become a police officer in BitLife. To do this, you will need to apply for the cadet job under the career listings. It shows up as a police car icon on the side. The job might not appear every time, so you must reload the game and try again.
Several requirements will help you bag the job, such as increasing your intelligence and athletic skills. Make sure to go on walks, go to the gym and practice a sport from a young age to build up athleticism over time. You will also need to finish high school, which is the minimum level of education required to become a cop in BitLife. Having a college degree will increase your chances of getting the job as well. Opt for the career of Police Cadet and successfully get the job to fulfil the first task.
Give Gifts To At Least 10 Coworkers
Now that you have a job, you will have a circle of coworkers. You can view the list of coworkers that you have under the job section. You will need to give some gifts to these people, so select any of them. Use the gift option and choose any gift; it does not need to be expensive. You can buy the gifts on the Assets page.
This might take a while as you have to give out at least ten gifts to coworkers, and picking the same one won't work. If you don't have ten coworkers, you might need to wait for some more people to join your department. Once you have given gifts to ten coworkers, the second objective of the Good Cop, Bad Cop Challenge is complete.
Have At Least 3 Addictions
You've done something good in the last task, but now, it's time to be the bad guy. You will need to have at least three addictions to fulfill this task. These places to get these addictions are available under the Activities tab. Some addictions can be detrimental to your character's health, so make sure to do it cautiously. You won't be able to complete the challenge if your police officer gets too sick to continue living.
The easiest addictions to get are alcohol, drugs, and gambling. For the first two, you can start by simply visiting a club. Drinking alcohol will give you alcoholism, so just accept a drink at the club. If someone comes up to you and offers you drugs, you need to take it for the sake of the challenge. Now that you are addicted to drugs and alcohol, you need a third addiction – which is gambling. Visit a Casino or a Horse Racing event and blow some money to get a gambling addiction. Note that you might need to continue doing these tasks so that all of them are active at the same time. With that, you have completed the third step.
Take Your Family On At Least 3 Cruises
For the fourth task, you will need to save up quite a bit of money. You will need to take your family on some cruises, so make sure you have enough to cover the expenses. This is one of the "good" tasks that you will be doing. Of course, you will need to have a family for this, but any family members can count. If you don't have any, you will need to get married.
For the cruise, feel free to take any member of your immediate family. This includes your spouse, children, parents, and siblings. You can find the option of Cruise under the Vacation section on the Activities page at the bottom. Go on three of these trips, which is sure to burn a hole in your pocket. But it will be worth it, because you are now done with the penultimate task.
Murder Your Supervisor In A Drive-By
The final task is a "bad" task, which is to murder your supervisor in a drive-by. There is a good chance that you will go to jail after doing this, but at least you get to complete the challenge. To find the option of murdering people, you will need to scroll to the Crime section on the Activities page, and click on Murder.
Pick the person that you want to murder, which is your senior police supervisor, and make sure to select the right method. You will need to murder them in a drive-by. Once you have killed your supervisor, the Good Cop, Bad Cop Challenge is complete.
For finishing all five tasks of the Good Cop, Bad Cop Challenge in BitLife, you will earn a randomized appearance item as a reward. You can use this in the game for your BitLife characters. Make sure to check out our other guides to learn how to complete the other challenges in BitLife.