Now you might have at least wondered, what if you connect your Samsung Galaxy Buds to your iPhone? The AirPods are a very nice piece of tech that gives you premium sound quality along with a lot of additional features. Moreover it a real straight competitor in the market is the one and only, Samsung Galaxy Buds. Ignore the fact that the Mi Earbuds can come even close to it. The Samsung Galaxy buds sure pack a lot of features almost similar to that of the AirPods. Moreover, this article will help you with how to connect your Samsung Galaxy Buds to an iPhone.
But, there are some features which are not supported if you connect your Galaxy Buds to an iPhone. Samsung says that you can connect seamlessly your Galaxy Buds to an iPhone but functions like Automatic Sync and Ambient Aware mode will not function. The Ambient Aware Mode lets the noise from your surrounding flow into your earbuds to let you know what is happening in your surrounding environments but, it works only on Android. However, there is complete support of Siri if you connect your Galaxy Buds to an iPhone.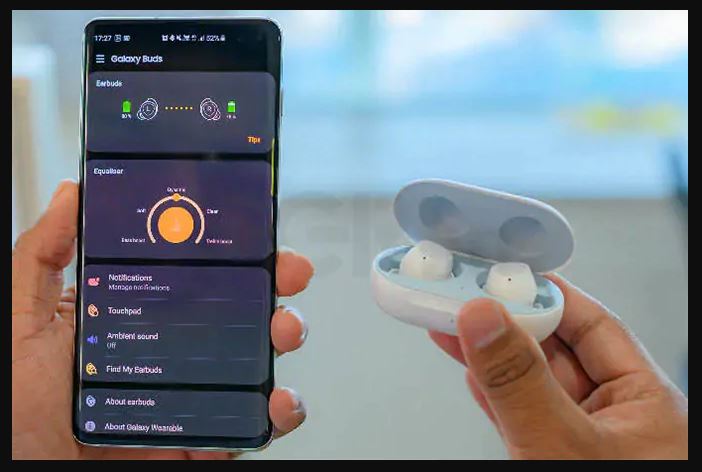 Moreover, the Samsung Galaxy Buds come at a very compelling price which is almost lower than $30 as compared to the AirPods. The Galaxy Buds also has the same great quality sound, various features, and voice assistant support as you get with the AirPods. So, without further ado, let's get straight into the article;
How to Connect Samsung Galaxy Buds to an iPhone
Follow the below steps and connect your Samsung Galaxy Buds to an iPhone and take the advantage of this feature packed wireless earphones costing much less than an AirPod.
1. First things first, if you have connected or previously used your Galaxy Buds with any other smartphone (probably an Android device) then, disconnect it or unpair it. Now, here's how to do it;
Open the Galaxy Wearable application on your device and tap on Disconnect.
Or go to Settings>> Connections>>Bluetooth and unpair your Galaxy Buds from any of the connected devices.
This will unpair your earbuds from any of the connected devices.
2. Turn ON the Bluetooth option on your iPhone and search for the Galaxy Buds. Wait for some time and the Galaxy Buds will feature in the list of available items.
3. You will see the name of the Galaxy Buds on the iPhone search list. If you are unable to get your Galaxy Buds in the search list, please turn Off and On the Bluetooth on your iPhone and make the search again.
4. When the Galaxy Buds are connected with your iPhone, you can take them out of the charging case.
5. Voila! you have connected your Samsung Galaxy Buds with an iPhone.
Conclusion
That's it from my side in this guide. Hope you liked it. There are some features as mentioned above that you miss out while using your Galaxy Buds with an iPhone but, overall you get the same experience of sound and other features with the full support of Siri voice assistant.