As we all know that screen rotation feature is so useful for smartphones and tablet devices which mostly come in handy while consuming multimedia content or playing games. Meanwhile, most of the users also prefer screen orientation while texting someone or writing anything on mobile, etc. But some of the iPhones can have screen rotation issues as the screen orientation or gyroscope/accelerometer sensor may not work properly. Check out the troubleshooting guide for iPhone 11 Screen Rotation Problem.
There are only two orientation methods available for mobile screens like portrait or landscape mode. The straight mobile holding position is known as Portrait mode and when you hold it upright then it will be in landscape mode. Some times, the system glitch or any background running app can cause this issue. Meanwhile, some times a soft reboot your device can fix this problem quite easily. Now, let's take a quick look at the possible reasons below.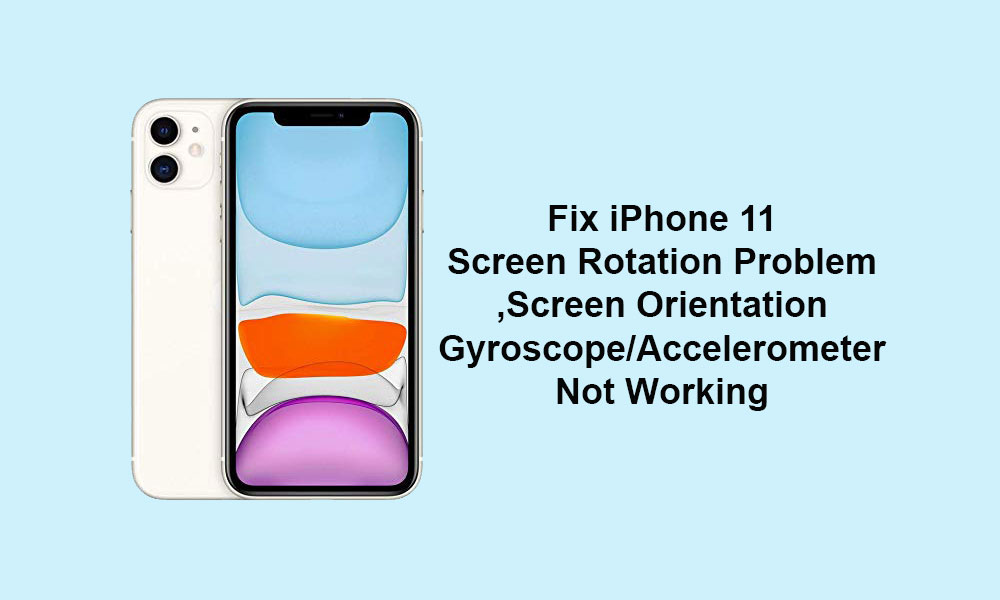 Possible Reasons of iPhone 11 Screen Rotation Problem
If you've recently updated your device software or didn't update the iOS version for quite a time, then you should check for the software update at first. However, if something happens with the sensors or hardware, then you will need to go to the service or repair center. Make sure that the service warranty is available. If not, then you may have to pay much higher to repair anything on the iPhone.
Incorrect Settings: Some times any app or game settings can cause this screen rotation issue. If you haven't allowed the screen to rotate for any app or game, you will face these kinds of problems.
Software Glitch/Bug: Some times any software bug or glitch can also cause issues to the device. make sure to reboot once and then check for the issue.
Issues with Gyroscope or Accelerometer: If your device has dropped a couple of times on any uneven surface or badly then it's quite possible that there is any sensor-related issue on your handset. Now, if you really think that's the main reason for the screen rotation problem, then go to the service center.
Hardware Fault/Damage: This is one of the last but not the least reasons which can also happen due to any drop or sudden collision to your device. So, in that case, you will also need to go to the service center.
How to fix iPhone 11 Screen Rotation Problem
There are some of the possible workarounds or troubleshooting guides that you will need to follow. Make sure that if nothing works even after following this guide, then you should rush to the nearest service center.
1. Soft Reboot your iPhone
Press and hold the Side/Power button + Volume Up/Down button for a few seconds.
The Slide to Power Off bar will appear.
Drag the slider to switch off your device.
Now, long-press the Power/Side button for a couple of seconds.
Release the button when the Apple logo will appear.
Your iPhone will reboot.
2. Force Restart your iPhone
Press and release the Volume Up button.
Then press and release the Volume Down.
Next, press and hold the Power/Side button for around 10 seconds until the Apple logo turns on.
Now, wait for the phone to boot into the system.
3. Turn On/Off Screen Rotation Lock
From the home screen on your iPhone > swipe down from the upper right side.
The Control Center will open.
Here you will see a screen lock icon is looking bright than the other icons. That means the Screen Rotation Lock is turned on. If not, then it's turned off.
Make sure to turn it on/off for once and check whether the issue is fixed or not.
4. Factory Reset iPhone 11 to fix iPhone 11 Screen Rotation Problem
Keep in mind that this method will delete all of the device data and settings completely. So, take a backup at first.
Go to the Settings > Tap on General > Tap on Reset.
Tap on Erase All Content and Settings.
Enter the passcode and confirm the task by deleting all.
Once done, restart your phone.
Set up the device again and check for the issue.
5. Check and Manage Display & Brightness
You can also try to check and manage the display & brightness option from the device Settings.
Just open the iPhone Settings > Tap on Display & Brightness > Select Display Zoom > Set it to Standard mode.
That's it, guys. We assume that you've found this guide useful and now your iPhone screen is rotating properly. For any queries, you can comment below.