This year OnePlus has launched two different smartphones and OnePlus 7T is one of them. It is honestly one of the best smartphones of 2019 with its top-notch specs and builds quality. OnePlus is a Chinese manufacturer who is known for its affordable flagship devices which comes with Oxygen OS. This time OnePlus has decided to remove headphone jack in their latest OnePlus 7T which indicates that the device might be waterproof. So many customers are eager to know whether the new OnePlus 7T is waterproof or not.
OnePlus smartphones are premium flagship devices and no customers would want their devices to get water damage. Buyers from all around the world want to confirm wetehr the new OnePlus 7T is actually waterproof or not? Since OnePlus costs high price customers are expecting some sort of water resistance int the smartphone.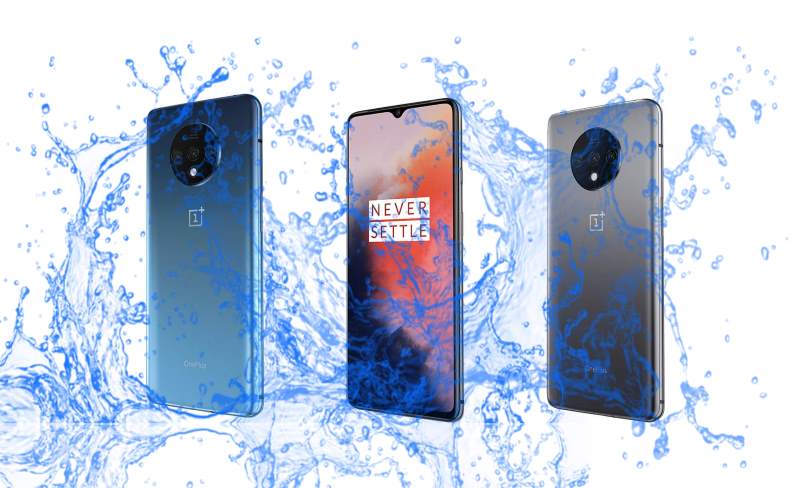 Is OnePlus 7T waterproof and dustproof protected device?
OnePlus 7T smartphone was launched on September 26, 2019. The handset comes with a 6.55-inches touchscreen display with a resolution of 1080×2400 pixels. It's powered by an octa-core Qualcomm Snapdragon 855 Plus SoC, pairs with an 8GB of RAM and 128GB of onboard storage option. It runs on Android 10 over OxygenOS 10 out-of-the-box. The handset packs a 3,800mAh non-removable battery with 30W fast charging technology (OnePlus Warp Charge 30T).
In terms of the camera department, the OnePlus 7T packs a 48MP primary camera with an f/1.6 aperture lens, a secondary 16MP camera with an f/2.2 aperture lens, and a third 12MP camera (f/2.2). The rear camera setup has PDAF (phase detection autofocus), HDR, Portrait, Night mode, etc. While the front camera sports a 16MP selfie sensor with an f/2.0 aperture lens along with AI modes.
Also read: Did Huawei introduce Mate 30 and 30 Pro with waterproof and dustproof protection?
When it comes to waterproofing, the company says that the device is splashproof. However, there are no official waterproof ratings for the device. So we need to test it ourselves with the OnePlus 7T waterproof test.
OnePlus 7T waterproof and dustproof Test
Since we don't have any official IP ratings for the device, it's not safe to assume its waterproofing capabilities. So we need to perform a OnePlus 7T waterproof and dustproof test. Since the official sources say that OnePlus is splash resistant, we don't need to do any splashproof test here.
warning
You are advised not to try to mimic this test at your home. We do not take responsibility for the authenticity of this test. This test is purely based on individual/team observation. This test will only give an idea of whether a device is waterproof or not. We recommend users not to try this test at home, as it might damage your device.
OnePlus 7T Waterproof Test
In this waterproof test, we are going to put the device in a small tub full of water for 1 minute. This test will give us a rough idea of whether the new OnePlus 7T is splashproof or not.
| | |
| --- | --- |
| Camera | works |
| Screen | Works |
| Speaker | Distortion in sound |
After conducting this test, we can say that this phone is not fully waterproof. The speaker's sound was muffled up and the touchscreen was unresponsive. Users must take proper care of this device when near any water bodies such as pool, pond, lake, etc.
OnePlus 7T Dustproof Test
In our dustproof test, we will keep the device in a sandy environment with lots of grain and sand particles with a running fan around it. This situation mimics dust storms and will check how the device holds in such conditions.
| | |
| --- | --- |
| Camera | Works |
| Headphone jack | works |
| I/O ports | Little dust, but ports still work fine |
As you can see from the test results above that the new OnePlus 7T is fully dustproof. There is no compromisation in any of the functionality due to dust particles in the test. Since the device doesn't have any headphone jack or any other such jacks, it's non-vulnerable to dust particles.
More waterproof articles: