After the successful launch of Samsung A30 & A50, Samsung is releasing another smartphone in its A series. The new Samsung Galaxy A70 was launched in March 2019. It comes with promising features and great specs out of the box. Since Samsung A30 & A50 were not waterproof, many customers are confused wether the new Samsung Galaxy A70 is a waterproof device or not. But don't worry, as we will find out the truth in our Samsung Galaxy A70 waterproof test.
Samsung provided waterproof IP68 rating to many of its flagship device such as Samsung Galaxy S8 & Galaxy S9. However, the new Samsung Galaxy A70 is a mid-range smartphone priced at 29,880 INR. Which means that the device might be waterproof and dustproof. After conducting our Samsung Galaxy A70 waterproof test, we will know for sure.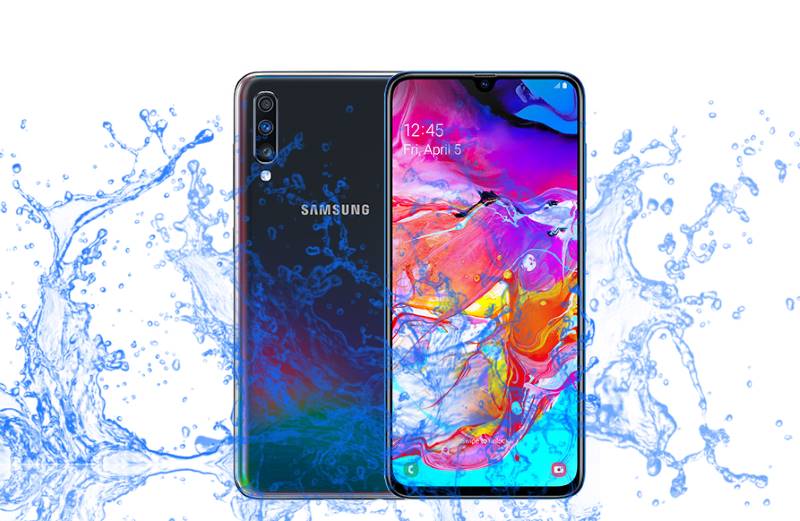 Samsung Galaxy A70 is a waterproof device?
The demand for a waterproof smartphone is increasing day by day. Due to the popularity of underwater photography, pool swimming selfies, many customers want to buy a waterproof smartphone as well. A waterproof smartphone is a kind of smartphone which can resist any possible water damage. You might have seen some devices which immediately gets damage when they come in contact with water. This is not true at all for waterproof smartphones.
Also read: Did Samsung introduce Galaxy A30, A50, A20 and A10 with Waterproof and Dustproof Protection?
According to the official website, there is no IP67 or IP68 rating for the device. Which means that the new Samsung Galaxy A70 is not waterproof. However, we will still conduct the Samsung Galaxy A70 waterproof test to find out for sure.
Samsung Galaxy A70 Waterproof test
Since there are no official IP67/68 ratings for the device, we have to conduct a Galaxy A70 waterproof test on our own. In our waterproof test, we will dip the device under water for 30 seconds. After that, we will observe the device for any abnormalities such as screen flickering, camera fog, etc. But before that, have a look at the device specifications:
Device Name
Samsung Galaxy A70
Screen
6.7-inch Super AMOLED
Infinity-U
2,400 x 1,080 resolution
Processor
Qualcomm Snapdragon 675
RAM/ROM
6 GB/128 GB
Battery
4,500mAh
25W fast charging
Primary Camera
32MP sensor, f/1.7 aperture
8MP ultra wide sensor, f/2.2 aperture
5MP depth sensor, f/2.2 aperture
IP67/68 waterproof ratings
None found
warning
This test is purely based on individual/team observation. This test will only give an idea whether a device is waterproof or not. So users are advised not to try this at home, as it might damage your device.
Conclusion
After conducting the Samsung Galaxy A70 waterproof test, we came to the conclusion that the device is splashproof to some extent. However, the device is not waterproof as device speaker and screen doesn't work properly after submerging the device in water.
| | |
| --- | --- |
| Camera | Working, no damage |
| Screen | Flickering, white screen issue |
| Speaker | Distorted sound |
We recommend users not to use this device to make or receive calls during rain or showering. Also take special care of your device while your near beaches, swimming pools, water parks, etc.
How to keep your device safe
If your device is not waterproof, then you should take proper care for the device. Since a single drop of water can permanently damage your device.
Always keep a backup of your important data such as photos or videos. In case of water damage, it is hard to recover all user data.
If your device accidentally got water damage, then put your device in a jar full of rice for 12 hours.
Avoid going to the pool, lakes, shower, etc. Also, avoid going into rain and storms with your smartphone.
Buy a waterproof case for your device as it clearly helps to protect your device.