Samsung Galaxy A9 (2018) model smartphone was launched in October 2018. It is an upgraded version of previously launched Galaxy A9. Sine Samsung Galaxy A9 was a hit for its budget-friendly design and with promising features. However, it had a security flaw as it doesn't come with a certified IP68 waterproof rating.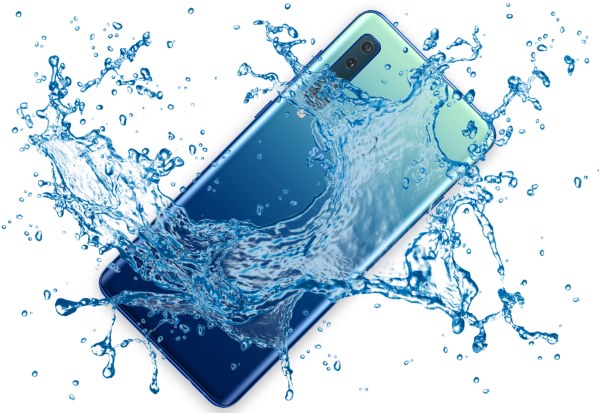 Although it had got many upgrades in hardware and software department, however, it still lacks a proper IP68 waterproof rating. Since many customers do care whether their smartphone will work underwater or not before making a purchase. We have put a Samsung Galaxy A9 2018 Waterproof test to find out whether Galaxy A9 2018 is actually waterproof or not.
Before starting with our Samsung Galaxy A9 2018 waterproof test, let's get to know some of its specifications. Samsung Galaxy comes with a massive 6.3-inch screen with a resolution of 1080 by 2220 pixels. It is also powering an octa-core CPU coupled with 6GB of RAM. The device comes with 128GB internal storage and can be expanded to 512GB via micro SD card. Talking about its camera department, it is housing 4 camera system including a 24-megapixel (f/1.7) + 10-megapixel (f/2.4) + 8-megapixel (f/2.4) + 5-megapixel (f/2.0) primary camera on the rear and a 24-megapixel front shooter for selfies.
Samsung Galaxy A9 2018 waterproof test?
There are a couple of tests we can perform to find whether Samsung Galaxy A9 2018 is waterproof or not. Today, we are going to perform Samsung Galaxy A9 2018 waterproof test. So stay tuned for the results.
Also read: Did Nokia launch the Nokia 7.1 Plus with Waterproof IP rate?
Splash Proof Test
In Splash proof test, we will test the device to withstand an accidental water splash. This will tell us whether the device survives in such condition. When we subject Samsung Galaxy A9 2018 to artificial water splash, the device seems to work fine. there are no complications at all.
Rainwater test
In this test, we are going to suspend the device in artificial rain environment. This also mimics the showering conditions as well. This test will tell us whether users can use this device in rainy conditions to make or receive calls.
Also read: Is LG V40 ThinQ really a Waterproof device?
After testing the Samsung Galaxy A9 2018 in artificial rain condition, we observed that the device does not show any signs of damage. This means that the users will be able to use the device while it's raining.
Washing Test
In this test, we are going to wash Samsung Galaxy A9 2018 with running tap water for 1 minute and check whether it survives or not. This will help us verify that this device is waterproof or not. After performing the washing test, the device seems to be working. There are no signs of water damage to any component of the device.
Dustproof Test
In this test, we will keep the device in a sandy environment with lots of grain and sand particles with a running fan around it. This situation mimics dust storms and will check how the device holds in such conditions.
Also read: Download Google Camera Port for Xiaomi Poco F1, Mi 8 and Mi Mix 2S
After the dustproof test, no dust was found in the internal parts fo the device. This shows that indeed Samsung Galaxy A9 2018 is dustproof.
Results – Is Samsung Galaxy A9 2018 waterproof device?
After performing all the test, the device has passed all the tests. So we came to a conclusion that Samsung Galaxy A9 2018 is indeed a waterproof device to some extent.
| | |
| --- | --- |
| Official IP ratings (waterproof ratings) | none |
| Splashproof test | Passed |
| Rainwater test | Passed |
| Washing test | Passed |
| Dustproof test | Passed |
Since it is not having a certified IP68 rating, users are adviced not to use this device under water as it might damage their phone.