Samsung Galaxy Z Flip is the new generation of flip flop smartphones there were famous in the 2000s. As Samsung is still perfecting its folding AMOLED screen, Galaxy Z Flip sets a good example for the market. However, with the flips mechanism, users are worried about the durability of the device—especially waterproof and dustproof capabilities as it has a moving hinge. Today we will talk about that hinge and see whether the new Samsung Galaxy Z is a waterproof device or not.
Samsung has been known for making waterproof devices for so long. However, implementing waterproof protection in a folding design is a very hard engineering task. But since the price of Galaxy Z Flip is very high, most customers expect it to come with at least splash resistant technology. So the question arises – is the new Samsung Galaxy Z Flip waterproof smartphone? Well, we will find out in our Galaxy Z Flip waterproof test.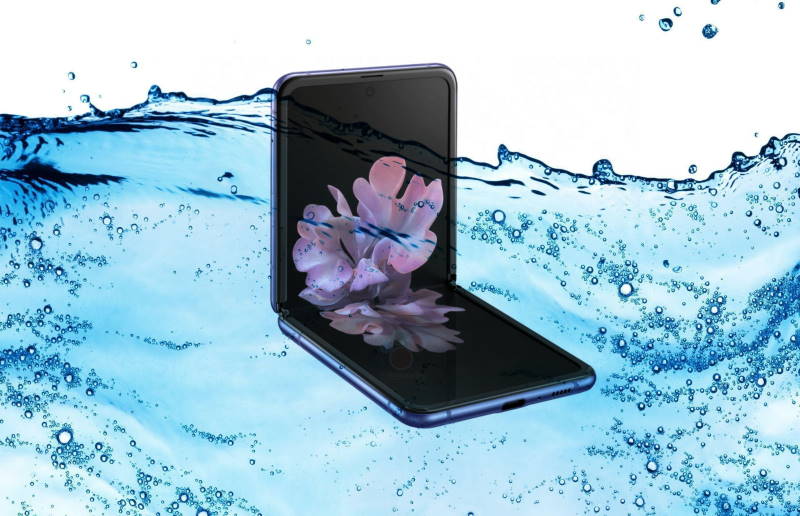 Is Samsung Galaxy Z Flip A Waterproof Folding Phone?
A waterproof smartphone is a must-have feature in any flagship device in our modern era. Now even budget devices in the range of under $200 are shipping with a waterproof design. So it would be a shame to Samsung if they cant deliver waterproof design in the new Galaxy Z Flip smartphone. Previously Samsung also tried to make a folding tablet, and we did the Galaxy Fold waterproof test on that too. But because of the moving parts in the device, it was vulnerable to dust particles as well as water splashes. We hope that this is not the case with the new Galaxy Z Flip.
After checking with the official sources, there are no IP67 or IP68 waterproof ratings for the device. However, Samsung claims that the hinge design is made to restrict any foreign particle to go inside the device. So how effective is this new hinge mechanism, and can it protect against water spills and dust? Well, we will test that out in our Samsung Galaxy Z Flip waterproof test.
Samsung Galaxy Z Flip Device Specifications
Samsung Galaxy Z Flip is n engineering masterpiece. With a small form factor, it holds a massive 6.7 inches foldable dynamic AMOLED display with a resolution of 1080 by 2636 pixels. It also comes with a tiny 1.1-inch display for additional information. The device comes with the latest One UI 2.0 based on Android 10 out of the box. Galaxy Z Flip is powered by octa-core Qualcomm Snapdragon 855 and coupled with 8GB of RAM. You will get 256 GB of onboard storage. However, there is no expandable storage option.
As far as the cameras are concerned, it comes with a primary 12MP camera (wide, f/1.8) and a secondary 12MP (ultrawide, f/2.2) lens. It has an LED flash, Dual Pixel PDAF, OIS, HDR, Panorama, etc. For selfie enthusiasts, it has a 10 MP selfie camera with wide-angle support. Galaxy Z Flip has an all-day battery life thanks to its 3,300 mAh battery. And it is equipped with a side-mounted fingerprint sensor, an ambient light sensor, an accelerometer, gyroscope, proximity, compass, barometer sensor.
Samsung Galaxy Z Flip Waterproof Test
In our waterproof test, we will test the device, whether it can sustain itself against foreign dust particles and water splashes. This test will tell us whether the Samsung Galaxy Z Flip can be used underwater or not.
warning
This test is purely based on individual/team observation. This test will only give an idea of whether the new Samsung Galaxy Z Flip is waterproof or not. We recommend users not to try this test at home, as it might damage your device.
| | |
| --- | --- |
| Device Name | Samsung Galaxy Z Flip |
| Waterproof Ratings | None Found |
| Waterproof | No |
| Dustproof | Yes |
After conducting the waterproof test on Samsung Galaxy Z Flip, the device major I/O ports got malfunctioned. The speaker and volume rocker buttons were also not working correctly. In our Dustproof test, the device normally performed with no visible damage.
Conclusion
Despite all the killer features, it's sad to see that Samsung Galaxy Z Flip doesn't come with a waterproof body. And out test results show that it can't sustain itself underwater. However, the good news is that the new hinge mechanism does restrict dust particles from going inside the device. So it is dust resistant to some extent. But unfortunately, the device is not completely waterproof or splashproof. This makes the device very vulnerable to dust or any liquid stuff, including your morning coffee or orange juice. We recommend users not to use this device in rain, shower, or anywhere near pools or lakes. Also, keep special care of your device since its not officially waterproof.
What to do if your device is not waterproof?
Since your device is not waterproof, we advise you to take proper care of your device. You can follow these steps to do so:
Not to take underwater photos with the device
Don't make or receive calls in the rain or while taking a shower
Not to take underwater selfies etc.
Do not drink coffee, soft drink, or alcohol when you're using your device.
In case your device gets water damage, keep the device in a box full of rice for 1 hour and check with the nearest service center.