The tremendous and ever-popular multiplayer online battle arena (MOBA) game by Riot Games, League of Legends, has raised the bar seriously high for its genre. Released in October 2009 for Microsoft Windows and macOS, the game has grown exponentially in popularity and boasts of nearly eight million active users per day as of 2019. In this game, players take charge of a champion with unique abilities and pursue the target of destroying their opponent's "Nexus." League of Legends has been praised for its character designs, meticulous production, and powerful soundtrack. It's been successful enough to spawn a series of merchandise, web series, and documentaries. It has also been nominated for and won several prestigious awards.
The game, of course, features several interesting items and rewards for its hard-working fans. This week patch finally made available the long-awaited Volibear for the gamers to play as. The delighted community is still getting used to the god of thunder's all-new kit and features across his numerous older skins. However, the developers already have another bonus ready for their fans. Four months since the initial announcement, you can finally obtain the legendary Thousand-Pierced Volibear Skin for free using the present patch! This is Riot Games' generous effort to make up for the unfortunate misunderstanding with its fans regarding the appearance of the Volibear. Let's take a look at the legend of the Thousand-Pierced Bear, and how you can unlock its skin in League of Legends.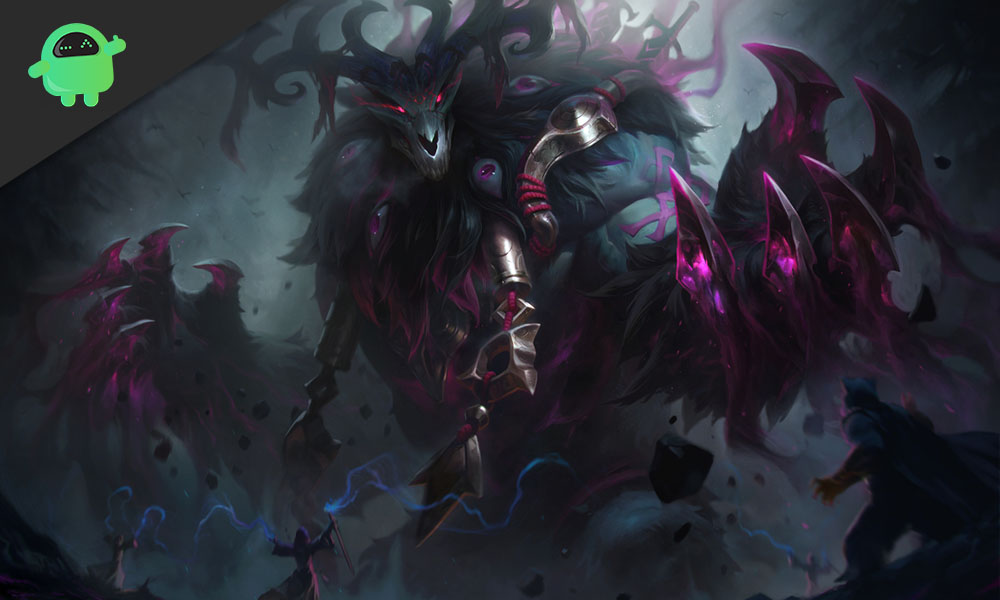 About the Volibear in League of Legends
The concept of the Thousand-Pierced Bear has its roots in "Silence of the Damned," a story that was initially released in early 2019. At that time, players were introduced to a different concept of the Volibear. This beast was much more fearsome and demonic in appearance than its present version. Eventually, Riot Games decided not to approve this portrayal of the Volibear in the game. They clarified that the original concept would be featured in an eldritch horror-themed skin. This item would be available to everybody, totally free of cost. The resulting Volibear skin in League of Legends is a formidable piece of work. It features the skeletal head of an elk and dark eyes glaring from all over its body. Not to mention those demonic swords protruding from the beast's backside!
There's a strong possibility that this is the one and only time that skin will be handed out for free by Riot Games for a champion update. Until now, all they did during champion updates was to remaster existing skins and upgrade them to the current standards of the game. It's best to take advantage of this golden opportunity and snatch up this free skin when it's still available. Read on ahead to find out how you can do that.
Unlock the Thousand-Pierced Volibear Skin in League of Legends
The good news is that a particular League of Legends champion design video has clarified that there is only one condition for obtaining the Volibear skin. It is really simple – you must own Volibear. If you already have Volibear or know bout him when you apply the Patch 10.11, you will be eligible to obtain the skin. You can add Volibear to your collection by two different methods. One is purchasing it directly from the in-game store for 4800 Blue Essence.
You are also in luck if you possess a Volibeard champion shard from champion capsules or Hextech chests. You will then be able to craft the Volibear for a significantly lesser price than 2880 Blue Essence. Whatever be your choice, you can obtain the Blue Essence by participating in matches and leveling up. You should take advantage of the ongoing Pulsefire event to earn more by playing a game or two.
Additional Details
Patch 10.11 is already out there. And thus, the developers previously released the very first batch of free skins this afternoon. The developers will continue to distribute it to everyone having a Volibear until the 10th of June. So don't worry – you still have plenty of time to obtain your copy. You will receive a notification just above your collection tab once you get your paws on it.
The Volibear's Thousand-Pierced look is a unique case. Therefore, like some other exclusive skins, the developers are unlikely to rework it anytime in the near future. That said, we should be grateful to receive this concept skin at all. Especially considering all those champions who were either remade or never managed to see the light of day at all. As an aside, even after this free period of promotion ends, you needn't worry. The Thousand Pierced Bear will be available in the in-game store for 975 CP. So for anyone who is not able to get it right now, there still is hope in the future.
This guide was made to help the players of League of Legends who want to unlock the Thousand-Pierced Volibear Skin. After reading this guide, they will be able to unlock it real soon. We hope our guide proves helpful to you in obtaining your free Thousand-Pierced Volibear skin in League of Legends. If you liked our guide, then do check out our latest iPhone Tips and Tricks, PC tips and tricks, Games and Android Tips, and Tricks. Moreover, you may also subscribe to our very own YouTube Channel and participate in the $150 giveaway contest. However, if you have any queries or feedback, do comment down below with your name and e-mail ID. Thank You!