2009's League of Legends (LoL) is one of the popular online multiplayer battle arena video games by Riot Games, which is still engaging, and players love it. The title is basically inspired by Defense of the Ancients, which is a custom map for Warcraft III. As a free-to-play multiplayer online game, players face issues with the League of Legends Login / Sign-in Button Not Working for some unexpected reasons. It's pretty much frustrating.
Now, if you're one of the victims of such an issue, you can follow this troubleshooting guide to completely fix it. The title can be played on Windows, Mac, Android, and iOS devices. But the specific login regarding the issue appears to the unfortunate players on the Windows platform, which needs to be manually fixed until the developers release a patch fix for that. So, without wasting any more time, let's jump into the guide below.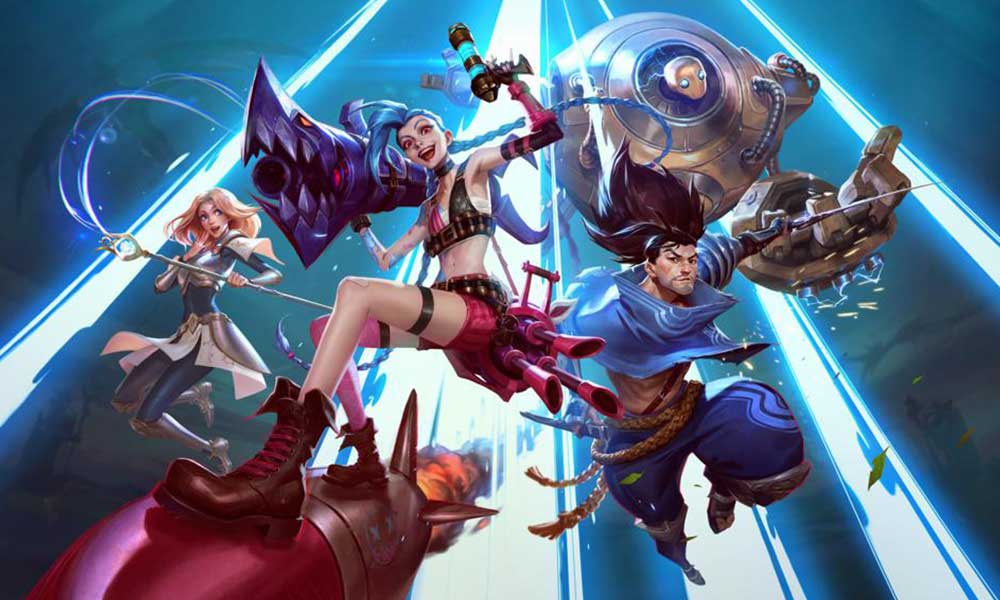 Fix: League of Legends Login / Sign in Button Not Working
Here we've shared a couple of possible workarounds for you that should help a lot. It's always a better idea to follow the methods one by one until it gets fixed completely.
1. Sign Out and Sign Back In
First of all, you should try signing out and signing back into your account if you're facing any kind of unexpected login errors or if the login button isn't working for you. To do so:
Open League of Legends > Click/Tap on the close button before the error appears.
Now, make sure to click/tap on the Exit prompt.
Click on Sign Out > Next, quit the game, and launch the game again.
Finally, you can try Sign in again.
2. Close League of Legends Tasks
Sometimes background running tasks on your system can also trigger multiple issues with the game launching or signing into the account whatsoever. If in case, the game isn't closing properly then make sure to close all the running League of Legends tasks via Task Manager. You can follow the steps below to do so:
Press Ctrl + Shift + Esc keys to open up the Task Manager.
Now, click on the Processes tab > Click to select the League of Legends (Riot Client) task and click on End Task to close it.
Do the same steps for each Riot Client task one by one.
Once done, restart your system.
3. Check your Internet Connection
Make sure to check your internet connection before jumping to any other conclusion because a poor or unstable internet connection can simply trigger many issues with the game launching or connecting to the game servers online. Try switching your wired (ethernet) connection to Wi-Fi (wireless) or vice versa, and then check for the networking issue again. You can also increase the internet speed by upgrading your data plan (if required).
4. Don't Use VPN or Proxy Server
Try not to use any kind of VPN (Virtual Private Network) or proxy servers at your end to avoid server connectivity issues whatsoever. Even if using a VPN service can help you, it can trigger higher ping latency, etc.
5. Try using Installer and Play LoL
Some reports are also suggesting downloading the installer on your mobile or computer and then try launching the League of Legends game. It has already fixed the login issues for multiple players. So, you should try it out.
6. Try using Hextech Repair Tool
The Hextech Repair Tool is a useful service for your Windows or Mac computer to patch up multiple issues automatically which can bring conflicts with the League of Legends game. Make sure to download Hextech Repair Tool for Windows and run it as administrator. You can also download it for Mac. It has a built-in firewall management system, can restore the health of nearby turrets, can display known issues in your specific region, and more.
7. Check the Server Status
It's needless to say that if the above methods didn't work for you, you should check for the Riot Games Service Status via this link. Click on the League of Legends game tile from the list of games > Select your specific region server and choose the language. If there is an issue with the service operations, you can find out the details.
In that case, you should wait for a couple of hours and try again. However, if there is no issue with your game server then you can jump into the next method.
8. Set Date and Time Correctly
Make sure to correctly set the date & time on your mobile device or computer to be able to connect to the game server and log into your account. An incorrect time and date can trigger conflict with the game services online. To do so:
For Windows:
Right-click on the clock/time & date icon on the taskbar.
Click on Adjust Date/Time > Select the Internet Time tab.
Click on the Change Settings button > If a UAC prompt appears, click on Yes to proceed.
Now, click on the Update now button to re-sync.
If the above steps didn't work for you, try following the steps below:
Press the Windows + R keys to open the Run dialog box.
Now, type cmd and hit Enter to open Command Prompt. [If UAC prompts, click on Yes to proceed]
The Command Prompt window will appear > Type the following command and hit Enter to start the sync service:
net start w32time
This step will start the time sync service on your system if it's currently not active.
Next, type the following command and hit Enter to resync the clock service:
w32tm /resync
You're done. The League of Legends Login / Sign in Button Not Working issue might gonna fixed.
For Mac:
Go to the Apple menu > Click on System Preferences.
Select Date and Time > If the clock seems to be locked, you'll need to click on the lock icon.
Next, allow the Administrator's access to continue it.
Select the default time server (time.apple.com, time.asia.apple.com, or time.euro.apple.com).
Tickmark the 'Set date and time automatically' box.
In the 'Time Zone' tab, make sure to select the 'Set time zone automatically using current location' checkbox.
Finally, apply the changes, and restart the computer.
9. Configure Google DNS Addresses
The League of Legends launcher uses server DNS addresses that are provided by your specific ISP (Internet Service Provider). So, your service provider's default DNS (Domain Name System) resolver may have some issues which are quite common for online games or services. If in case, your game launcher seems to not download the patch update or doesn't allow you to log in then make sure to use public Google DNS addresses with your network.
Note: Well, sometimes changing the ISP's DNS settings to Google DNS settings can cause problems with your internet connection speed or stability. If in case, you're facing any issues, make sure to go back to the ISP's default DNS settings whatsoever.
For Windows:
Press the Windows key on the keyboard > Type Control Panel and search for it.
Click on Control Panel to open it > Select 'Network and Internet'.
Now, select 'Network and Sharing Center' > Choose to 'Change Adapter Settings' from the left pane.
Then right-click on your active network adapter > Select 'Properties'.
Scroll down the options and double-click on 'Internet Protocol Version 4 (TCP/IPv4)'.
Click on 'Use the following DNS server addresses:' to select it.
Next, enter the following public DNS servers and click on 'OK' to save changes.

Set 8.8.8.8 for Preferred DNS address and 8.8.4.4 for the Secondary DNS address.

Close all running web browsers and applications one by one.
Once done, make sure to search the Command Prompt app from the Start menu.
Right-click on 'Command Prompt' and select Run as administrator (if prompted by UAC).
Then make sure to type the following command line and hit Enter to remove the stored DNS cache from your system.
ipconfig /flushdns
You'll need to simply restart your computer to change effects immediately.
For Mac:
Click on the Apple menu on the top left corner > Click on 'System Preferences…'.
Now, double-click on 'Network' > Select the active network connection on the left.
Click on the 'Advanced…' button on the bottom right side.
Next, click on 'DNS' > Remove any current DNS entries and input the following public DNS servers respectively:

Set 8.8.8.8 for Primary DNS and 8.8.4.4 for the Secondary DNS.

Click on 'Apply' and then select 'OK' to save changes.
10. Try using Updated Security Protocols on Windows
You should also try using the updated security protocols on your Windows computer because the chances are high that you're using the outdated security protocols by default which can easily conflict with the game server connectivity or online game login as well. Try using SSL 2.0 or SSL 3.0 under the Internet Options tab on your Internet Explorer (Microsoft Edge) browser. To update it:
Open Internet Explorer (Microsoft Edge) > Select 'Internet Options'.
Head over to the 'Advanced' tab > Scroll down to the Security section.
Uncheck the boxes to disable SSL 2.0 and SSL 3.0.
Tickmark the TLS 1.0 checkbox to enable it.
Hit Apply > Restart League of Legends.
11. Allow Cookies and Website Data on your Browser
Make sure to allow cookies and website data on your web browser no matter which one you're using. Head over to the browser settings menu and do accordingly.
12. Update the System Software
An outdated or corrupted system version can cause multiple issues whatsoever. Sometimes a new software update can bring several bugs fixes and stability improvements. To do this:
For Mac:
Click on the Apple menu icon on the top left corner > Click on 'About This Mac'.
Choose 'Software update…' > The Apple App Store will open and you can check whether an update is available or not.
Now, click on 'Update All' to install all available software updates. If prompted, proceed with your admin (Apple ID) log-in credentials.
Once done, restart your system to apply changes completely.
For Windows:
Press Windows + I keys to open up the Windows Settings menu.
Next, click on Update & Security > Select Check for updates under the Windows Update section.
If there is a feature update available, select Download and install.
It may take a while to complete the update.
Once done, restart your computer to install the update.
13. Contact Riot Games Support
If none of the methods worked for you then make sure to contact Riot Games Support to submit a request for whatever issue you're facing. The support agents can easily provide you necessary steps to fix the issue or ask them to escalate this problem to the developers.
That's it, guys. We assume this guide was helpful to you. For further queries, you can comment below.