Cupertino giant Apple has released an all-new Mac Studio with a 'Pro' level of everything that works as a desktop Mac. It's a hybrid variant of Mac Mini and Mac Pro in terms of specifications and performance. Though the Mac Studio is a beast desktop Mac to outperform most flagship desktop setups without breaking a sweat, it looks like it's also prone to issues. Mac Studio Not Recognizing Mouse or Keyboard issue is one of them.
Multiple reports show that Mac Studio refuses to recognize third-party peripherals like keyboard and mouse. Whereas some users are facing frequent disconnections of the external third-party keyboard and mouse devices from Mac Studio, which doesn't seem good for such a top-notch desktop Mac. Even though you have an Apple Magic Mouse or Magic Keyboard, you might encounter connectivity or recognition issues.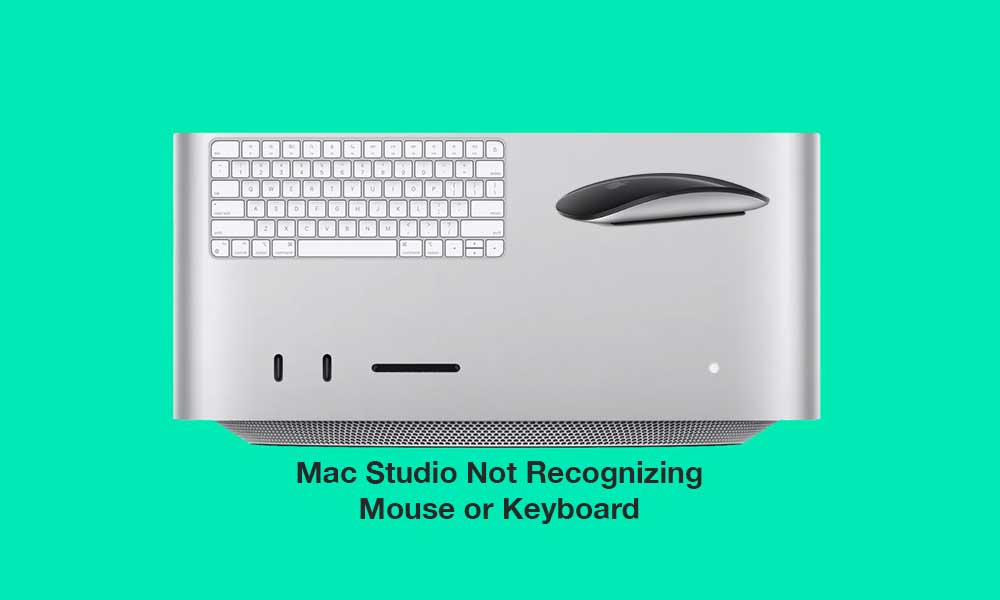 Fix: Mac Studio Not Recognizing Mouse or Keyboard
As the specific issue becomes widespread among Mac Studio users, people cannot find ways to try fixing it. Therefore, we've shared this troubleshooting guide with you. Luckily, a couple of possible workarounds mentioned below might come in handy in most cases. Now, without wasting any more time, let's jump into it.
1. Turn On and Off Bluetooth on Mac Studio
First, check whether the Mac's Bluetooth is turned on or off via the control center. No matter which mouse or keyboard you're trying to connect, if it's a Bluetooth device, make sure to enable the Bluetooth function before jumping into any other method. Sometimes turning off and on Bluetooth on the system may come in handy.
Click on the Bluetooth icon on the status bar (menu bar). If you don't see it, then open the Control Center.
Click to expand the Bluetooth control > Here, turn ON Bluetooth.
Wait for a couple of seconds and then turn it OFF.
Now, wait for a few seconds and turn it back ON again.
Try connecting the mouse or keyboard individually.

If it doesn't connect automatically, click on the specific keyboard/mouse under Devices to connect it.
2. Ensure Keyboard and Mouse Bluetooth is ON
Well, you should also check if the mouse or keyboard Bluetooth is turned on or not. If in case, the Bluetooth isn't turned on, then there is no way to connect or recognize the mouse and keyboard. Make sure to find out the button on the mouse and keyboard to turn it on. Depending on the mouse brand and model, the specific button will be available in different positions. After turning it on, go to the Bluetooth preferences option on Mac, and try connecting.
3. Enable Mouse Keys via Accessibility Shortcuts
It's also recommended to enable the Mouse Keys option from the Accessibility Shortcuts panel by following the steps below. It's an accessibility feature that allows you to use your keyboard or mouse to navigate.
Press the CMD + Option + F5 shortcut keys to bring up the Accessibility Shortcuts menu.
Press the Tab key continuously to highlight the Mouse Keys option.
Now, press the Space key to select it, then press the Esc key to save changes.
Once the Mouse Keys option is enabled, you can use the 7, 8, 9, U, O, J, K, and L keys (or the 7, 8, 9, 4, 6, 1, 2, and 3 keys on Numpad) to move the cursor around the screen on macOS. You can also use the I key (or the 5 key on Numpad) to perform a mouse click.
4. Disconnect all USB devices
Sometimes the chances are high that somehow the other connected USB devices on the Mac Studio are conflicting with the Bluetooth connectivity. It's a better idea to simply disconnect all USB devices and try connecting the Bluetooth mouse or keyboard again. If, in case, you're using a wired mouse or keyboard, reconnect it to check for the issue.
Disconnect all USB devices (peripherals), then go to System Preferences.
Click on Bluetooth > Click on the X icon next to the specific device to disconnect it.
Once all Bluetooth devices are disconnected, restart your Mac Studio.
Now, wait for a few minutes and then reconnect your Bluetooth devices.
Please Note: Though your Mac system can connect up to seven Bluetooth devices simultaneously, sometimes users have reported that two to three active Bluetooth devices start causing connectivity issues, etc. So, just try connecting mouse and keyboard devices to check for the issue.
5. Try Removing and Reconnecting USB Receivers
You should also try removing and reconnecting the USB receiver of the Bluetooth mouse or keyboard on the Mac Studio to refresh the connectivity. Sometimes reconnecting the USB receiver or dongle may come in handy if not properly connected to the USB port or if the driver doesn't load completely. If in case, you're using a USB Hub or Power Dock then make sure to re-connect the HUB on the Mac Studio properly.
Additionally, try connecting to the USB receivers of the Bluetooth mouse and keyboard on your Mac Studio directly because it has a bunch of connectivity ports.
6. Try Replacing Batteries of Keyboard and Mouse
Make sure to check for your Bluetooth Keyboard and Mouse's battery level because a low battery or completely drained out battery won't provide enough power to turn on the mouse/keyboard or sometimes can't connect to the system. You can also try replacing new batteries on your keyboard and mouse to check for the issue. If you're using a rechargeable battery or Magic Mouse 2 (something like that), try charging the same for 15-20 minutes.
7. Ensure to Pair Bluetooth of Mouse/Keyboard Again
Ensure to pair the Bluetooth mouse and keyboard once again to the Mac Studio to cross-check whether the problem has been fixed or not.
Open the Apple menu > Go to System Preferences.
Click on Bluetooth > Press the Ctrl key + Left-Click on your Bluetooth mouse/keyboard.
Select Remove > Click on Remove again to confirm.
Turn Off your Bluetooth mouse/keyboard, then wait a couple of seconds.
Next, turn it On > Click the Connect button to pair your mouse with your Mac Studio again.
8. Cross-Check Mouse Preferences on Mac
It may also be possible that the mouse preferences on Mac Studio are somehow not configured properly. You should follow the steps below to cross-check it.
Open the Apple menu > Click on System Preferences.
Click on Mouse > Use the configuration options in the Mouse preferences.

For instance, if you're using a Magic Mouse, then tickmark the box of Secondary click to enable right-clicking.
You can also drag the slider under Tracking speed to set how fast the mouse cursor will move on the screen.

Try switching to the More Gestures tab to enable/disable any gestures that can conflict.
9. Try Using Support Software for Third-Party Peripherals
Most Mac users prefer to use a third-party mouse or keyboard device because they do offer a value for money aspect and perform well. So, if you're also using a third-party mouse or keyboard peripheral from Logitech or any other brand, you can visit the manufacturer's website and download the support software for your specific model. Such as Logitech offers the Logitech Options application to configure or customize devices easily.
10. Check for Mac Software Update
You should also check whether your macOS version has become outdated. Outdated system software can eventually trigger multiple performances and device connectivity issues. To check for the available system update and install it, you can follow the steps below:
Open the Apple menu > Select System Preferences.
Click on Software Update > Make sure to select Update Now to install available updates.
The macOS will automatically update to the latest version if an update is available.
Once done, make sure to reboot the system to apply changes.
Now, you can try checking for the mouse or keyboard connectivity issue again.
11. Ensure Mouse Keys and Slow Keys are Turned Off
It's also suggested to disable the mouse and slow keys if you're still facing the Mac Studio Not Recognizing Mouse or Keyboard issue. If enabling the mouse keys doesn't work for you, then you can try turning it off again and turn off the slow keys option too.
Go to System Preferences > Click on Accessibility.
Select Mouse & Trackpad from the left menu > Make sure to uncheck the Enable Mouse Keys box.
Click on Keyboard in the left sidebar > Uncheck the Enable Slow Keys box under Hardware.
12. Delete the Bluetooth .plist files
If the above methods didn't come in handy for you, you can try deleting the saved Bluetooth property list files (.plist) on your Mac Studio to fix corrupted or cached data issues. To do so:
Open Apple Finder Menu > Click on the Go option at the top of the screen.
Click on Folder > Now, type /Library/Preferences, and click on Go (right-arrow icon ➙).
Here you'll have to find out the com.apple.Bluetooth.plist file.
Make sure to Delete this file and go back to the Go option in the Finder Menu.
Click on Folder again > This time type ~/Library/Preferences/ByHost and click on Go (➙).
Next, search for the com.apple.Bluetooth.xxx.plist file and Delete it.
Finally, shut down your Mac Studio and wait for at least 5 minutes > Then, you can boot the system, and the .plist files will be generated automatically as fresh ones.
13. Reset the Bluetooth module
If the Bluetooth connectivity gets disconnected quite often, you should reset the Bluetooth module on your Mac Studio by following the steps below. By resetting the Bluetooth module on the device, you'll be able to debug any potential issues quite easily. To do so:
Press and hold the Shift + Option shortcut keys > Click on the Bluetooth icon in the menu bar.
Now, click on Debug > Select 'Remove all devices.
Click on Debug to confirm > Click on 'Reset the Bluetooth module.
Reboot your Mac Studio to apply changes and pair your Bluetooth device again.
14. Try Optimizing System and Removing Junk Files
The chances are high that somehow your macOS becomes corrupted or needs optimizations deeply. Sometimes stored cache data files or junk files on the system may also become problematic for the other programs and external devices to work properly. It's always better to clear out corrupted cache or glitch from the device. As macOS doesn't offer any inbuilt method to do so in an easy way, you can try using a reliable third-party system optimization tool.
There are plenty of third-party tools available online, but CleanMyMac X or AVG TuneUp or Mac Keeper, Mac Booster, Movavi Mac Cleaner, Malwarebytes for Mac, Avira Optimizer for Mac, etc. software seems reliable and powerful enough to scan & deep clean junk files, malware, etc. You can try a couple of them to find out which one is working fine or which one you like the most.
Note: Please keep in mind that many essential features may require in-app purchases.
15. Boot the Mac in Safe Mode
It may also be possible that your Mac Studio isn't booting up properly due to the corrupted or faulty macOS software. Well, it's quite unfortunate, but there is nothing you can do with that. These days downloading files online or even streaming any content or inserting external USB drives and more may be one of the major reasons apart from installing third-party applications, etc. Corrupted cache data, corrupted startup items, etc., can cause issues.
Luckily, macOS offers the Safe Mode to boot the system into it whenever required. Rebooting your Mac in the Safe Mode might gonna fix the Bluetooth connectivity regarding problems with the external devices. It loads the stock programs and necessary system files or elements (kernel extensions) so that you can check whether the issue is still bothering you or not. To do that:
Switch Off your Mac Studio if you're assuming it's already running.
Hold the Power button to turn on your Mac for a couple of seconds.
Press and hold the Shift key instantly once you hear the startup beep/chime sound.

If, in case, you've enabled the FileVault encryption protection, then release the Shift key when you get a popup for unlocking the disk. Just enter your password and press Enter to continue.

So, release the Shift key when you see the Apple logo on the screen or the login screen.
Next, you can try connecting the Bluetooth Mouse or Keyboard to check for the issue. If the problem gets fixed that means there is an issue with the third-party program or settings on the device.
Make sure to try finding out the conflicting settings and fixing the same or delete the newly installed third-party program.
16. Try Using Another USB Port (Wired Only)
Try to unplug your wired keyboard or wired mouse from the current USB port of the Mac Studio and then try connecting the USB cable to another port. Sometimes issues with the proper connection to the port can trigger the device not to recognize or not appear problem. In some cases, a faulty or damaged USB cable of the peripheral device can also occur such issues. While loose connectivity or a faulty USB port can be a reason.
17. Check the System Report for USB (Wired Only)
You can also check for the USB System Report to ensure if the connected device is showing there or not. To do so:
Go to the Apple menu at the top-left of the screen > Click on About This Mac.
Click on the System Report button > The System Report window will open.
Here click on USB in the Hardware section of the left pane.
Now, you can see the USB device regarding info on the right pane window.
18. Contact Apple Support
If none of the methods worked for you, try contacting Apple Support here to get technical assistance. You can also visit the nearest authorized Apple Store for further help. If required, go for expert repair of the specific part. It may also be possible that the Bluetooth board has some issues.
That's it, guys. We assume this guide was helpful to you. For additional queries, you can comment below.