Liu Kang's actions in Mortal Kombat 1 have led to a reimagining of the wider Mortal Kombat universe. Unlike most tutorials, Mortal Kombat 1's story mode is not designed to teach you how to play multiplayer. It's a story I actually want to see unfold with characters I'm actually excited about interacting with. Mortal Kombat 1 is complete without playing against other players, thanks to modes like Invasions and Towers. However, talking about the current issue, there are many issues that users are facing. Well, that's the reason why we are here. In this guide, we will tell you how to fix the Mortal Kombat 1 Multiplayer not working issue. So, let's get started with the guide.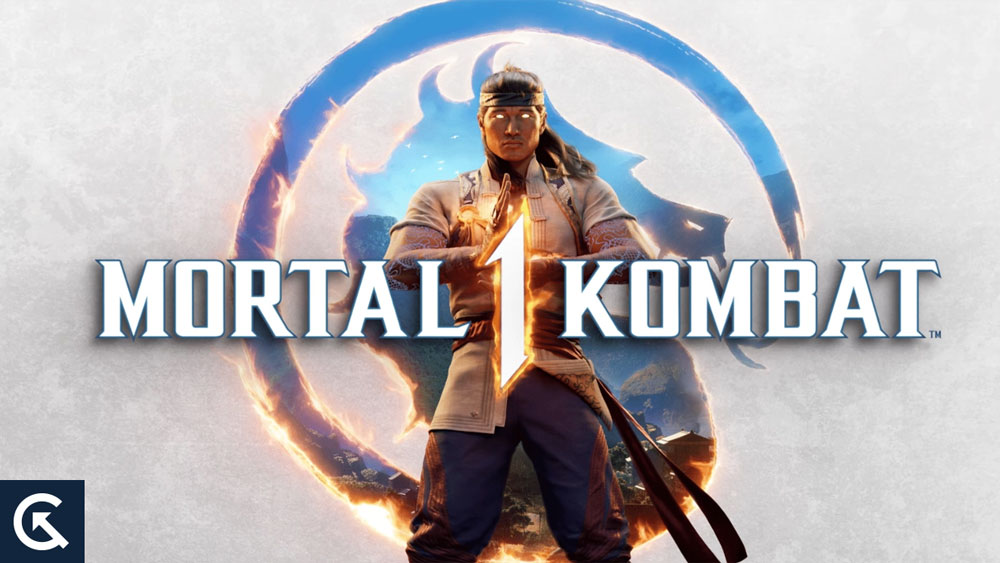 Why Mortal Kombat 1 Multiplayer Not Working?
Here are some of the most common reasons for multiplayer issues on MK1:
When playing a high-end game, excessive background services can cause frame rate issues and poor gaming performance.
MK1 won't launch or will exhibit poor frame rates if it's corrupted, outdated, or missing.
How To Fix Mortal Kombat 1 Multiplayer Not Working
So, here are some fixes you can try to solve the Mortal Kombat 1 Multiplayer not working issue:
Fix 1: Update the Display Driver
If you are experiencing Mortal Kombat 1 Multiplayer not working, you should update your GPU driver. Since it is the most successful method of solving this problem, it is the best way to go.
On Windows, press Win + X, then click Device Manager.
Click on Display adapters.
Make sure the display driver is up-to-date by right-clicking it and selecting Update driver.
Afterwards, click on Search automatically for drivers and complete the process.
Restart your PC after updating.
Fix 2: Run the Launcher as an Administrator
To ensure that the launcher program and the game files run properly on Windows, run the game launcher as an administrator. It may be difficult to avoid Mortal Kombat 1 Multiplayer not working issues that require UAC (User Account Control) if the game or client is not running as an administrator. Follow these steps to accomplish this:
On your PC, right-click the Steam/Epic Games Launcher exe shortcut file.
Then select Properties > Compatibility.
Checkmark the Run this program as an administrator checkbox.
To save the changes, click on Apply and select OK.
To launch the game, double-click the exe file.
Fix 3: End Background Processes
If you want to run resource-hungry applications properly, you need to end the background processes on your system. It is likely that you are running low on system resources if your system becomes laggy or slow. The following instructions will help you remove undesirable processes:
To open Task Manager, press Ctrl + Shift + Esc on your keyboard.
To close a particular task, click the Processes tab.
Click End Task to close it.
To close a task, repeat the same steps.
After completing the process, close Task Manager and restart your computer.
Fix 4: Disable Steam Overlay
Players who are affected have reported seeing Steam overlay running in the background. There is a possibility that overlay apps within the game may consume more system resources, causing Mortal Kombat 1 Multiplayer not working when the game is launched.
In the Steam client, go to the Library.
Right-click Mortal Kombat 1 and select Properties.
In the General section, uncheck Enable the Steam Overlay while in-game.
You may need to go back to Library > Launch Mortal Kombat 1 to see if the game still does not launch.
Fix 5: Run the Game in Windowed Mode
When the Mortal Kombat 1 Multiplayer is not working, you can choose Windowed from Full Screen in the Display Mode. Here's how:
Initially, open the Start Menu by clicking the Windows icon > Type %LOCALAPPDATA% in the search bar to open it.
Find the 'Prospect' folder in the %LOCALAPPDATA% folder.
Go to Saved > Configuration > WindowsNoEditor in the mentioned folder.
In the WindowsNoEditor folder, you'll find a file named 'GameUserSettings.'
To save the changes, open the user settings file and change the 'FullscreenMode=1' value to 'FullscreenMode=0'.
Now, to resolve the issue, launch the game again.
Fix 6: Turn Off Antivirus Protection
If your PC is protected by Windows Defender, you may have to try turning it off to ensure the game files are not blocked. Here's how to turn it off:
To open the Windows Settings menu, press Windows + I.
Thereafter, from the left pane, click Update & Security > Windows Security.
To open Windows Security, click the Open button.
Navigate to Virus & Threat Protection> Manage settings.
Lastly, you need to turn off Real-time protection.
To proceed, click Yes if prompted.
Make sure that any other antivirus program you use on your PC is turned off. It is also possible to whitelist the game files to the antivirus software to prevent the software from being disabled. To do that:
Go to the Library section of Steam's client.
From the list of installed games, select Mortal Kombat 1.
On the Mortal Kombat 1 game page, click the Settings icon.
Go to Manage > Browse local files.
Select Prospect > Binaries > Win64 from the Prospect folder.
In the Win64 folder, you'll find a file called 'Prospect-Win64-Shipping'.
To add a file, click to select it and then click to add it.
Fix 7: Update Mortal Kombat 1
It's a good idea to check for Mortal Kombat 1 game updates if none of these methods worked. Mortal Kombat 1 Multiplayer not working issues can arise from an outdated game version. However, to check for updates and install the latest Update, follow the steps below if you haven't updated your game in a while.
For Steam:
Go to the Steam client > Library > Mortal Kombat 1 on the left.
It will automatically check for updates. Click on Update if an update is available.
Once the update has been installed, close the Steam client and wait some time for it to finish.
To apply changes, reboot your PC and relaunch the game.
For Epic Games Launcher:
Go to the Library in the Epic Games Launcher.
Click on Mortal Kombat 1's three dots icon.
Ensure that Auto Update is enabled.
Fix 8: Contact Support
You should not hesitate to contact Mortal Kombat 1's official support channels if the issue persists after trying all the above steps. Their expertise will enable them to provide individualized assistance and diagnose specific problems you may encounter. Additionally, the game cannot be played cross-platform. Thus, if you are playing on the PC and someone is playing on the console, you will not be able to play together.
So, that's all we have for you on how to fix the Mortal Kombat 1 Multiplayer not working issue. It's our hope that this guide has helped you. Comment below if you have any doubts or queries in your mind.