Omegle is a website used for texting or for video calls with complete strangers online. It doesn't require any sign-in and can be used without any logins. Thus it doesn't interfere with your privacy and can be used without any worry. It just pairs 'You' with 'Strangers' on the basis of likes or dislikes shared by you.
Dialogue always starts with an ASL request for the other person's age, sex, and location. An acronym that site visitors are familiar with! It also provides a service of video calls for "Adults" and the only negative thing about it is that anyone, including minors, can use it by pretending to be a major above 18 years old.
Although it is said that your information is not stored still if you provide your personal info (mobile, email, or anything) they can store it. And all of this information stays on the site for about 14 to 17 weeks. But sometimes, your personal information can be used against you so be careful. These conversations with random strangers can be "Monitored" or "unmonitored".
Though the second option may seem to be better, the users are warned by the Omegle that they are not responsible if the person from the other end shows any explicit content which may offend some people. Also, Its site itself says that they are not liable for any of your losses.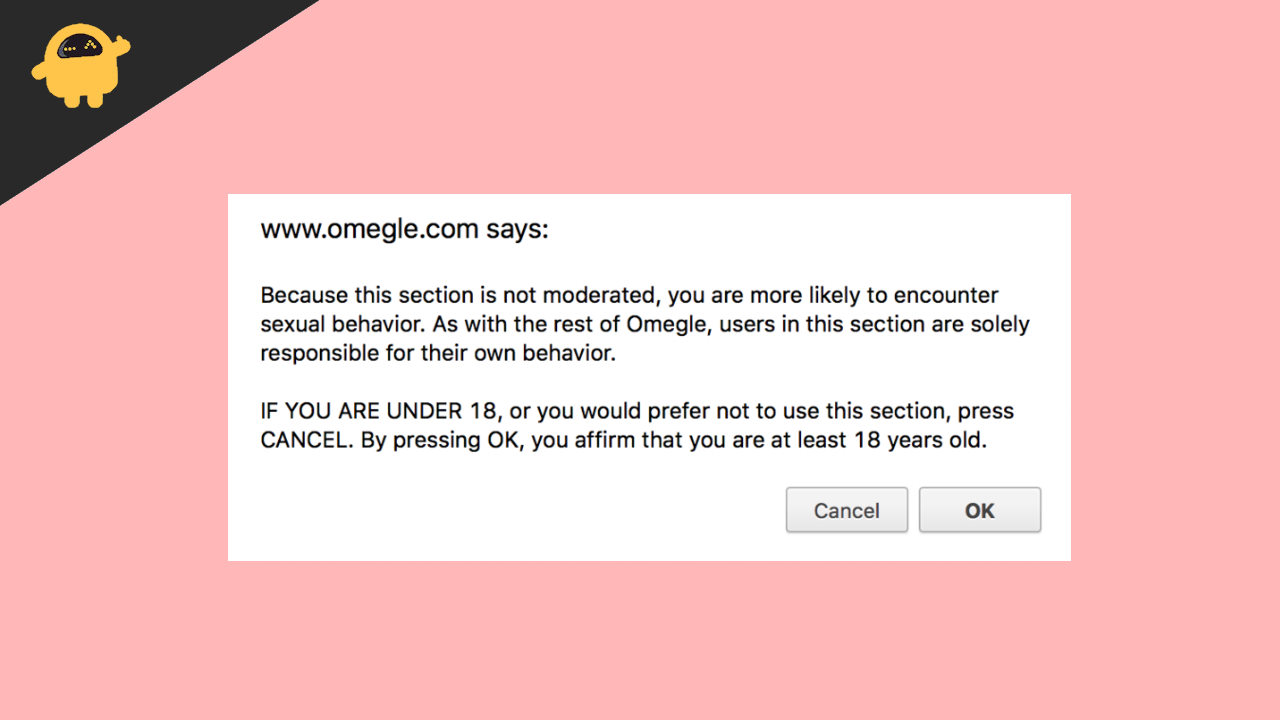 Omegle Not Connecting to Server Error, How to Fix?
Here are a few reasons why your Omegle is not connecting.
You have been found doing some inappropriate activity, and your IP is marked and suspended.
There is some server problems at Omegle's side, and it is out of your control.
Your computer or ISP may block the attempts to connect to Omegle.
Settings related to your browser and other things are outdated.
Though it may seem like these are very simple problems but it is not.
Use Another device
The most simple trick in the list is just simply use another device. If there is another device is available with Omegle, just simply go ahead and give it a try.
At least you'll know it's not your device causing the Omegle server connection error if you experience the same issue.
Connect using a different network
Even if the device you are using is not causing any obstruction in using the app still your network may have some strict rules regarding the firewalls.
And, if you want to resolve this problem, then just simply connect to a different network.
The easiest and most cost-effective method to do this is to look for public Wi-Fi, join to the network, and then try to access Omegle once again.
If this workaround resolves the issue, either Omegle's servers have restricted your IP address or your ISP has severe policies against the use of this service.
Use a trusted VPN
It might be tough to use a VPN, so you should always verify with your network provider to see whether it's acceptable. Be cautious to research whether using a VPN is permitted in your country.
Make sure you use the right tool for the task since some users have reported that using a VPN to open this website made it function.
And it is recommended that always you should use a premium VPN and avoid using a free VPN as it may interfere with your privacy also, premium VPNs are faster as compared to free VPN"s.
And if your IP has been blocked by Omegle using VPN will resolve this problem, and you can enjoy using Omegle just like before again.
Clear all of the surfing data available on Google chrome. for doing it just simply follow these steps.
Click on the three vertical dots in the top right corner of its window.
Then, click on the "More tools" option and then "Clear browsing data" option.
Select the "More tools" option and then "Clear browsing data" to make things apparent. Choose the time frame and the data types you want to remove.
And remove all the cookies and clear cache. Click on the three dots and select Settings
Scroll down to the bottom and expand the Advanced settings.
Open Content settings and scroll down to the list of all cookies. Delete all cookies you find there.
Restart your router
Just simple unplugging your router and then plugging it again after a few minutes can resolve a lot of network/connection issues.
and the best thing about unplugging and then plugging it again is that if you have dynamic IP, just following this simple step can help you and also it can provide you a new IP on the basis of your subscription and help you a lot.
But the only downside of this step is that you will have to wait for few seconds for the router to start working again and till then you will have to wait and you have no other option than just waiting for it to start working. But if you are willing to use Omegle to connect to strangers then waiting for few more minutes won't cause you any harm as you were already waiting for it to work.
Also, sometimes just having patience can resolve a lot of problems. But if there's any server issue at the Omegle's end then just calm down because you can do absolutely nothing about it.
Provide required permissions
Sometime's our problems are very silly and you won't even think about them. Sometimes when we reset our browser or when we start using Omegle in incognito mode then the settings are changed and you are supposed to give the permission for both "microphone" and "camera" in order to use Omegle. So, just give the permission for both of them and now you're good to go. And can enjoy using Omegle without any worry.