Oppo is known for manufacturing a selfie-friendly smartphone since they first entered the smartphone market. However, until today, Oppo is making great smartphone and their newest flagship Oppo F9 is no exception. With the latest and most minimal notch in the market, Oppo F9 has raised the bar for other competitors. Since Oppo users are bound to take selfies and photos, this opportunity can grow a little if the device can take pictures underwater or in rainy weather. Since there are no official waterproof IP68 ratings for the smartphone. However today we will test that out in our Oppo F9 waterproof test.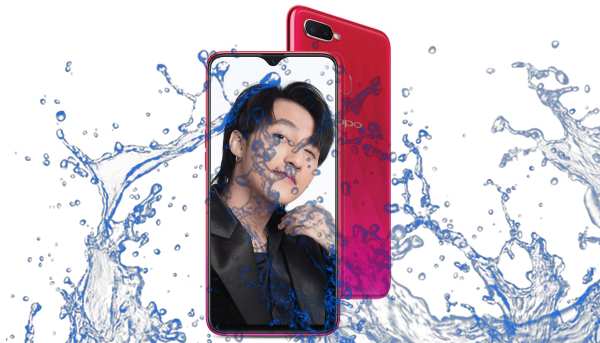 Before we move further on Oppo F9 waterproof test, let's get to know a little bit about Oppo F9 itself. The smartphone is powered by the 2GHz octa-core processor and is coupled with 4GB of RAM. So it is highly capable of handling CPU intensive tasks. Also, it is rocking a beautiful 6.30-inch display which oppo likes to call it waterdrop display. Talking about the camera department, Oppo F9 is rocking 16MP rear camera and a 25MP selfie special camera for selfie enthusiasts. Now the specifications are done, so let's begin out Oppo F9 waterproof test.
Oppo F9 Splash Proof Test
In Splash proof test, we will test the device to withstand an accidental water splash. This will tell us whether the device survives in such condition. Since there aren't any official IP68 ratings for the device, so it might or might not pass the test. Let's see what happens.
So when we subject Oppo F9 to artificial water splash, the device seems to work fine. However, the touchscreen seems to be unresponsive but no damage is registered at all. This means the user can not use the device when there are water droplets on the screen.
Also read: Is Motorola Moto Z3 a waterproof device?
| | |
| --- | --- |
| Touchscreen | Working |
| Camera | No damage |
| Splashproof | Yes |
Oppo F9 Rainwater test
In this test, we are going to suspend the device in artificial rain environment. This also mimics the showering conditions as well.
Also read: Top 10 Features of Android 9.0 Pie Update
After testing the Oppo F9 in artificial rain condition, we observed that the device does not show any signs of damage. However, the screen becomes unresponsive to touches. So users may not use this device in the shower for calling or other purposes.
| | |
| --- | --- |
| Can you use the device in rainy conditions | Yes |
| Can you use the device while taking a shower | Yes |
| Any damage due to rain or water droplets | No |
Oppo F9 Washing Test
In this test, we are going to wash Oppo F9 with running tap water for 1 minute and check whether it survives or not. This will help us verify that this device is waterproof or not.
Also read: Common Problems and solutions of Android 9.0 Pie
| | |
| --- | --- |
| Camera | Works perfectly |
| Speaker | Sound output not clear |
| Water damage with hardware | Volume buttons not working |
I/O Ports Water Test
In this test, we try to check whether the water will go inside Oppo F9 or not.
Also read: How To Install Official Stock ROM On Advan S55
| | |
| --- | --- |
| Power & volume rocker buttons | Works |
| Any other I/O port damage | None |
| Charging Point | Works |
| Touchscreen | No damage |
| Earpiece & Mic | Works |
| Speaker | Distorted sound |
Oppo F9 Dustproof Test
In this test, we will keep the device in a sandy environment with lots of grain and sand particles with a running fan around it. This situation mimics dust storms and will check how the device holds in such conditions.
| | |
| --- | --- |
| Dust in speakers | No |
| Dust inside the device | No |
| Dustproof | yes |
Oppo F9 Immersion Test
When the device is immersed in water, water does not go inside the device. The device functions as it should be.
| | |
| --- | --- |
| Official IP ratings (waterproof ratings) | Not found |
| Splashproof test | Passed |
| Rainwater test | Passed |
| Dustproof | Passed |
| Water immersion test | Failed |