It's been a week since Google officially rolled Android 8.0 Oreo for Pixel and Nexus device. Since then we started looking for many custom ROM based on Android 8.0 Oreo Source code. If you are Pixel and Nexus users, then you know that Google will push any new OS update for Pixel and Nexus device. We already shared the Factory images for Pixel and Nexus device earlier. Now you can download and Install OPR6.170623.012 Android 8.0 Oreo Update for Verizon and Pixel Pixel/XL.
Today Verizon and AT&T started Pushing the latest Android 8.0 Oreo Update for their Pixel and Pixel XL devices. The update comes with build number OPR6.170623.012 which brings the August Security patch and all new Oreo firmware and its feature.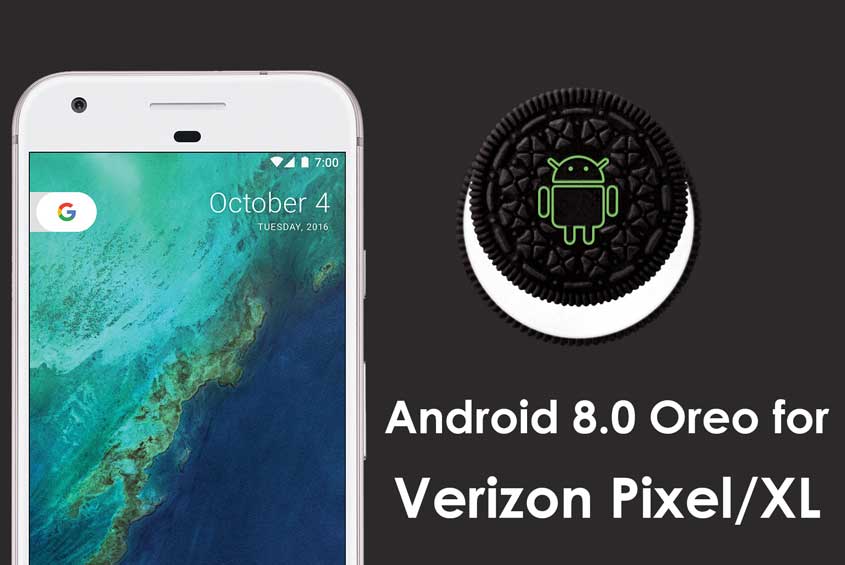 Download OPR6.170623.012 Android 8.0 Oreo Update for Verizon Pixel/XL
The update is sent via OTA (Over the Air) and will reach your phone anytime soon. Sometime it may even take few days or weeks to receive the latest update OTA notification. In case if you have not received the OTA update with build OPR6.170623.012 Android 8.0 Oreo Update for Verizon and AT&T Pixel/XL, then you can check the update manually by following the below steps:
Go to Settings – About – Software updates.
Android Oreo update brings latest features which include New app notifications, notification dots on app icons, picture-in-picture mode, Android Instant App compatibility, Auto-fill (like on Chrome), Better copy and paste, Faster Android behind the scenes, Better battery life with more advanced Doze mode, and more.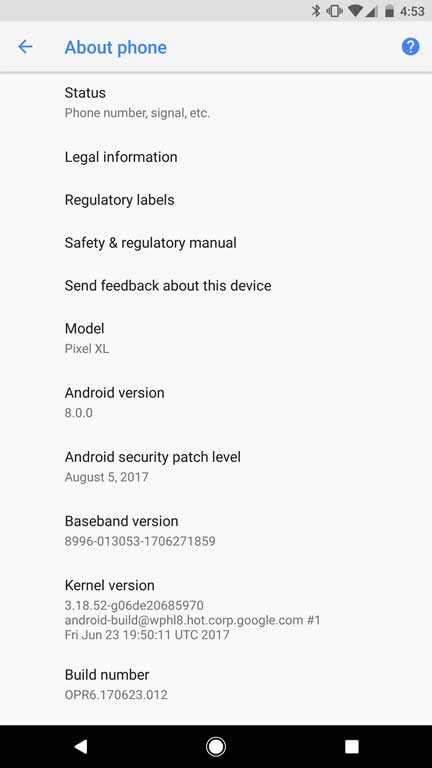 New features for Android Oreo:
Notifications Channels – This feature provides the ability to group notifications from numerous apps into one channel. This means you can group notifications for certain apps together and make it easier for the management of notifications. This is overall a nice addition to what Google started with Android Nougat.
Picture In A Picture – Videos will switch to smaller, minimized versions when you navigate to other apps. This feature is similar to what a YouTube video does in the YouTube mobile app when you drag it to the corner.
Multi-Display Support – This feature would provide you with the ability to launch an activity, say, Chrome, on a remote display like your HDTV or PC display. The potential applications for this feature are endless.
Keyboard Navigation – This feature would bring to you the ability to use keys to navigate apps.
Background Limits – This feature will let you set a limit to what an app can do while it's operating in the background. You can use this to conserve power and in turn get more battery life.
New Wi-Fi Features – This new Android version would Include more Wi-Fi features like Neighborhood Aware Networking (NAN), which makes it easy for devices to connect with one another without an internet access point or internet access at all.
Better Icons – Google has made icons in Android O to be adaptive. This means that they will take different shapes depending on the system they're used on. This is a cool feature, isn't it?
New Auto-Fill feature – Autofill API that allows developers of these apps to properly detect and input form data within apps and on the web, all while keeping your info secure.
We also shared the full list of smartphones which will receive the official update and also we listed the list of LineageOS 15 supported device.