Without a doubt, one of the most hectic tasks is to switch your smartphone, especially when you are trying to switch across platforms like from Android to iOS or vice versa. Setting up a new device can be challenging if you don't have the right tools to start with. You can face problems like slow transfer speeds and data loss, to name a few. Here's PhoneTrans, your one-stop solution to all your problems.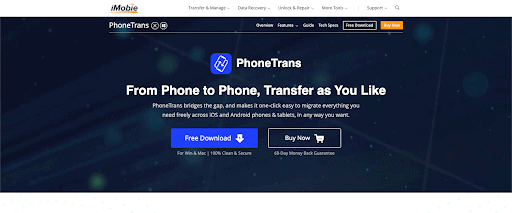 PhoneTrans is an easy-to-use data transfer app with 32+ data types covered and support for more than 20,000 devices. In case you are wondering about the supported data types, here is a list of data types that PhoneTrans support and transfer:
On iPhone/iPad/iPod touch:

Contacts

, Blocked Contacts, Messages (incl. WhatsApp), Call History, Voicemail, Calendar, Reminders, Notes, Voice Memos, Photos, Music, Videos, Ringtone, Safari History, Bookmarks, Documents, Apps, Social Messages (Eg. WhatsApp), Wallpapers, Alarm, Keychain, Home Screen Arrangement, App Data, Saved Passwords, Health Data, Wi-Fi Settings, Website History, etc.

On Android:

Contacts, Messages (incl. WhatsApp), Call History, Calendar, Photos, Music, Videos, Ringtone, Documents, ZIP Files, Apps, etc.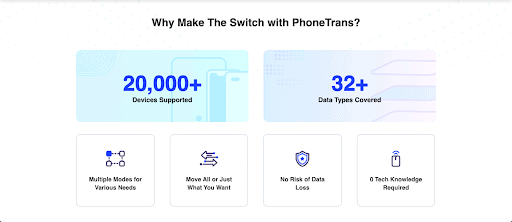 It also supports cross-platform data transfer, which means you can transfer data between Android-iOS, Android-Android, and iOS-iOS. Apart from the one-click data transfer, It also offers 3-different device-to-device migration options to transfer data directly from phone to phone:
Selective Transfer:

PhoneTrans

gives you an option to transfers what you need. It provides you with the flexibility to select and transfer the data you actually want, like contacts, photos, music, etc. This feature saves you a lot of time and even space on your new device.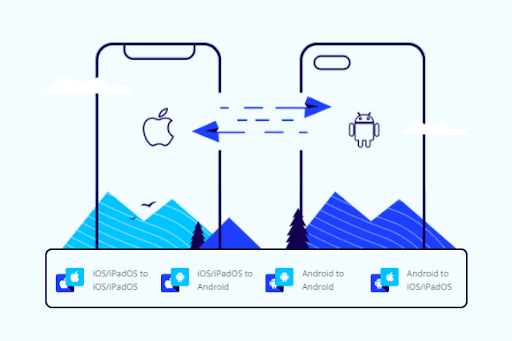 1:1 Clone Data:

As the name suggests, this will transfer everything you have on your old device to your new device. In simple words, it creates a clone of your old device without any data loss as there is no data overwriting. In one tap, all your call logs, messages, documents, etc. will get transfer to your new device. This feature is not available when migrating cross-platform.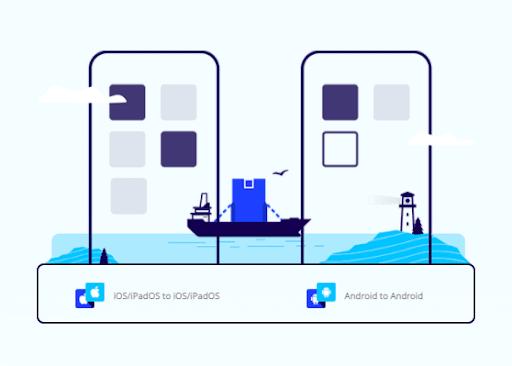 Merge Data:

This feature is essential if your new phone is already in use, you can still transfer your old phone's data to your new device. It allows you to merge the data of two phones without data overwriting. It even skips duplicate files to cut you some slack. This feature is not available when migrating cross-platform.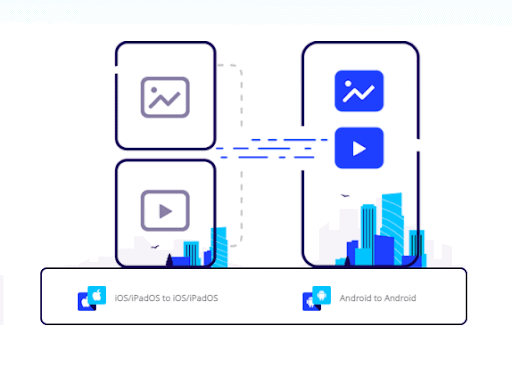 With a couple of simple steps, you can transfer your data without any hassle. You don't need technical knowledge to use PhoneTrans and make the migration happen. And you don't need to worry about transfer speeds. PhoneTrans offers high-speed data transfer without any data loss.
PhoneTrans supports iPhone/iPad/iPod running iOS 7 – iOS 14 or an Android device running Android 5.0(Lollipop) or higher. You need to have a PC running Windows 10, 8, or 7 (64bit) with a 1GHz CPU, 256GB of RAM, and around 500MB of free space to run the PhoneTrans app. If you are on a mac, you need a system running Mac OSX 10.11 or higher. Check out the PhoneTrans app here.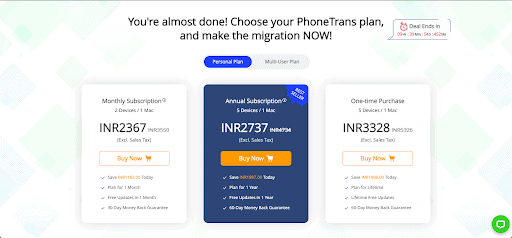 The free version of PhoneTrans will give you access to limited features, but there are a lot of Personal and Multi-User plans to choose from, which you can check out here. This will give you access to all the features and free app updates as well. And in case you didn't like the product, there is a free 60 days (30 days for 1 Month Plan) money-back guarantee.