Fortnite GeoGuessr is an exciting spin-off of the popular game GeoGuessr. In this game, you can explore the world of Fortnite and test your geographic knowledge. With some practice, you can master this game and become a pro at it. Let's learn how to play the Fortnite Geoguessr Unblocked. We will also provide tips and tricks to improve your skills!
Fortnite GeoGuessr: What is the game?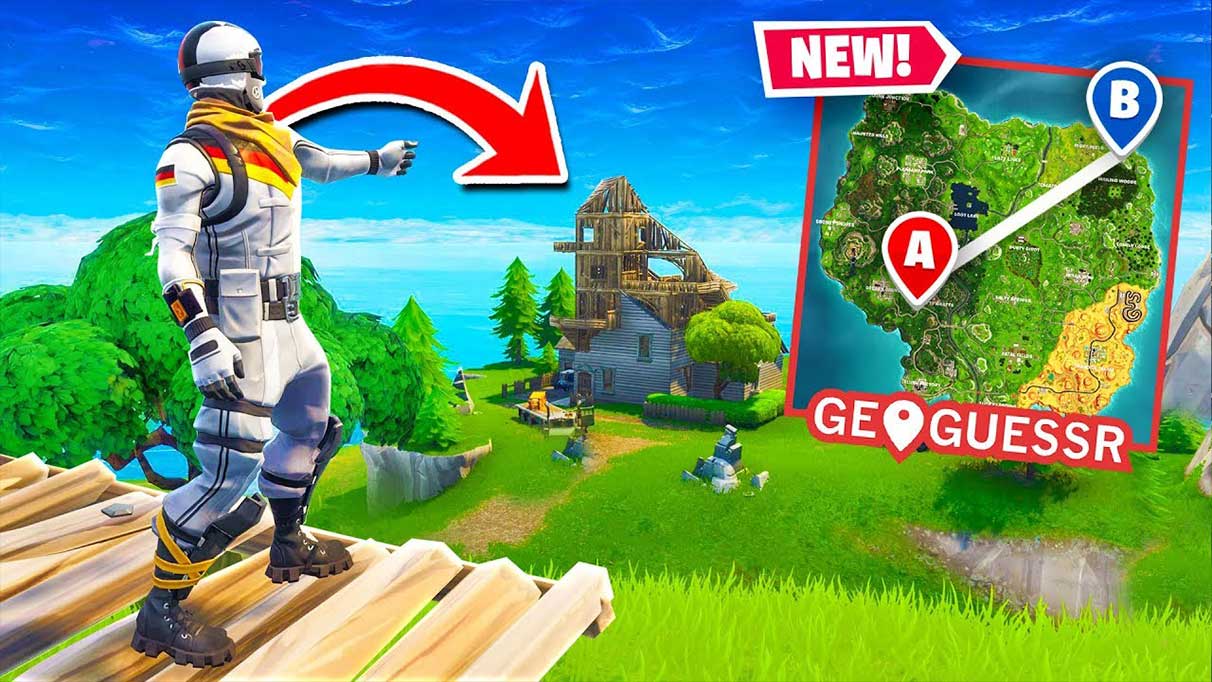 GeoGuessr is a geography-based game that drops you off at a random spot on the globe and tests your knowledge of the surrounding area. In the Fortnite edition of this game, the challenge remains the same but with a fun, Fortnite-themed twist. See if you can determine your location within the Fortnite landscape with GeoGuessr's addictive challenge.
How to play the Fortnite GeoGuessr Unblocked
To start playing Fortnite GeoGuessr, head to Whereinfortnite.
There's no need to create an account or take any additional steps. All you have to do is choose which time period in Fortnite history you'd like to explore. You can pick any Chapter or Season. Then, you may customize to make your game even more challenging.
Adjust the number of rounds, add time limits, and even decide whether or not you can pan the camera or zoom in. You can also take the challenge online and compete against up to 2,000 opponents to determine who has the most Fortnite geography knowledge.
Once you click the "Play!" button, wait for the Battle Bus to take you to your destination. You may not be able to choose where you are dropped off. To get a better idea of where you are, move the camera around and zoom in and out to get a better view of the Fortnite map.
When you're ready to take a guess, check the minimap in the bottom right corner of the screen. Choose a location on the map and click the "make a guess" button.
Upon completing the task, a screen will appear with a white pin marking your guess and a red pin indicating the precise location. Points ranging from 0 to 500 will be awarded to you depending on the accuracy of your guess.
Fortnite GeoGuessr: Tips And Tricks
If you want to get the highest score in Fortnite GeoGuessr, you can take a few steps to improve your performance. These include studying the map, paying attention to the details, using triangulation to pinpoint the location, and using the hints provided to make an educated guess. With these tips in mind, you can start increasing your Fortnite GeoGuessr scores immediately.
1. Identify the Biome you are in. If the landscape only includes grass and rocks, it is most likely not from the Desert or Mountain regions, which can help you quickly narrow your choices.
2. In the top right corner of the screen, you will find a box that tells you what Chapter and Season of Fortnite you are in. Utilize this information to jog your memory and gain a strategic edge when understanding your current location.
3. Fortnite GeoGuessr may drop you in a seemingly desolate area with nothing in sight but rolling hills and dense foliage. But if you take the time to pan and zoom in, you may be able to find a recognizable Landmark or POI (Point of Interest). It will give amazing hints about your location on the Fortnite map.