The Pixel 2 has finally arrived. Google unveiled their newest flagship phones on October 4th, and there are quite a few changes in store. Most Customers buy Pixel Smartphone made by Google to enjoy the latest update of Android OS and power to enjoy the Customization. In this post, we guide you on rooting your Pixel 2 and Pixel 2 XL smartphone with Magisk or SuperSU. If you already have TWR Recovery on your device, then you can follow this guide to root Pixel 2 and Pixel 2 XL with Magisk or SuperSU.
Smartphone rooting is becoming a very common and in fact a popular approach in the present time. You might have no idea that a very large number of smartphone users go for it. Actually, rooting enhance the overall control that a user has on its device. A whole new world of possibilities can be made available if you successfully perform it. However, you need to keep one thing in mind and i.e., rooting voids the warranty of your device, can create issues or may even result in loss of data. It is therefore advisable to perform this task properly.
As already mentioned, rooting gives you unlimited access to your device. You can simply customize everything on your gadget such as boosting processor speed, removing bloatware and installing the apps that are not allowed. It is possible to root the devices simply. However, in case of Pixel 2 and Pixel 2 XL, it is a bit different. It is possible for you to have the root access on Pixel 2 and Pixel 2 XL through Magisk or SuperSU. It is quite true that among all the options for rooting, SuperSU is considered as best. This doesn't actually mean the other option i.e. Magisk mentioned in this post is not so effective. Magisk biggest benefit is its open source nature.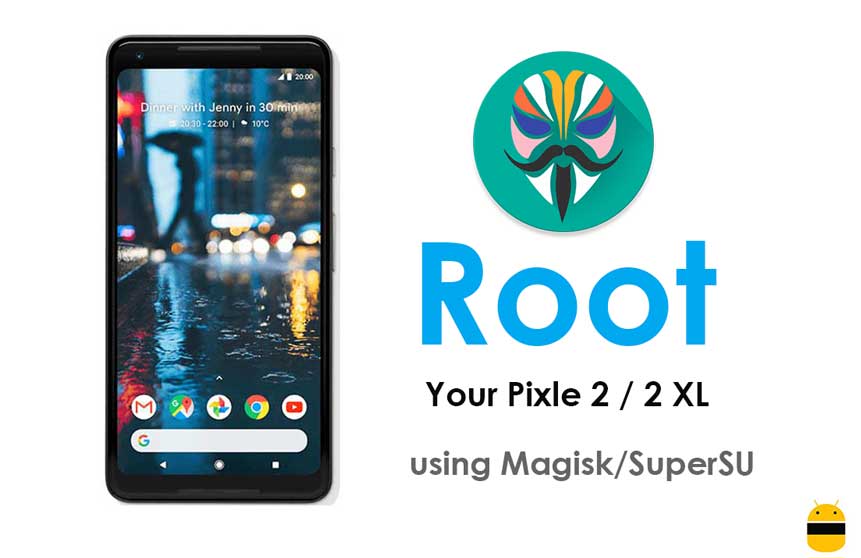 How to root Pixel 2 and Pixel 2 XL with Magisk or SuperSU
You need to manage a few things in advance to following the guide mentioned in this post, it must be ensured that you have Fastboot tools and ADB installed on your device. You need to visit the "Command Prompt" to start the ADB service. The "Developers Mode" should be enabled to your Pixel 2 and Pixel 2 XL and at the same time you must enable "USB Debugging Mode".
It really doesn't matter which method you consider, Pixel 2 and Pixel 2 XL becomes a more powerful device after doing so. The guide mentioned below can be considered for simply keeping up the pace in this matter.
Pre-Requisite:
Instructions
First of all, you need to unlock your Pixel 2 and Pixel 2 XL bootloader
After this, install the TWRP on the device following the right procedure.
After the installation is complete, stay in it and don't boot back to Android. (You can boot back into recovery anytime)
Choose your root option from Magisk or SuperSU and download the same on your PC.
With the help of a USB cable, ensure it moves from PC to your device. Make sure that connection is working.
At the top left, you will find "Install button", simply tap on it.
After this, tap on the file you download for rooting i.e. SuperSU or Magisk.
You will see a white arrow appearing. Simply swipe it to the right to begin the installation process.
You need to wait to let the installation complete.
Finally, you need to reboot your Pixel 2 and Pixel 2 XL when you see the "Reboot System Button" at the bottom.
You are now done.
It must be noted that the instructions mentioned above are for those who bought their Pixel 2 and Pixel 2 XL recently and haven't considered any other rooting method in the past. There will be a need for you to install Fastboot or ADB on your PC. After this, you can proceed with the above procedure. After considering the same, you need to download TWRP as a custom recovery on your device for rooting it. Actually, installing the TWRP avoids the issue of overwriting of code on the device. I hope this guide was useful to root Pixel 2 and Pixel 2 XL with Magisk or SuperSU.
I hope this guide was helpful to Root Pixel 2 and Pixel 2 XL with Magisk or SuperSU. Any further queries or questions or suggestions would be welcomed in the comment section below.