The Advanced Sleep Coaching program analyzes your sleep patterns and creates a 5-week program with helpful tips for improving your sleep habits. A more accurate measure of heart rate and wellness is now possible with an improved, curved sensor design. Here are all the stats that will help you be your best. The BIA sensor can read your body fat, muscle mass, water content, and basal metabolic rate, among other measurements.
However, even though everything is amazing about the Samsung Galaxy Watch 5 series, there are still some flaws that this Watch has, due to which users are facing many problems. Recently, for some users, the Samsung Galaxy Watch 5 and 5 Pro sleep tracking has not been working. But, you know what? Now, you do not need to worry as we have some fixes to this problem. So, if you face this problem, you are in the right place.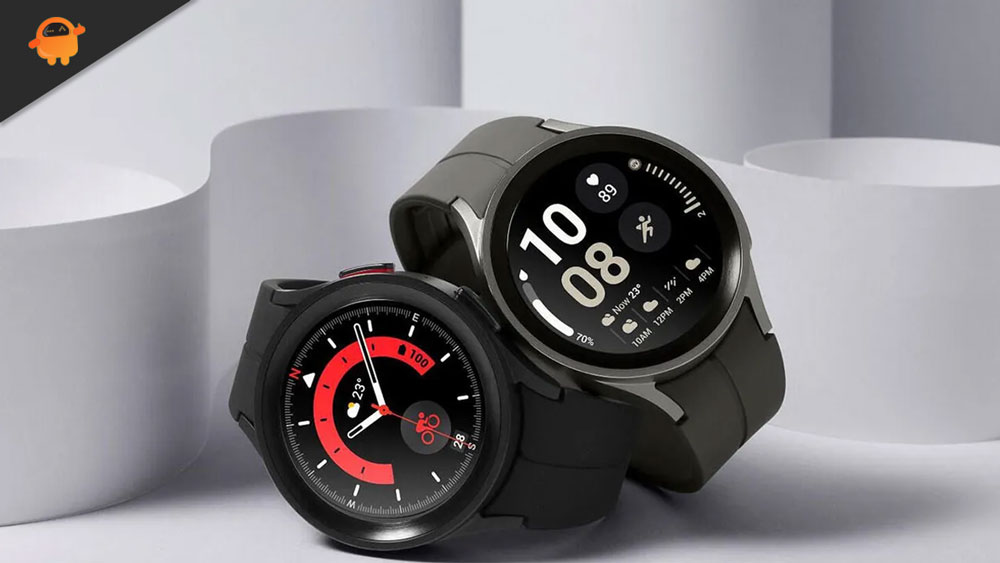 Why does my Samsung Galaxy Watch 5 or 5 Pro not show my sleeping rate?
It is possible for watches to display your sleep tracking not working for a variety of reasons. With the Watch 5, you can also run Google Fit instead of Samsung health applications, as they used to do with the Watch 5. You might not be able to measure your sleep rate correctly because of these reasons.
Your Watch OS has a problem.

It appears that the back sensors of your Watch have dirt on them.

There is a flood of water in the Watch.

Watches constantly move while you are sleeping.
How To Fix Samsung Galaxy Watch 5 and 5 Pro Sleep Tracking Not Working
The good news is that even though Samsung officials don't make any positive statements regarding this problem, but we still have some fixes that will help you resolve the Samsung Galaxy Watch 5 and 5 Pro sleep tracking not working issue. Therefore, let's get started with the fixes:
Fix 1: Reboot Your Device
In the event that you are having trouble displaying your sleep rate on your Samsung Galaxy Watch and phone, restarting them may resolve the problem. It is necessary to turn off your Watch before restarting it. On your Watch, you can access these options when you hold the Power button. The power button should be pressed to turn off the computer. Holding the Power button will bring up the Samsung logo after the device has been turned off. You should hold the Power button for a few seconds after pressing it.
Fix 2: Check the Available Storage of the Watch
In order for the Galaxy Watch to display your sleep rate tracking on your phone, you will need free space. It will be difficult to store all the files you need without enough storage space. In your Watch's Settings section, you can see how much storage space you have. The About page of the Watch contains more information about the device. In this section, you will find the Storage option. You should remove unnecessary data or apps if it is full or too high.
Fix 3: Disable Training Mode
It is possible that some software versions do not support the Pedometer and Sleep Tracking Sensor. Turning off workout detection on your elliptical trainer and rowing machine might be a good idea if you use both.
By swiping up from the home screen, you can access the menu.

Go to

Settings

.

Select

Samsung Health

from the menu.

Tap the

Activity

button if you want to detect activities.

Turn off the

elliptical trainer

.

Switch off the rowing machine to offload it.
Fix 4: Check Permission
In the absence of permission from the Watch's sensor, your preferred app won't be able to access sensor data. It is important to grant your app permission to access your Watch's sensors so that it can function properly.
When you open Samsung health on the Galaxy Watch 5, you will be able to access Samsung health. The gear icon on the Samsung health widget provides access to Samsung health settings.

On the next page, you can choose to share your data with devices and services. From the menu, choose Health Platform.

If you choose to allow Samsung Health access to all data you share with it, or you can choose which data Samsung Health is allowed to access, then Samsung Health can access any data you share with it. Once that has been done, click the done button. After that, check whether the Samsung Galaxy Watch 5 and 5 Pro sleep tracking has not been working issue gets resolved.
Fix 5: Clear Cache And Data
Connecting an Android phone to a Wearable app and clearing its caches and data may be the solution. To do this, click Settings and then Apps. In the All apps section, you'll find an app called Galaxy Wearable. You can access storage by selecting the Storage option.
By tapping on the button, you can clear the cache. If you want to use your phone again, you need to restart it. In the event that the cause is unknown, the data may need to be cleared, or the storage may need to be emptied.
Fix 6: Update Your Apps
The new Samsung Watch 5 SDK kit allows developers to develop apps compatible with all smartwatches, thanks to a new SDK kit released by Samsung for developers. To ensure a smooth experience and minimize battery consumption, the app is designed to run efficiently. Keep all apps updated for optimal performance because app bugs can sometimes lead to high battery usage.
Fix 7: Software Update
There have been reports of the problem to Samsung officials, and their developers are working hard to resolve it. In recent software patch updates, a number of software issues have been fixed, including the sleep rate not appearing on the Watch 5/5 Pro. It is, therefore, imperative that you update the watch OS as soon as possible.
You should have the Galaxy Wearable app open on your phone. There may be a Settings tab on your Watch that needs to be tapped. When you choose About Watch, the watch software update option will appear.
To download updates manually, select Download now or Update now. You can do this by following the instructions provided on the screen. Whether you want the software updated automatically depends on whether you enable Auto update or Download updates automatically. Whenever the Watch disconnects, this happens.

Check for software updates on your Watch after you have checked any apps you may have downloaded.

Apps for Galaxy Wearable can be launched from the Play Store. It depends on your Watch whether you need to click on the Settings tab.

If you tap Galaxy Store in the upper right corner, you will see more options (three vertical dots). Visit

My page

. If you don't have a Samsung account, you must create one first.

For a list of all apps that have been updated, click Update, then tap Watch. You can update all of your settings by tapping Update all on the top right. It is also possible to update each app separately by tapping the Update symbol.
Fix 8: Reset your Watch
If all else fails, try resetting your Watch. It is necessary to reset your Watch in order to resolve these issues.
Go to your Watch's settings.

Select the general option.

It is a good idea to back up your data before resetting. Next, press the reset button.

You will need to pair your Watch again once it has been reset.
So, that's how to fix if the Samsung Galaxy Watch 5 and 5 Pro sleep tracking is not working for you. We hope that you find the fixes mentioned earlier helpful. Furthermore, for more info, comment below and let us know.