Let's check out the steps to add Spotify songs onto your Instagram story. Without a shadow of a doubt, Instagram is among the best photo and video sharing social networking app. From sharing your personal moments to letting the world know about your activities, there is a lot that could be done via the Facebook-owned app. And one of its most used features is the Story section.
You could put up and share anything as per your liking, be it videos or images. Each story remains available for others to view for a period of 24 hours only. So you would definitely like to engage as much of your friends and followers in this short span of time as possible. Keeping this in mind, one thing that you could do is add a background song to your story to make it more visually appealing and interactive in nature.
Today, we will be showing you how this could be done using the Spotify app. Everyone's favorite music streaming service Spotify makes it pretty easy to share your favorite song directly to Instagram's story section. Be it a pop song, a classic one or any other song across any genre of your liking, it supports all. Well, that's not it. Once you have uploaded it to your story, you could also add text, GIFs, location, poll, or tons of other stickers and emojis available at your disposal. So if you are interested in the same, here are the steps to add your favorite Spotify songs onto your Instagram story. Follow along.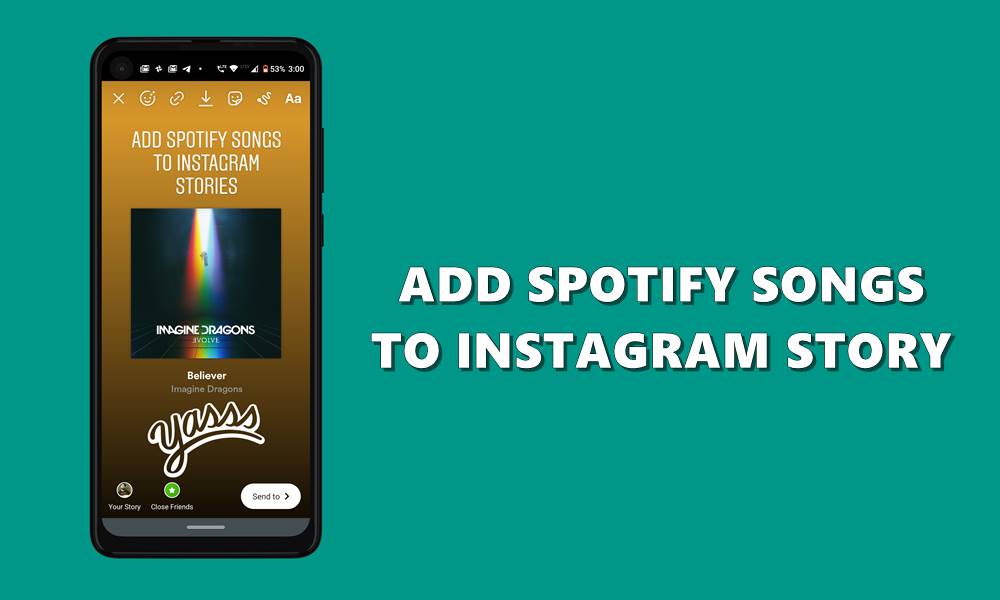 How to Add Spotify Songs on Instagram Story
It doesn't matter if you're using an Android or iOS device. The steps are the same for both platforms. With that said, download the Spotify app right away for your Android or iOS, if you haven't done so already. Then log in with your email or Facebook ID and proceed with the below instructions to add Spotify songs to the Instagram story.
Steps to Follow
Open the Spotify app on your device.
Search for your favorite song that you wish to share over to Instagram.
Now next to the song, tap on the overflow icon (the three vertical dots) and select the Share option. Or if you are already listening to a song, you should see the same overflow icon on the top right. Tap on it and select Share.
From the Share menu, tap on the Instagram Stories option.

You should now be taken to the Instagram Story section and the selected Spotify song will automatically be added.
As mentioned before, you could also customize it just as you do for any other story. Use the given option at the top bar for the same.

Once done, tap on the Your Story option to share it with all your friends, or the Close Friends option to share it with a selected few. You could also use the Send to option if you wish to share it with any specific person.
Conclusion
With that, we come to the end of the guide on how to add Spotify Songs to the Instagram story. The steps are quite easy to execute, without much of a fuss. With that said, do share your views about this feature, in the comments section below. Also check our all
iPhone Tips and Tricks
,
PC tips and tricks
and
Android Tips and Tricks
section to gather more knowledge.