Players can come across the error "Failed to Start Game (Missing Executable)" in Steam when trying to launch a game. This primarily occurs due to a failure in locating the associated game file or blockage from an external program.
This guide will help the players who are facing failed to start game issues in their Steam launchers. So let's get started.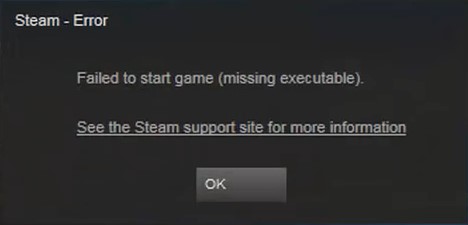 Fix Steam Launch Error – Failed to Start Game (Missing Executable)
Here are the set of solutions that will help the players to fix the issue of failed to start game (Missing Executable). All the fixes are necessary and should be performed one after the other. So it is important to read all of them carefully. Now that being said, let's start.
Solution 1 – Antivirus and Firewall Check
Windows Firewall settings identify processes that are crucial for Steam to run smoothly as malicious which triggers the "Failed to Start Game (Missing Executable)" error. The safety setting in the firewall can sometimes cause other conflicts within Steam that may not be easily identifiable. The processes from Steam tend to run in the background, mostly to avoid causing any interferences and Steam also has access to certain system configurations to provide the best gaming experience.
To correct this error please try disabling the Firewall temporarily. Launch Steam again and check if the error dialogue is present.
The error can also be caused by Anti-virus software. This software tends to identify Steam processes as malicious and quarantines the game files. Here's all you need to know on how to resolve the anti-virus block on Steam:
Run the anti-virus software and identify other similar game files that have been marked as malicious. Change their status to safe.
Change the anti-virus settings to Game mode.
In the list of application that gets scanned, add Steam to the exempted list.
Additionally, there are certain third-party programs that may affect the smooth running of Steam. It is advisable to examine their setup on your system and identify their impact on other applications. Check out the list below:
VPN Software
IP Filter Systems or Blockers
Download Manager Systems
File Sharing Software
Solution 2 – Verify Game Integrity and Files
If the issue was not resolved due to the anti-virus of firewall settings, the issue could be due to missing files or corrupted files within the game directory. These files may trigger the "Failed to Start Game (Missing Executable)" error.
Files getting corrupted are a common issue since Steam files are generally over several GB in size. It is best to verify the status of the downloaded game files from within the Steam client.
Here's all you need to know on how to verify that the game files are correct:
Restart the PC and launch Steam
Select Properties by right-clicking on the game from the menu sidebar.
Select Local Files and proceed to click on Verify Integrity – Game Files.
Steam will immediately run a check to make sure that the downloaded files are genuine and installed correctly. This process may take a few minutes.
The error can also be due to an incorrect Steam configuration and its parent libraries. These Steam Library files would need to be repaired in order to launch the game. This process can take several minutes. It is important to note that at the end of this process, you will need to verify your Steam credentials.
Solution 3 – Grant Administrator Access
Sometimes, Steam may not have the desired user privileges to run and it results in the "Failed to Start Game (Missing Executable)" error dialogue. Check the Steam installation folder for the Steam.exe file. Grant the file and entire Steam directory administrator access.
Check if the error dialogue box is still present. If now, follow the last solution to get yourself free from such issues.
Solution 4 – Contact Steam Support
If you've successfully performed the solutions above and are still facing the "Failed to Start Game (Missing Executable)" error, please submit a ticket with the Official Steam Support team.
To submit a ticket, please keep the following information ready:
Complete screenshot of the error
Complete system report (MSinfo or System Profiler)
List of removed programs that affect Steam and its applications
That's all we have for you in return for the problems faced by the Steam Users in regard of Failed to Start Game (Missing Executable). We hope following our fixes have definitely solved your issue. If you liked this, don't forget to check out our other Wallpapers, Windows Guides, Gaming Guides, Social Media, iPhone Tricks, and Android Tricks for more guides. Subscribing to our YouTube Channel will help you win the $150 giveaway contest. If you have any doubts or feedback, comment down below with your name along with the e-mail ID, and we will reply shortly. Thank you.