TeamViewer is one of the popular and widely used remote desktop connection software. It's being used to remotely access or control, desktop sharing, online meetings, conference, file transfers, and more for computers & smartphones. However, not a single software or tool comes without any bug or error and TeamViewer is no exception here. If in case, you're using TeamViewer and getting Proxy Error in Windows 10 then check this troubleshooting guide to simply resolve the issue.
Starting off, as some of the users may not use the TeamViewer tool on their PC regularly, it's pretty much sure that there may be some pending updates waiting to be installed. Most of the updates always offer general bug fixes, improves stability, and other errors as well. So, if in case, you haven't updated the TeamViewer for a while, make sure to update it first. Once you open TeamViewer, it will automatically give you a pop-up that the new version is ready to update. Just click on the download icon from the interface and click on the latest version.
However, if updating the version doesn't work for you for some reason, don't worry. Here we've shared a couple of possible workarounds below that should come in handy for you. So, without further ado, let's get into it.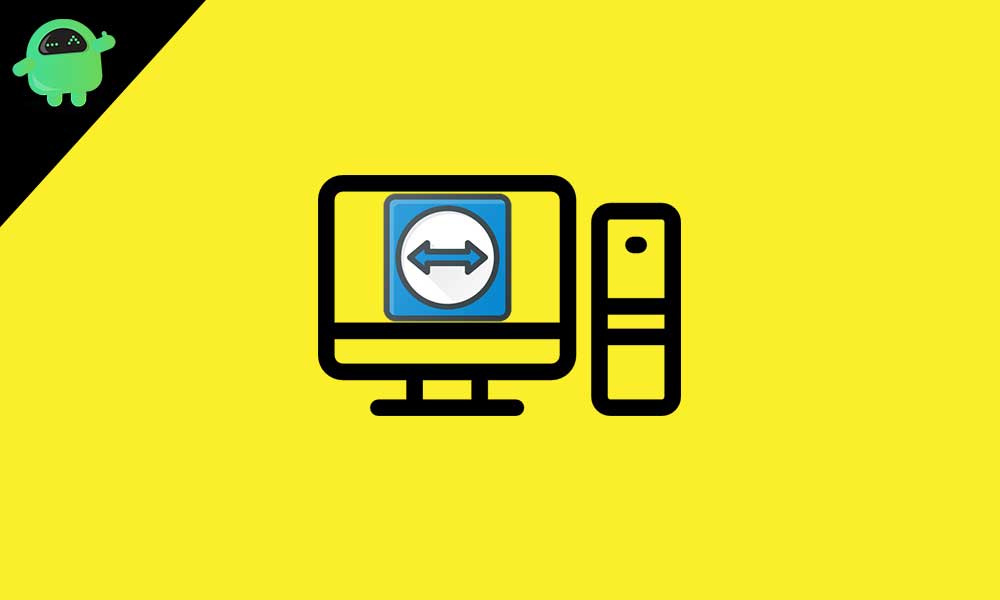 What is Proxy Error in TeamViewer?
People use TeamViewer by providing TeamViewer ID and Password for the authentication process. So, whenever you connect within your own computer or with others, all you need to know is the displayed ID and Password in the interface. Simply input the credentials and it will automatically verify then connects remotely.
But talking about the Proxy Error in TeamViewer, it's one of the connectivity-related issues that so many users may encounter. In that scenario, users may not be able to establish the remote desktop connection and it mostly happens due to the older version of TeamViewer like v11 or v12. At the time of writing this article, the v15 or higher is the latest one and it may be higher according to the time whenever you read this guide.
How to fix TeamViewer Proxy Error in Windows 10
Meanwhile, the tool will ask you to check for the internet connection that you're using on the PC once TeamViewer fails to connect remotely. If none of the recommendations work for you, then you can follow the below steps one by one to check whether the issue has been fixed or not.
1. Restart your PC
One of the most common and easiest fixes is to restart your computer whenever you will receive any kind of error or glitch or bug or performance issues on the PC. Some times due to several glitch or stability issues, the Windows system or the particular program may not work as expected. So, simply restart your PC and then try again.
If not fixed, follow the next method.
2. Check Windows Firewall
It's also possible that Windows Firewall protection is blocking the TeamViewer program to run properly. So, it's better to head over to the Firewall app and whitelist the TeamViewer application as an exception.
If Firewall isn't blocking the TeamViewer and still the proxy error appears, then check another step below.
3. Change DNS Addresses
Click on Start > Type Control Panel and click on it from the search result.
Click on Network and Internet > Choose View network status and tasks.
Select Change adapter settings > Here you will need to right-click on the active/connected internet profile.
Click on Properties > Double-click on the Internet Protocol Version 4 (TCP/IPv4).
Now, click on the radio button Use the following DNS server addresses.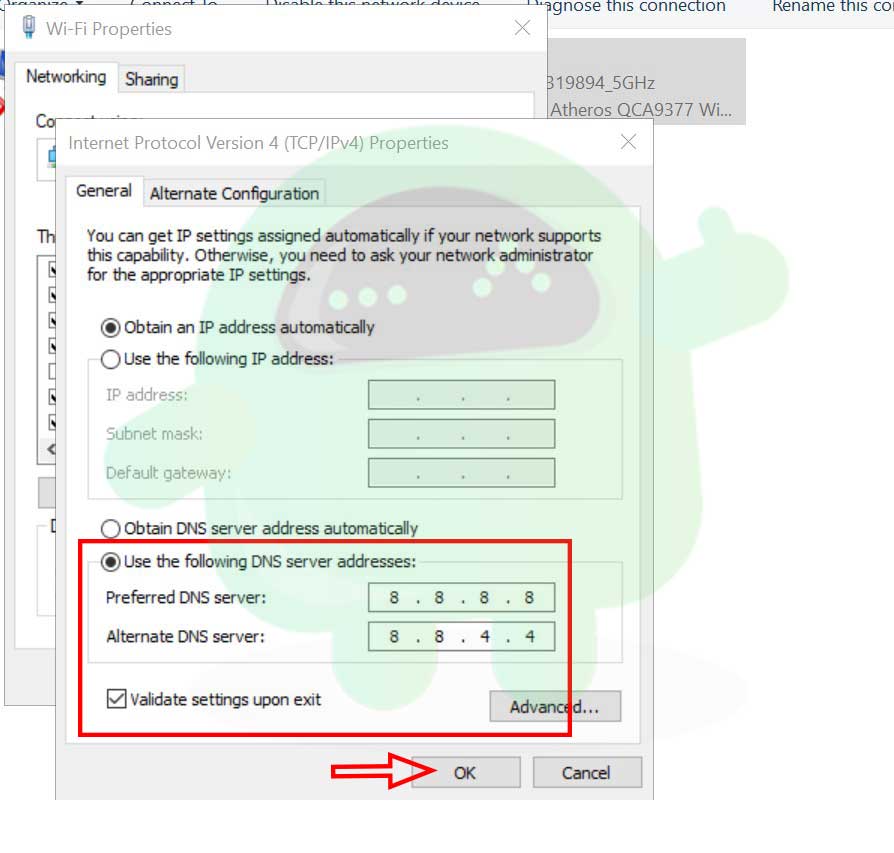 Input 8.8.8.8 in the Preferred DNS server and 8.8.4.4 in the Alternate DNS server.
Enable the checkbox of Validate settings upon exit by clicking on the box.
Finally, click on Ok and restart your computer.
Then launch the TeamViewer tool and try again. If not fixed the issue, then follow the next method.
4. Check Proxy Settings
Click on Start > Select Settings.
Type Proxy and click on Proxy Settings from the search result.
Make sure all the proxy options are turned off completely.
Next, you should go to the TeamViewer app and check proxy settings there.
Launch TeamViewer app.
Click on Extras > Choose Options.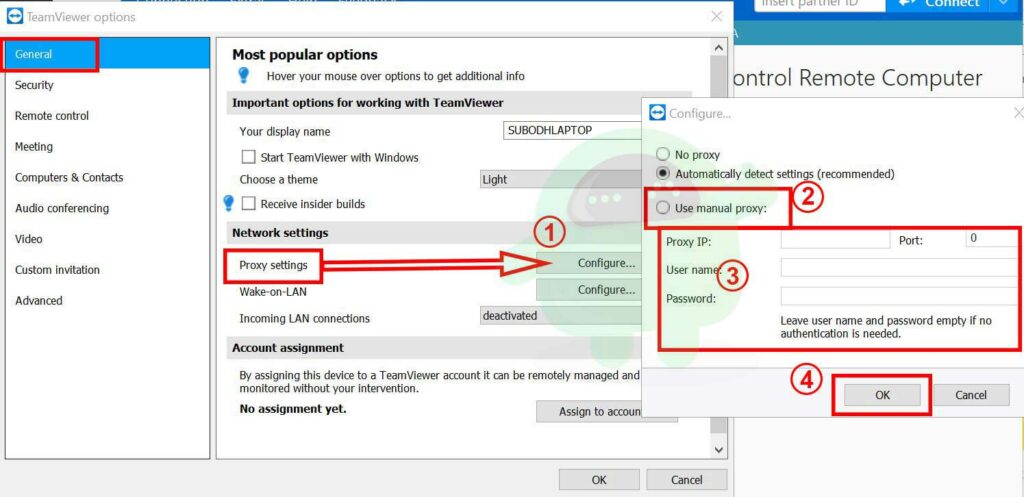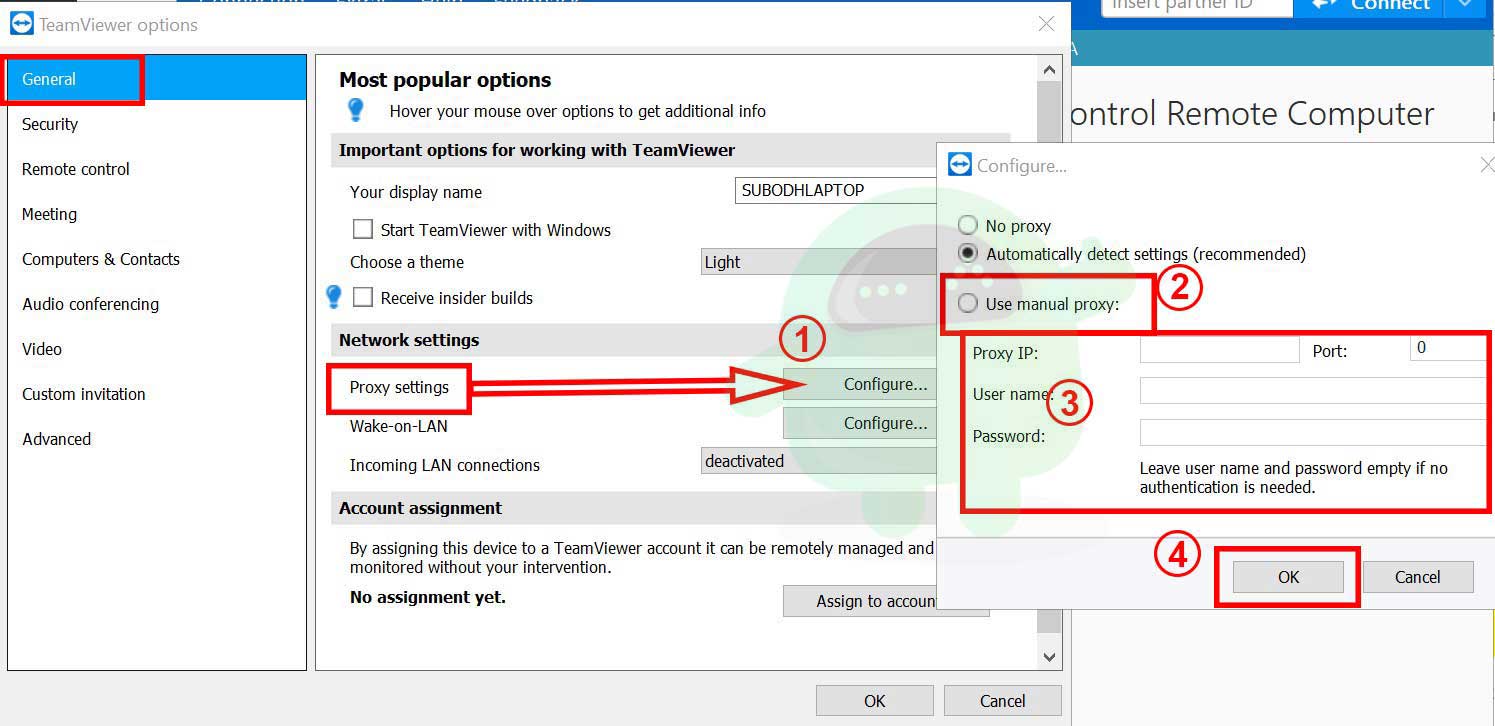 Form the General option, you can see Proxy settings under Network settings.
Click on Configure > Click on Use manual proxy.
Enter the Proxy IP, Port, Username, and Password (if any).
Click on OK and restart TeamViewer to check for the proxy error again.
That's it, guys. We hope this guide was helpful to you. Feel free to ask in the comment below for further queries.