Have you been on the lookout for some good social media and entertainment applications for your Android device? If that's the case, you would love our article with some of the handpicked Top 5 TikTok Alternatives for Android and iOS. Read on to learn more about such apps!
Social media has evolved into a giant bubble that everyone is a part of in the modern world. One cannot imagine living a life without interacting with their friends or family over the Internet. We've seen applications and websites such as Facebook, Instagram and Twitter absolutely dominate the social media scene ever since they emerged. However, in the recent few years, people have graduated into using more unconventional social media applications such as Snapchat, Vine, or Periscope. This is all thanks to the different interests among the newer generations and the need for a more appealing social media platform in general.
TikTok is one such application that has absolutely taken over the internet in the past few years. It emerged as a video-sharing platform but has soon turned into one of the most entertaining platforms for like-minded people around. You can find all types of content on TikTok, be it educational or entertaining. Thanks to this service, many individuals have found their niche and are leading a successful life as a TikTok influencer, making money off of what they like doing best. This is to say that the viewers or the audience also now have a wide range of content to choose from and consume.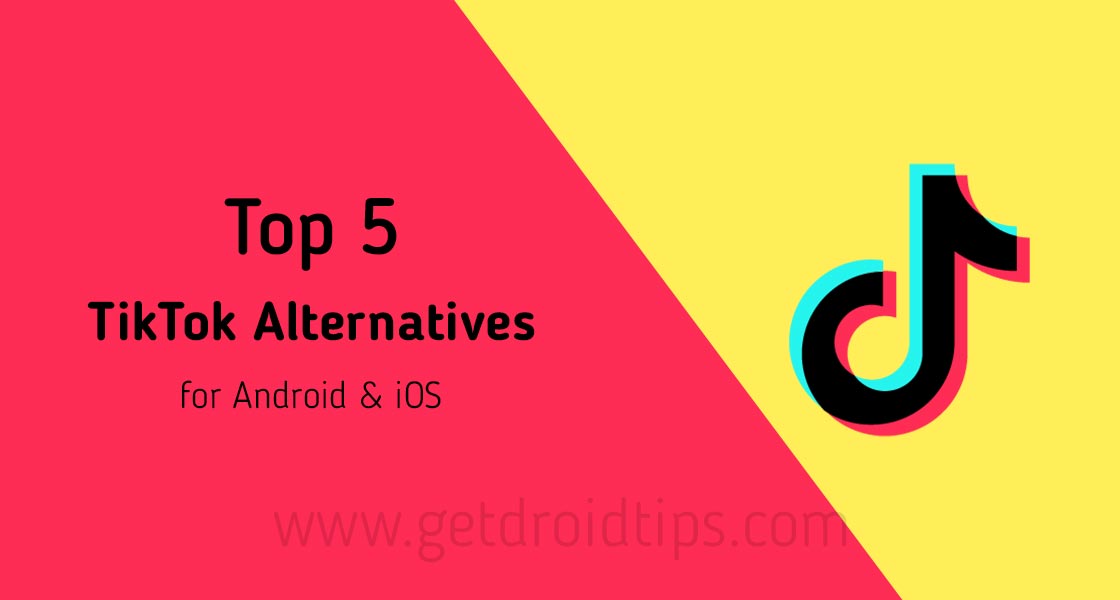 If you have been a TikTok user on either Android or iOS, then you must also have come across a few other apps like it. If you haven't though and would like to learn more about similar apps to that of TikTok, then you are absolutely in the right place! While TikTok is the most dominant app in its category, it is safe to say that there are still tens and hundreds of other good social media and entertainment apps available for both Android and iOS that are worth giving a shot. We have looked around and tested for a bit, and have compiled a list of some of the best TikTok Alternatives for Android and iOS devices that are available to download and use for free. So, sit back, relax and discover some great social media and entertainment apps!
Top 7 TikTok Alternatives for Android and iOS
All of the apps mentioned below have been tried and tested by yours truly, and I recommend only those apps that provide a fulfilling user experience. As far as availability goes, most of the apps we've mentioned below are free, to begin with, but run on a freemium basis which means users can opt into buying the premium versions which unlocks a whole lot of other cool features. Overall, if you don't plan on spending any money on TikTok Alternatives, you can still enjoy most of the listings here too! With that being said, let's take a look at our top picks!
#1 – Cheez
Our first alternative to TikTok is already a much better platform for those who want to make a quick few bucks and also improve their acting skills at the same time. Cheez is an app with an enriched community where you can produce and share short music videos, vlogs, comedy skits, or even fashion videos. You get compensated if your videos get a set number of views, likes, and shares, and you can even further compliment your earnings by appealing to more people around the globe who use this app as well. While Cheez is great for those who love sharing and consuming entertaining videos, it also has a powerful editor which you can use to refine your existing creations. There are live filters, lip sync automation and so much more. You can try out the latest version of Cheez for your Android device by following the Google Play Store link provided below :
Download
#2 – Dubsmash
Remember Dubsamsh? Of course, you do, it was the craziest app to have risen in glory in the recent past. Although many might believe people aren't fond of using Dubsmash anymore and have gravitated towards apps like TikTok or Musical.ly, there is still a huge community that makes and shares their entertaining videos on Dubsmash every day. If you're one of the people who don't know much about this platform, Dubsmash basically allows you to lip-sync to all sorts of entertaining audios. This includes songs, famous quotes from movies or TV shows, and even memes. True art relies upon the person who is delivering it with their own added touch to the recording. You can try out the latest version of Dubsmash for your Android device by following the Google Play Store link provided below :
Download
#3 – Triller
Triller is yet another great alternative to those who have always wanted to direct their own entertaining videos and share them with a big community. You may know Triller from all the celebrities who have used it to promote their songs or movies in the past, and that speaks volumes about how popular the app really is. What makes Triller so great is the auto-editing mode which does exactly what it says and stitches together a really professional-looking video for you to share around with friends and family or even the entire Triller community! You can find several popular challenges on Triller as well, making it one of the most fun and updated communities out there. You can try out the latest version of Triller for your Android device by following the Google Play Store link provided below :
Download
#4 – Funimate
Up next is not really an alternative to TikTok, but more of a supplementary app that goes really well alongside it, or any others that we've talked about on this list. While Funimate isn't really a video sharing and consuming service, what it is, is a really powerful yet easy-to-use editing app for your smartphone. Funimate makes it easier for people to use the popular effects and art that you see in the best videos on platforms like TikTok and Triller. You can use the video editor to add live effects, create your own and save them as presets for later use, add proper background music, merge or trim clips together and away, and much more. It also has a video loop mode which perfectly loops your content for the really cool ever-lasting effect that you see on a few TikTok or Vine videos. You can try out the latest version of Funimate for your Android device by following the Google Play Store link provided below :
Download
#5 – Likee (Formerly LIKE Video)
You may already have heard about the LIKE Video app, which has now been rebranded to Likee. It is basically a huge repository of unique live filters and editing tools that can make the most boring of clips into something out of a sci-fi movie. The only limit to creating better videos using this app is your creativity. Likee also happens to be one of the most famous video sharing and entertainment apps in half of the Asian countries and then some. You can grow your own following and interact with a community of millions of people and strive to make even better videos with this app. There are a lot of appealing features that might pull user's attention towards it, such as live makeup filters, microsurgery filters, automatic music edits, and much more. You can try out the latest version of Likee for your Android device by following the Google Play Store link provided below :
Download
#6 – Byte
Remember Vine, the popular short-video social media that became a sensation globally? Well, many were saddened to see it shut down, but one of Vine's co-founders came up with a similar social media platform dubbed "Byte". Sadly, the app never reached the heights it was predicted to and the hype around it quickly died.
However, Byte still has some of the most unique content you can find on the internet. It adapts the 6-second rule from Vine, which means no videos on the platform can exceed 6 seconds. This not only makes for a very intriguing set of videos that users can watch but also challenges the creators to be more creative and tell as much as they can in just 6 seconds.
Byte has one of the most minimal user interfaces of any social media app we've seen, and it makes sense because there's simply not much you can do in the app other than watching an endless list of short videos. As a creator, you can make videos on Byte as well, and the built-in editor seems quite capable. You can try out the latest version of Byte for your Android device by following the Google Play Store link provided below :
Download
#7 – MX TakaTak
Ending the list of some of the best TikTok alternatives you can try, we have a special one for the Indian audience reading this. As we're all aware, TikTok was banned in the country following concerns of social media addiction and youngsters giving in to harmful trends. Well, it only took a few weeks for India to find a worthy alternative to TikTok for itself – MX TakaTak.
The name isn't the only thing that has been inspired from the original, most of the UI elements remain similar, which might be a good thing for people who liked using TikTok. MX TakaTak has over 100 million users, making it one of the biggest social media platforms in India. With over 15 million individual creators, your explore page is destined to never run out of exciting content.
MX TakaTak is also a great tool to build an audience for those interested. The built-in editing tools offer a wide range of customization to make a very appealing video. The app also has a rich music library, which means you don't have to go look for the music on third-party websites. The app is so trending that it won the Best Fun App 2020 award on the Play Store. You can try out the latest version of MX TakaTak for your Android device by following the Google Play Store link provided below :
Download
That's all folks! We hope you enjoyed our roundup of some of the Best TikTok Alternatives for Android devices! Which one among the list is your favorite, and how many of these photo editing apps have you already known or have been using? Know other good Android TikTok Alternatives that you feel people might find interesting? Do let us know in the comments section below, we'd be delighted to hear from you guys!