Have you come across a situation where your contacts started displaying on someone else's device or vice versa. Notably, this happens when you either logged in with your account on a different device or someone else logged in with their account on your device. The problem is that Google starts syncing your contacts once you log in on a device. Even though you can disable the contact syncing option but, this option appears once the syncing has started. However, with the help of this article, we will give you top ways to add Google account in Android without syncing.
Moreover, with the help of this process, you can take control of what is getting synced when either you log in with your account on another device or some else logs in on your smartphone. So, without any further ado, let us get straight into the article itself: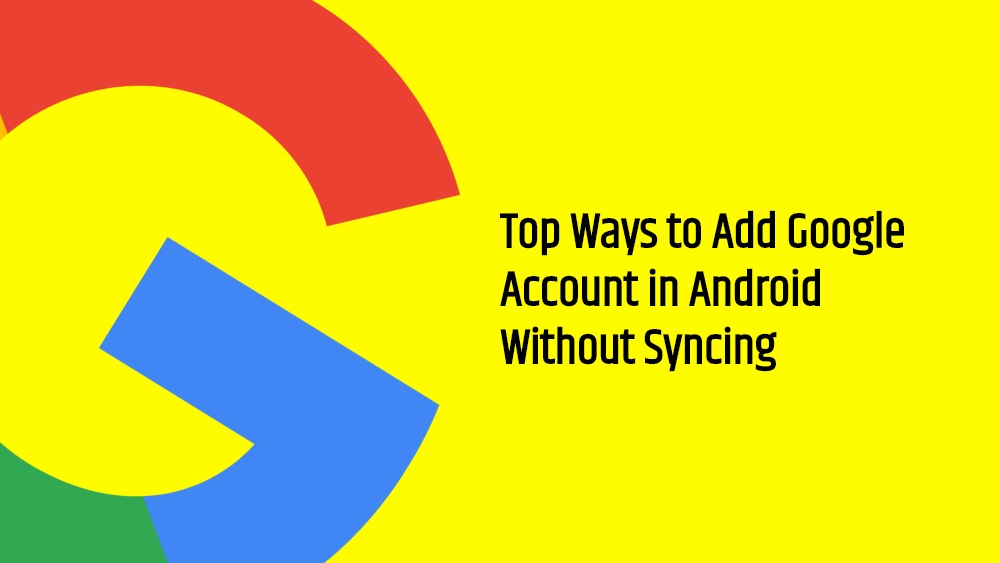 Top Ways to Add Google Account in Android Without Syncing
But before we go ahead with the procedure, it is better to understand the issue first. Basically, when you log in a Google account on any Android device. it automatically starts syncing the data related to that account i.e. contacts, emails, images in Google Drive, etc. This means that your personal data gets synced to another device and if it is not your personal device then, it is a matter of privacy and concern. Hence, to avoid all these issues, you can follow the below guide:
Disable Sync of Google Account
The first and foremost thing that you can do to avoid such mishaps mentioned above is by disabling the syncing of Google account. And to do that follow the below steps:
Log in with the Google account that you would like to stop the account sync option for.
Once you have reached the last step of adding an account, quickly tap on Airplane mode from the quick settings panel.
Then head back to the Google account page via Settings>>Accounts.
Click on your Google account.
Now choose Account sync or Sync account.
Here you need to turn off the toggle for those items that you do not want to sync.
Now, turn on the airplane mode from quick settings and resume the sync procedure.
This will sync only those items that you allowed the sync option for.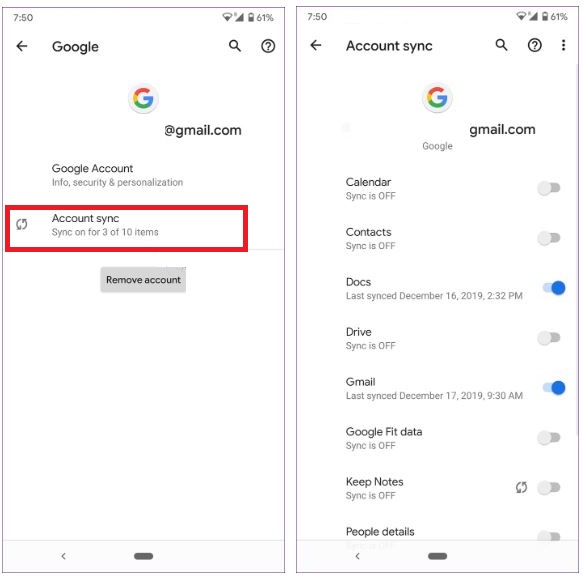 Disable Apps
Google integration sometimes can be a problem when you do not want to sync your data across all the apps. Apps like Gmail still have access to all the data that you logged in with. Moreover, if you stop the sync option for Gmail, it will just stop the notification that's it, and nothing else. But there is a workaround if you do not want to sync your data with Gmail. You simply need to head over to Settings>>App manager>>Gmail. Then tap on Gmail and simply disable the app.
Create Multiple User Profiles
If you want to use Google accounts on a single device but want to keep your data separate then, you can simply create two user profiles on your Android device. All Android smartphones offer this feature of creating a separate user profile that will give you the freedom of using a smartphone without the need of linking all your data with each of the profiles. Moreover, users will not be able to access your personal data. Though this is not a permanent fix for this issue, it can come handy if you have a lot of personal data in your device and you are sharing your device with a third person.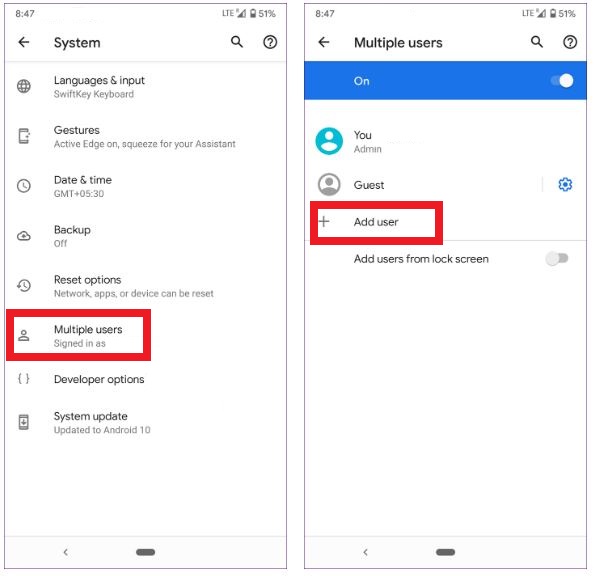 Use Google Play Family Sharing
There are many times where we want to share an app or purchased data with our family or friends. And if you are also looking for sharing the data, you do not need to log in with your account in your friend's or family's device. Instead, you can make use of the
Google Play Family Sharing
. This lets you share all your purchased data to up to 5 family members. Moreover, they can use the purchased data using their own account, thus avoiding your data from getting synced.
So, there you have it from my side in this post. Hope you guys liked this post and were able to get rid of the Google account sync on your device under different scenarios. Let us know in the comments below if you liked this post, or if you know any other method that lets you keep your data safe from unnecessary syncing. Until the next post…Cheers!