Twitter is a social media platform for the big bois; I mean celebrities. However, you can also create a new account and start using it. But sometimes, you might face the Twitter Account Locked issues where you cant access Twitter at all. In this scenario, this guide will help you to re-activate your Twitter account easily.
Twitter allows people to interact with each other with the use of tweets. These tweets are of 140 characters, and that's why people love it. Celebrities, actors, and other famous personalities can tweet short bits of information for their audience. It's a great platform to share and receive information. Until your Twitter account gets locked, if your Twitter account is locked, you won't be able to access to read or make tweets. And if you like using Twitter, then this scenario will definitely piss you off. So here is a complete guide on what to do if your Twitter account is locked.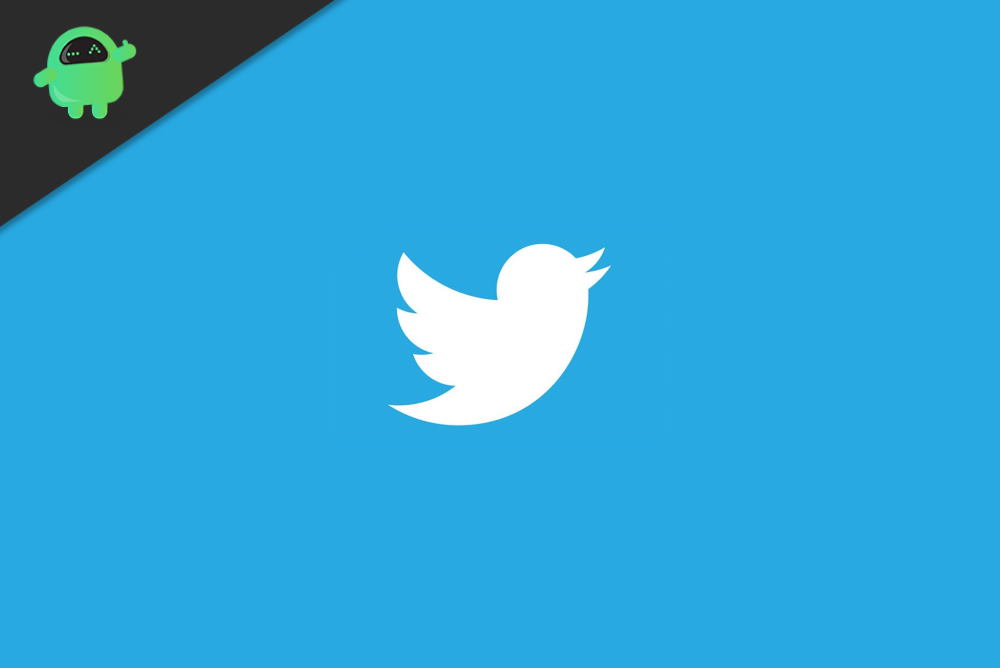 What Is Twitter?
Not aware of the term Twitter? Well, Twitter is a 'microblogging' and 'social networking' service. Users are allowed to post and send short messages termed as tweets. These tweets can be up to 280 characters long and can contain external links too. Registered users can post, like, and retweet tweets, however, unregistered users can only view the posts.
Twitter users can follow each other. Following someone means you can see their regular tweets on your timeline. So, users can always follow people with common academic and personal interests. Moreover, you can simply retweet on their tweets, retweeting helps quickly share the information with a huge number of people.
Why Twitter Locks Your Account?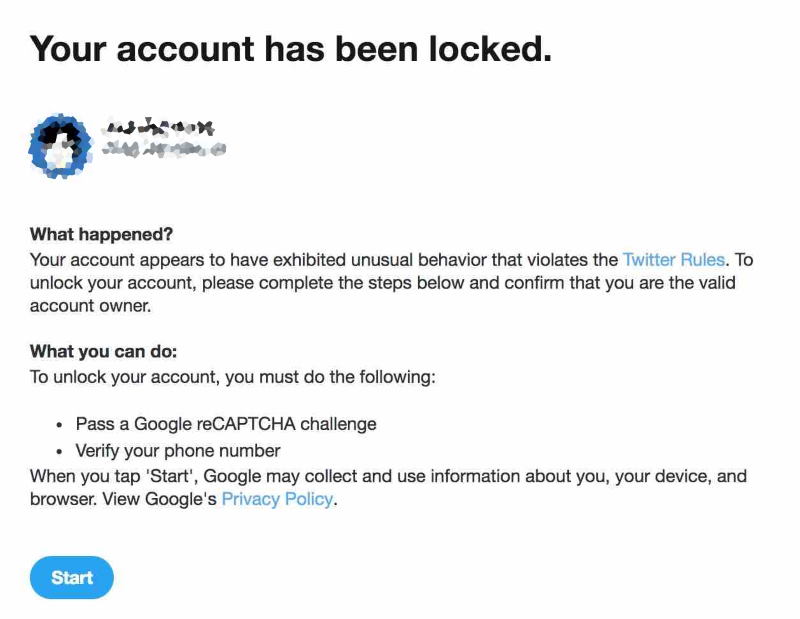 Twitter has several ways to restrict access to the user's accounts, depending on the severity caused due to suspicious behavior or security concerns. If it notices any unsafe activity, Twitter simply locks the account.
Reasons For Temporary Ban
Repeated failed login attempts: In case, you try signing-in to your Twitter account with an incorrect password, Twitter suspects the failed login attempts and locks the account to keep it secure.
Security concern: If Twitter suspects a phishing or malware attempt by an unauthorized user, it immediately locks down the account. Once the account is locked, Twitter sends you an email asking to verify your account and change the password.
Posting the same or similar content repeatedly: Twiter doesn't want you to act like a bot. DO not post any repeated tweets or messages.
Using abusive language on trending topics: When it comes to handling vulgar and abusive or hate speech, Twitter either temporarily locks your account. So do not indulge in posting or using Hate speech or abusive language.
Reasons For Permanent ban
Sending automated tweets or replies: Twitter doesn't like bots or actual people who make the use of automated replies system. This is against Twiter's use of policy and locks down users' accounts who violate this policy.
Following and Unfollowing a huge number of Twitter accounts: If your following or unfollowing a large group of people, then Twitter will flag your account as a bot, and it will be locked for a few days. This usually happens after you try to follow or unfollow more than 500 accounts in one go.
Impersonating Someone on Twitter: Twitter hates fake people, So do not try to impersonate other real-life people on Twitter. It is okay for fictional characters but not for real-life personalities.
Violation of other Twitter rules: There a Twitter rules & policy page which you accept while signup up fo their services. In case of any violation of that policy, your account might get a temporary or permanent ban. So it would be a good idea to read that policy to avoid any future bans.
How To Recover Your Locked Twitter Account?
The steps for recovering your locked twitter account is quite different from recovering a restricted or suspended account. So, let us have a look at how we can regain access to a locked account.
Firstly, log in to your Twitter account. A message will be displayed notifying you that your account has been locked for some specific reason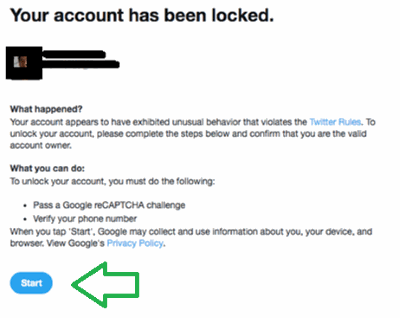 Now, click on the start button at the end of the message. Enter the phone number, which is associated with your Twitter account.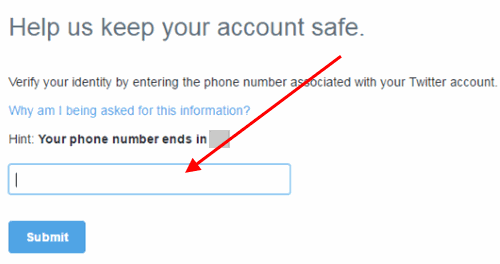 Next, Twitter will send a verification code through call or SMS. After getting the verification code, enter it on the given space and click the submit button.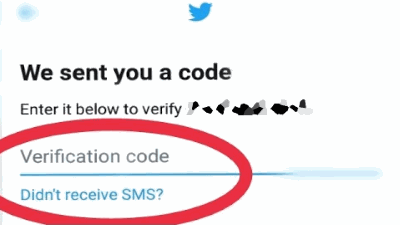 If you didn't receive any verification code even after a wait of 5 minutes or more, simply select the "didn't receive" option at the bottom.
Once your phone number is verified, Twitter unlocks your account immediately, and you are good to go.
How to save your twitter account from locking again?
Unlocking your Twitter account is never that hard. But what's more important to know is how to prevent further locking of your account in the future. Well, in order to maintain a healthy Twitter social profile, it is important to know what measures we should take to keep it secure. Getting locked up for silly actions can be greatly annoying. So, check out the instructions below to save you Twitter account from locking again:
Be careful while entering your login credentials.
Do not overdo using third-party services
Read the Twitter terms and policies for better understanding and do not violate these policies.
Do not post anything which is against twitter's terms of use.
Remove all contents containing abusive language.
Try avoiding these mistakes to save your Twitter account from further getting locked in the future.
Conclusion
Twitter is very much cautious about the contents published in it. Though there are many reasons why Twitter may lock your account. But these were the most common among all. And even if Twitter locks your account, the lockdown might be there for 1 hour to 48 hours. Remember the precautions you need to take to avoid locking your account in the future.