Nubia Red Magic 5S (Also Known NX659J) has been launched as the newest member of the brand's Red Magic series of gaming smartphones, after the Red Magic 5G and Red Magic 5G Lite. The Red Magic 5S includes an improved cooling system, with a silver-plated cooling pad called ICE Ag accompanying the 15,000 RPM built-in fan for better thermal performance under load and while charging.
If you happen to own a ZTE nubia Red Magic 5S NX659J and are looking for ways to unlock the bootloader of the phone then, you are at the right place. In this post, we will be guiding you on how to unlock the bootloader of the Nubia Red Magic 5S phone. If you are new to rooting, then you must understand that first, you need to unlock the bootloader of the device and then install a custom recovery like TWRP to root the device. So, that being said, let us get straight into the article itself: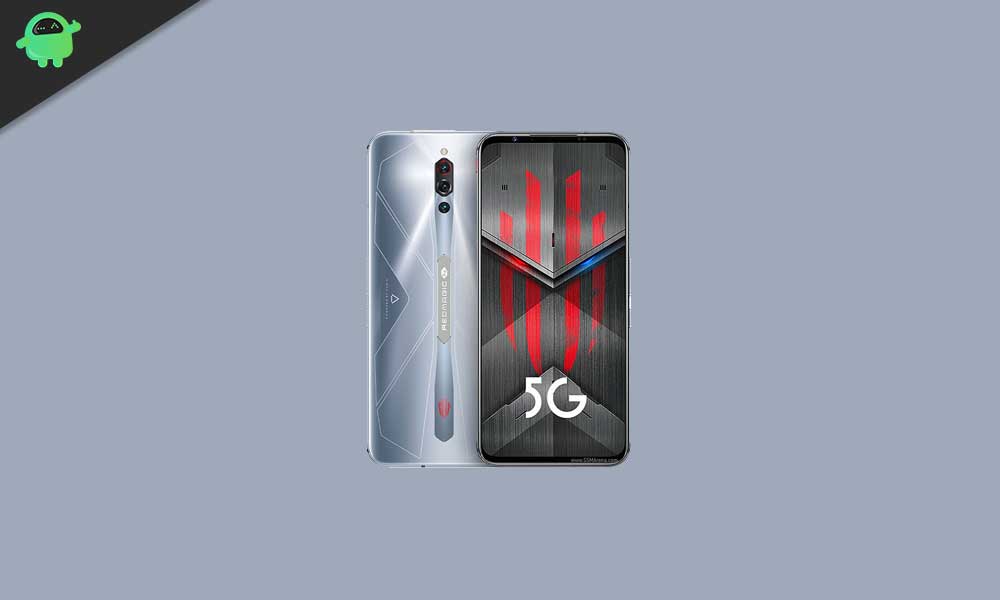 What is Bootloader Unlock?
A bootloader is a program that is the first thing that boots up in your device whenever you turn ON your device. It commands the device to run the appropriate programs in order to run smoothly and provide better performance. Moreover, the bootloader is stored away from the reach of the user and is stored at a stable memory so that the user could not hamper the files. However, there are methods and ways via which you can safely unlock the bootloader of the device and go ahead with flashing a custom recovery to root your device. But, you should make sure to follow a reliable guide and follow the steps correctly in order to avoid any permanent damage to your phone.
Why do we need to unlock the bootloader?
Once you have unlocked the bootloader on your phone, then you can root your phone. It allows the user to go ahead and install restricted apps, mod apps, install custom OS like Lineage OS, etc on the device. Note that the unlocking of the bootloader will void the warranty of your device. So, it is better to allow the warranty period to get over and then unlock it.
Advantages
You can install any custom ROM like Lineage OS, Resurrection ROM, etc.
You can also root your device.
Install a custom recovery like TWRP.
Disadvantages of bootloader unlock
Below are the disadvantages of the bootloader unlock that you need to keep in mind before you go ahead and actually unlock the bootloader of your phone:
After unlocking the bootloader, it voids the warranty of your device.
You will no longer receive the official OTA updates.
You can brick your device if you do not follow the steps carefully.
Pre-requisites
Now before we go ahead and unlock the bootloader of Nubia Red Magic 5S, let us make a list of pre-requisites that are required to unlock it:
Charge your phone
You need to make sure that your Nubia Red Magic 5S NX659J is charged to about 60% before operating it for unlocking the bootloader to avoid any boot loop issues during the unlocking process.
You need a PC or Laptop
We would be running certain ADB and Fastboot commands that can be executed via PC or a laptop. So, we would need a computer in order to unlock the bootloader.
Download USB Drivers
In order to make your Nubia Red Magic 5S recognized by your PC, you need to have proper USB Drivers appropriate to your phone installed on your computer. And for that, you can follow the link below to download the correct Nubia USB Drivers on your PC.
Download ADB and Fastboot Tool
To unlock the bootloader, you need ADB and Fastboot driver on your computer to communicate with the Nubia Red Magic 5S.
Enable USB Debugging and OEM Unlock
To unlock the bootloader, first, you need to enable the USB Debugging and OEM unlock to interact with your PC or Laptop via the Mi Flash tool.
In your phone, Open Settings app
Look for About Phone menu and Tap on it
You may see the device build number or software version detail, tap on it multiple times until the confirmation of developer options enabled flashes on the screen.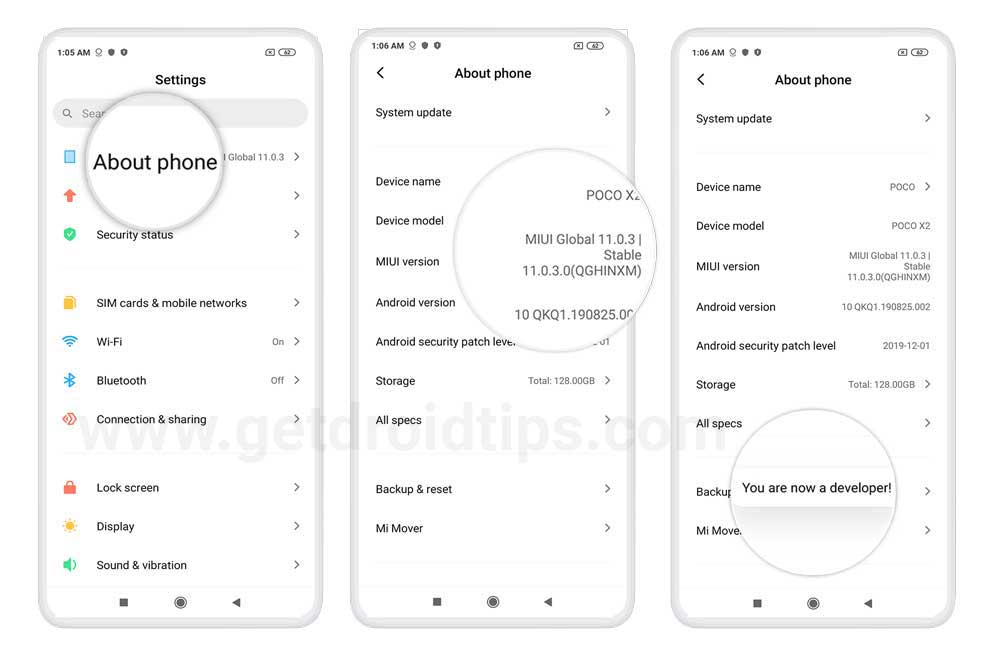 Now as the developer options are enabled on Nubia Red Magic 5S, this will appear inside settings. You can enable USB debugging by accessing developer options. The steps to do this are:
If you have enabled developer option, now go back and tap settings again
Open the Additional Settings menu – Developer option
Enable the USB Debugging and OEM unlock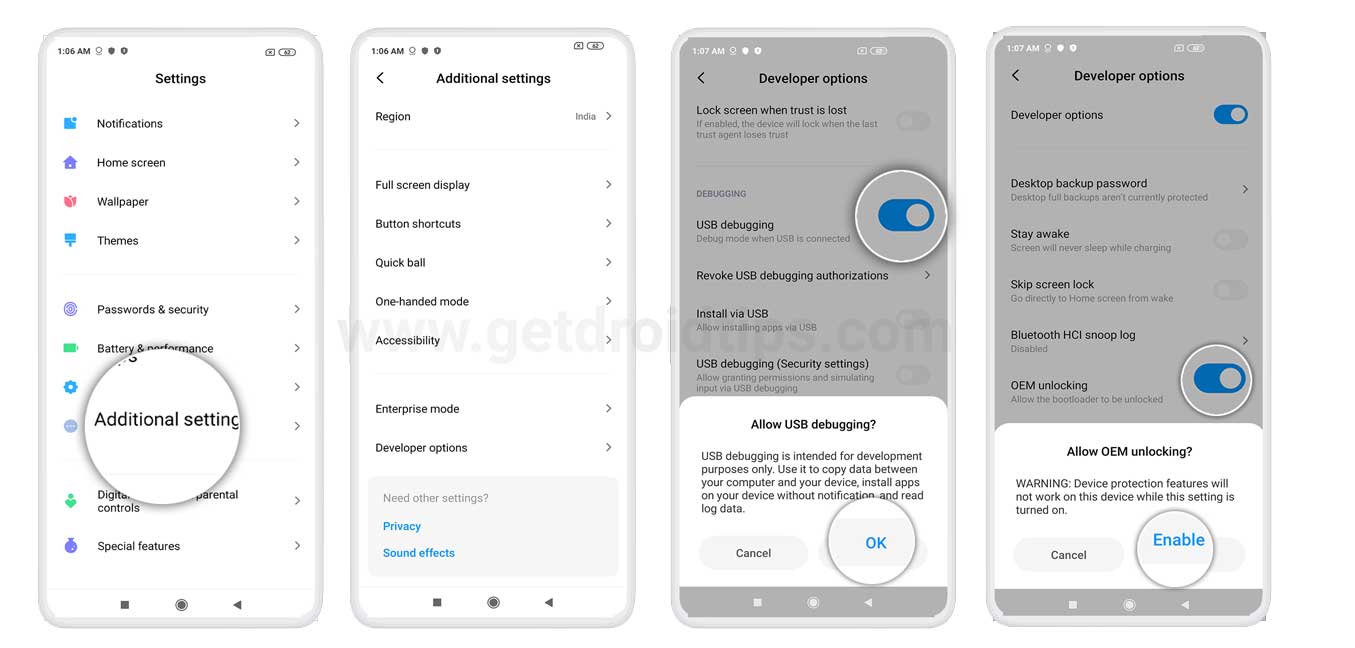 Steps to Unlock Bootloader on Nubia Red Magic 5S
First, you need to enable the Developer Options > Enable OEM Unlock and USB Debugging.

In order to do this, go to your device Settings > About > Software Information > More > tap on the Build Number for 7 times to see a message "You are now a developer".

Now, go back to the main settings menu > search Developer Options > tap on it > turn on the OEM Unlock and USB Debugging settings.
Download and extract the ADB Fastboot zip file on your PC.
Now, connect your Nubia phone to the computer via USB cable and install the Nubia USB Drivers on your PC.
Go to the installed ADB Fastboot folder and open a command prompt window by pressing the Shift + Right Mouse button click in a blank area > click on Open Command Prompt here.
Now, type the following command in the command prompt and press enter:

fastboot devices
This command will list the connected device serial number. If your phone's serial number shows up there then you are good to go. (If not listed, then re-install the USB Driver and retry typing the above command)
Now, if the phone is listed then proceed to the next step with the following command and press enter:

fastboot oem nubia_unlock NUBIA_NX659J
After the above command has finished executing, finally type, and enter the following command:

fastboot reboot
Now, your phone will reboot. Wait for a while and your device will boot into the system again.
That's it. Now, your device bootloader is free to use.
So, there you have it from my side in this article. I hope that this guide will help you with the unlocking of your Nubia Red Magic 5S easily and in a safe and official way. Please let us know in the comments if this guide was helpful and also comment down below if you have faced any issues with any of the above-mentioned steps. Until the next post…Cheers!