Customization in the world of Android OS has now become a cakewalk. Users are getting more into tech stuff like rooting, custom firmware installation, performance-enhancing of the device. The common thing between all these modifications is they require the bootloader of the device to be unlocked before getting root access or flashing a custom ROM. So, in this guide, we will explain to you how to unlock the bootloader on Xiaomi Redmi Note 8 Pro.
We have put up a detailed guide that explains all tools you will require to successfully unlock the bootloader on Xiaomi Redmi Note 8 Pro. Then you can customize the device as per your needs.
Device Overview
Well, before starting, why not first check out the tech specs of the device whose bootloader we are going to unlock in this guide. The Redmi Note 8 Pro is a hybrid dual SIM-supported device released in September 2019. It runs on the Mediatek Helio G90T chipset. The device offers two options of memory which are 6 GB RAM and 8GB RAM. With 6GB memory, you again get two alternatives for storage. There is in-built storage of 64 GB and 128 GB. If you opt for the 8GB RAM variant, you only get storage of 128GB. Besides storage is expandable up to 256 GB with SD-card.
The Redmi Note 8 Pro has an LCD display of 6.5-inches with a 1080 x 2340 pixel resolution. The camera section is pretty high-end with rear-end supporting quad camera setup. It includes 64 MP(wide) + 8MP(ultrawide)+ 2MP(macro)+2MP(depth sensor). There is also a front face camera of 13 MP.
What is Bootloader unlocking?
A bootloader is a code that loads when you switch on your device. It ensures that every software and hardware is working perfectly. Usually, on every smartphone, the bootloader is locked. The OEM doesn't want people to leave the stock avatar of the device and try to modify it. In fact, if you unlock the bootloader on a smartphone, its warranty will be finished. However, on today's date, it is important to get the bootloader unlocked to perform rooting, flashing custom ROMs, etc.
Steps to unlock bootloader on Xiaomi Redmi Note 8 Pro
In the subsequent Pre-requisites section, we have listed out the important tools such as the Xiaomi exclusive unlock tool, USB drivers for the device, and other basic hardware required in this guide. Download them all before starting the bootloader unlock process.
Pre-Requisites
Charge your device up to to 50% or more before performing the process of bootloader unlocking.
A PC and a USB cable
Always remember to take the backup of your device data.
Keep in mind that unlocking the bootloader will void the warranty of your device.
Warning
GetDroidTips will not be responsible for any issue on your device if you follow and perform the steps in this guide wrongfully. Back up your device properly, understand the steps and then execute it.
Instructions to install
Step-1 Start by enabling the developer option and USB debugging on your device.
Step-2 Next you have to unlock the OEM of your device
Step-3 Download the Mi Flash Unlock Tool and extract the content to a folder.
Step-4 Open Mi Flash Unlock tool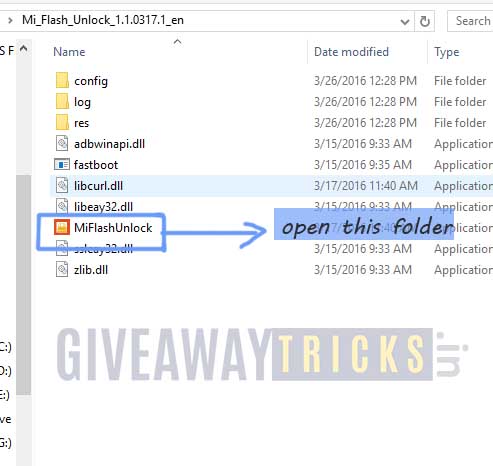 Step-5 Click Agree to continue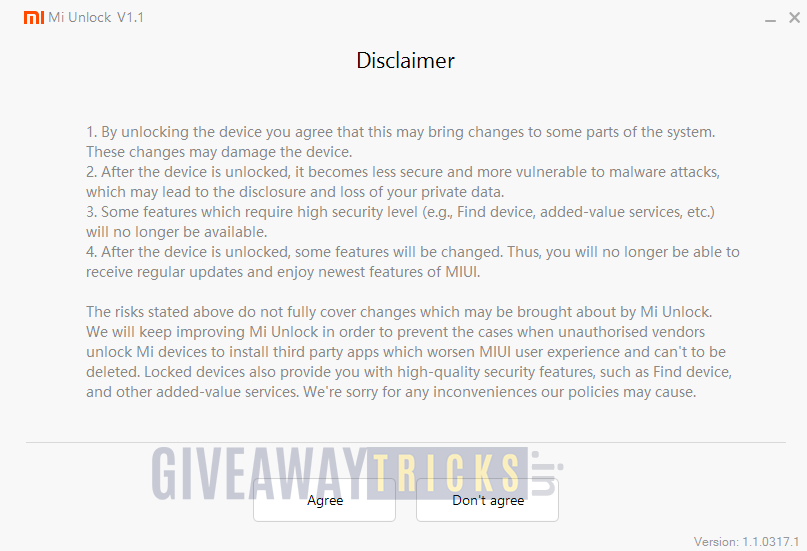 Step-6 Login into your respective Xiaomi account. In case you don't have an account, you can sign-up for a new Xiaomi account here.
Step-7 You will see a message that your device is not supported by Mi Unlock. Nothing to worry. Simply click on the Go button to continue. You will be redirected to www.en.miui.com/unlock/.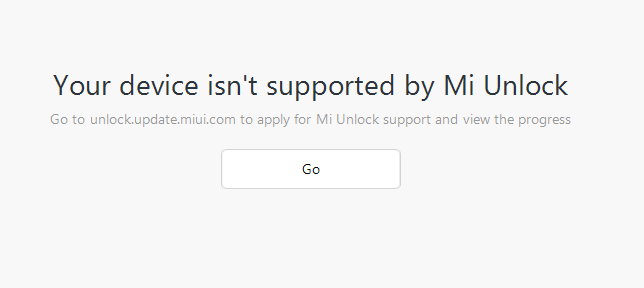 Step-8 A blue-colored screen mentioning Unlock Your Mi Device will show-up. Click the Unlock Now button you see on the same screen.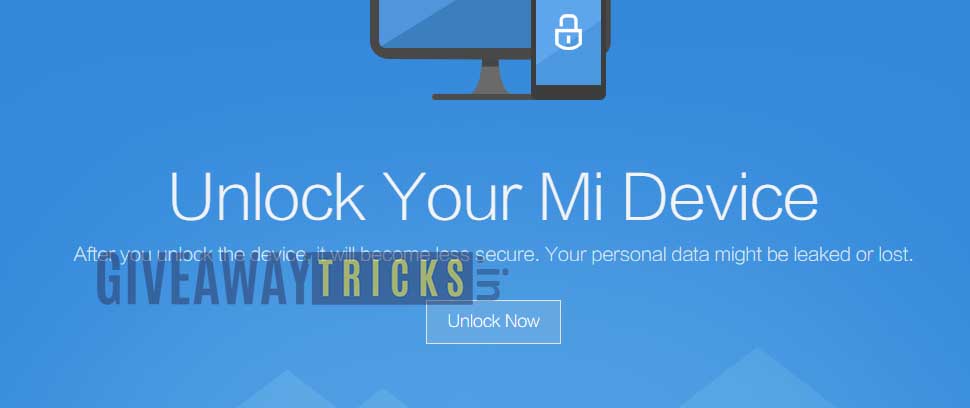 Step-9 Now you have to login again into your Mi account.
Step-10 At this point, you will receive an OTP. Enter it to complete the process. However, you have to wait for your application to be accepted.
Step-11 When your application is received, You will again receive another OTP. Again out the OTP to confirm the process.
Step-12 Open the Mi Flash Unlock Tool. Now you will see the unlock option is being available.
Step-13 All you have to do is connect the phone and click on Unlock. That's it.
Congratulations. You have successfully unlocked the bootloader on your Xiaomi Redmi Note 8 Pro. If you have got any questions, do let us know in the comments section below.