Dolby Atmos is one of the most sought-after surround sound technologies today for people who are particular about their audio experience, and most tech gadget producers now include it by default in their new products. This includes smartphone manufacturers, and OnePlus caught on early by switching to the Dolby Atmos system in its smartphones since the OnePlus 7 series, which debuted just about a year ago – in May 2019 – with dual stereo speakers.
Also Read: How to Unbrick or Restore Back to Stock ROM on all OnePlus using this Tool
Every OnePlus smartphone since the OnePlus 7 has come with Dolby Atmos, but as is wont to be with most system or OEM apps, the functionalities offered via the settings app on the phone(s) are limited. This is not the case on some other flagships like the Samsung Galaxy S9 and Razer Phone, and even the OnePlus 7 Pro had way more options for audio tuning at launch, but these were later removed with an update.
Well, Senior Member of the XDA Developers Forum, Rayekk has found a way to work around these limitations, and you don't even need to root your OnePlus smartphone to get it working. This article explains how to unlock full Dolby Atmos equalizer settings on the OnePlus 8, OnePlus 7T, and OnePlus 7 smartphone series.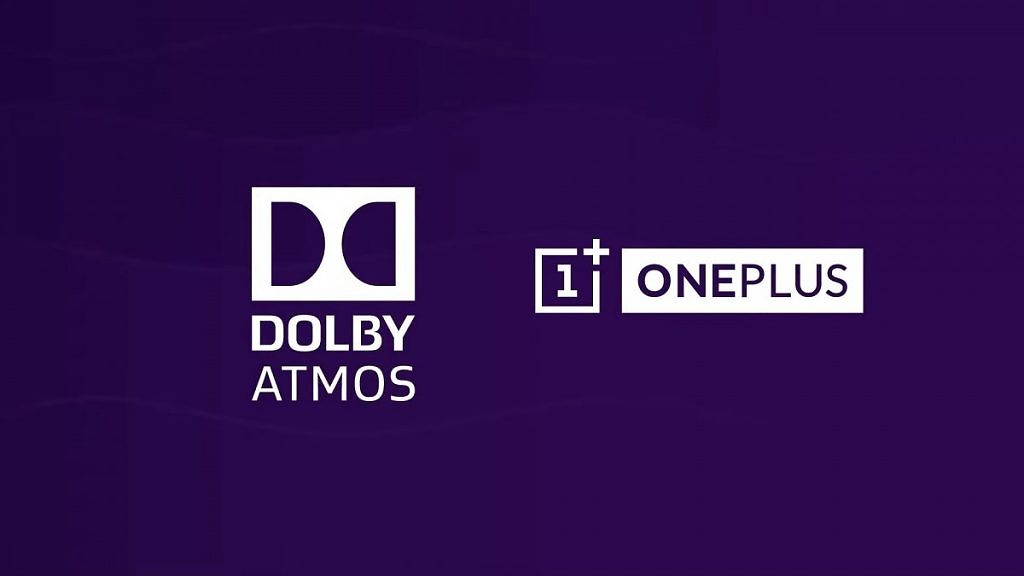 Current State of Audio on OnePlus flagships
Control of audio output via the Dolby Atmos sound system on OnePlus flagships, from the OnePlus 7 down to the latest OnePlus 8 Pro, is currently limited to just 3 presets, as we've detailed in this post. You can only choose one of these presets, which include Dynamic, Movies, and Music; you can't manually tweak the different sound profiles to your taste or do any sound equalization outside these presets.
This isn't optimal; given the amount of money you spend on these devices, you should be able to control just about any feature you want, and especially something as trivial as audio output and equalizers.
I mentioned earlier that the full equalizer was available on the OnePlus 7 Pro during launch, but was removed with a later update. Well, it turns out that it wasn't entirely removed; it was just locked and hidden away from the user, and you can unlock it without rooting your device, as we'll see in subsequent sections. This method also works on the other OnePlus smartphones mentioned above.
Requirements for this tweak
Here are things you need to set up on either your computer or Android device before you can successfully unlock full Dolby Atmos equalizer settings on your OnePlus device via the tweak outlined in the next section. Make sure all the boxes here are ticked before proceeding.
Install Minimal ADB and Fastboot on your computer. The full steps and requirements are detailed here.
Configure your OnePlus smartphone to accept ADB commands via USB Debugging. We've covered everything you need to know about this in this post, but here is a summary of the steps involved:

Make sure to plug your Android phone into your computer.
You need to enable the Developer Options on your phone and also enable the USB Debugging mode.
– Go to Settings>>About Phone>>tap on the Build Number 7 times till you see a toast message "You are now a developer".
Under the Developer Options, you need to enable the USB Debugging option as well.
– To do that again head to the Settings>>Developer Options>>enable USB Debugging
Install necessary USB Drivers.

Download Dolby Atmos Equalizer APK file extracted from the Razer Phone via the below button.
Download Atmos Equalizer APK
Uninstall other third-party Dolby Atmos and equalizer (EQ) apps on your phone. This is an important step, as the equalizer APK you're going to be downloading and installing from the above link is tightly coupled with the Dolby Atmos system integrated with the OxygenOS firmware on your OnePlus device, and having other apps that attempt to modify the same system on your phone will most probably lead to conflicts.
Steps to Unlock Full Dolby Atmos Equalizer Settings on OnePlus 8 & 7 Series
Connect your OnePlus smartphone to your computer and accept the USB debugging prompt, if it's the first time you're making the connection.
Launch the command prompt on your PC, either by pressing the Windows key + R key combination on your keyboard, typing cmd and pressing enter in the textbox that appears or by searching for "Command Prompt" in the Windows Start menu and opening the application.
Run the following command to start the ADB shell.
adb shell
Now run the following command to uninstall the stock Dolby Atmos settings app from your OnePlus smartphone:
pm uninstall --user 0 com.oneplus.sound.tuner
This method is necessary, as this tweak will stably work after you've removed the default internal APK for controlling the Dolby Atmos system on your OnePlus device, which goes by the package name com.oneplus.sound.tuner.
When the above command is successfully executed (as would be indicated by a "Success" message in the Command Prompt window), disconnect your phone from the computer and restart the phone.
When the phone boots up, you'll notice that the "Dolby Atmos" option in the Sound and Vibration menu of the device's Settings app isn't longer there. Now install the Dolby Atmos Equalizer apk downloaded above on the smartphone.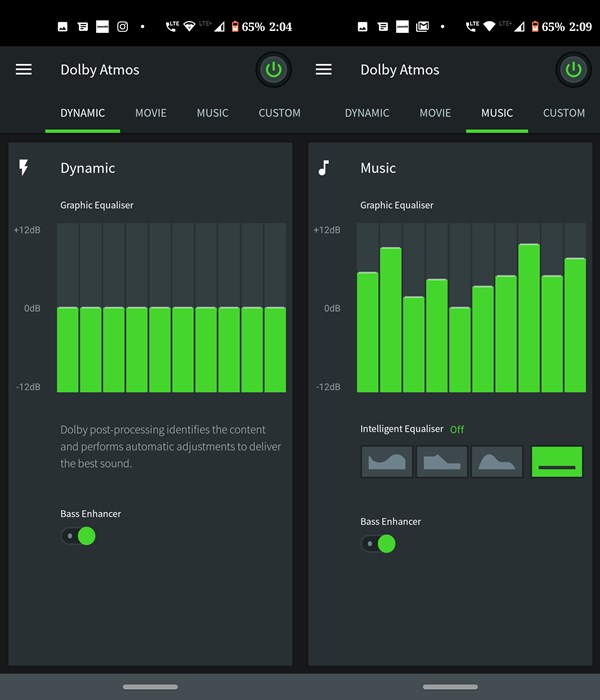 Once the installation is complete, simply fire up the app, and you now have full control over your audio. Everything about the new equalizer app, from the controls it offers to its user interface, is simply better than what OnePlus packaged with your smartphone.
Restore stock OnePlus Dolby Atmos Settings and Presets
If, for any reason, you decide to go back to the default Dolby Atmos presets on your OnePlus device, I also got you covered. Below are the steps for resetting to the stock equalizer settings on the OnePlus 8 and the OnePlus 7 series.
Uninstall the Dolby Atmos equalizer app installed from the previous section.
Connect your OnePlus smartphone to your computer.
Launch the command prompt on your PC.
Run the following command to start the ADB shell.
adb shell
Now run the following command to reinstall the stock Dolby Atmos settings app on your OnePlus smartphone:
cmd package install-existing com.oneplus.sound.tuner
This tweak has been confirmed to work on smartphones in both the OnePlus 7 and OnePlus 8 series, so don't hesitate to let us know via the comment box below if it works for you (or if it doesn't).
Also, the equalizer settings affect both the built-in speakers and any headphones you connect to your smartphone. If you're looking to use the features offered by the Dolby Atmos system on your OnePlus 5, you can check out this post I made a while ago.