Syncing stuff like notifications, text messages, photos, web pages, and calls between a smartphone and a PC might have sounded like a difficult and down-right impossible task just a few years ago, but that's not the case anymore.
At Build 2017, Microsoft CEO Satya Nadella said, "The user experience is going to span all of your devices. That multi-device experience is what now needs platform capability."
It's 2020, and going wireless has never been easier. With the right combination apps, you can wirelessly sync your Android smartphone with your Windows 10 PC or laptop comfortably in just a few minutes. And, in this article, we'll show you how to do exactly that.
Your Phone Companion – Link To Windows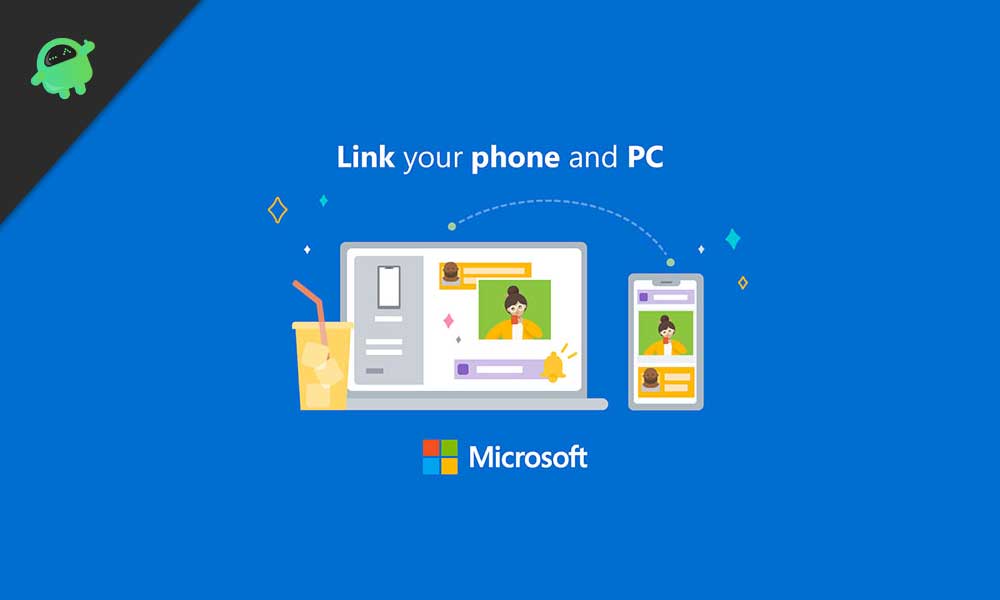 Your Phone Companion is a synchronization app created by Microsoft for both Android and iPhone, which lets you wirelessly access or sync multiple functions and files which are on your phone directly to the PC.
The app offers multiple features that can be used on any phone, but a specific feature, called Screen Mirroring, is limited to certain hardware only.
Screen Mirroring lets you copy your phone screen to your PC, allowing you to use Android apps on your desktop. Unfortunately, it's not available for everyone right now.
Still, the app offers a lot of useful features. That's not the case with an iPhone, though, as the strict restrictions set by Apple don't allow the app to work to its full capabilities on iOS.
Is Linking Your Phone To Your PC Safe?
Linking your phone to your PC is totally safe since all the services or apps that you need to use come from reputable sources and are thoroughly checked for privacy and security issues from time to time.
The Your Phone Companion app and Windows 10 comes from Microsoft, and your Phone, too, must be from a reliable manufacturer. I mean, I can't think of anything bad that can happen by linking your phone and PC.
How To Setup Your Phone App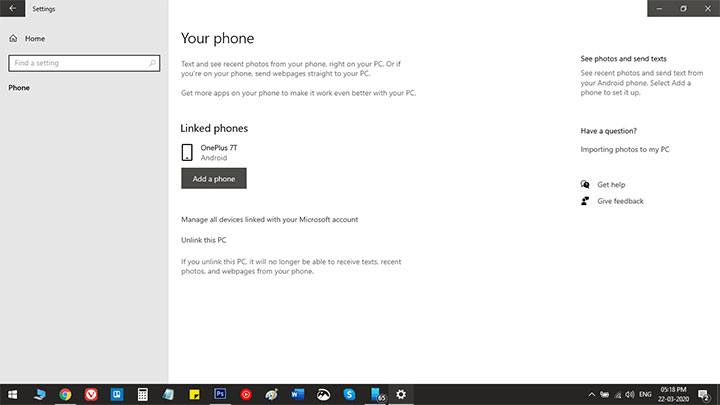 Setting up the Your Phone App on your Windows 10 PC is extremely easy. Here's how to do so in just a few steps.
Open the Settings app on your Windows 10 PC.
Click on the Phone option in the settings menu.
On the next page, select your phone's Operating System, i.e. Android or iOS (iPhone). In this case, we'll select Android and proceed.
Next, enter your country code and phone number that's active on the said smartphone.
You'll get a text message with a link to the desired app.
Install the app.
Next, you'll see a QR code on your desktop screen. Using the Your Phone app on your phone, scan the QR code to link both the devices together.
Now, give the app necessary permission like access to contacts, make and manage phone calls, send and view SMS, run in the background, and access to media files.
Now that the app has access to all the permission it requires, it is linked to your PC, and you are good to go.
Since the app is completely set up, you can see notifications, text messages, photos, and call logs on your PC wirelessly. Next, we'll see some tips and tricks to get the most out of Your Phone Companion app.
How To Transfer Photos From Phone To PC
Windows 10's Your Phone app shows all the photos and screenshots from your phone on the PC once you click the Photos tab in the left sidebar.
From this screen, you can either drag and drop images to the file explorer or use the traditional copy-paste method by right-clicking a photo. What's more, is that you can even share the images via email without even saving them to your PC first.
How To Text From Windows 10 To Your Smartphone Contacts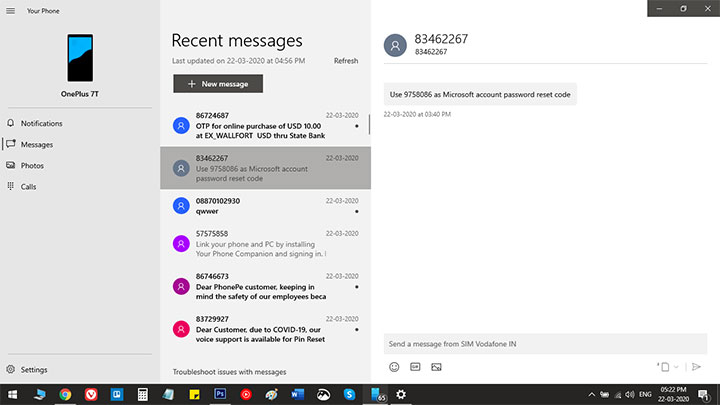 Now that your phone and PC are synced, you can see your old as well as real-time text messages or conversations on the PC. Moreover, you can also reply to a text right from the PC. Here's how to do so.
Open the Your Phone app on your PC and click on Messages on the left sidebar. This will bring all your text messages on the screen. If not, click refresh and wait for some time. Click any text that you want to send a reply to. Next, type your message in the message box and hit send.
You can add emojis, GIFs, or images. Moreover, if your phone has two SIM cards, you can switch between them just like you would on the phone.
How To Mirror Notifications From Phone To PC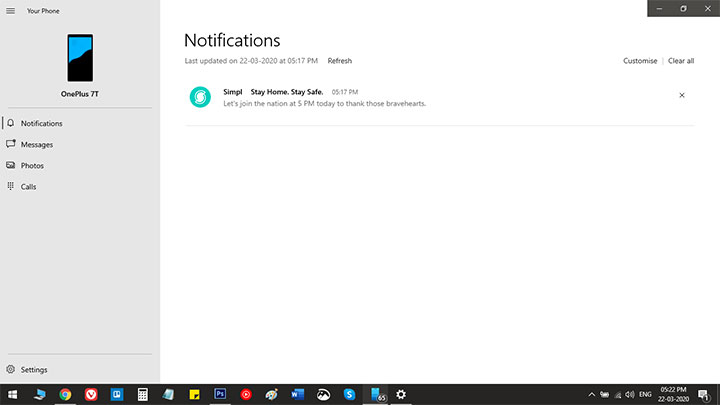 Again, mirroring notifications is quite straightforward; that is, if you've followed the above-mentioned steps properly. If the apps are properly set up, you'll see all the incoming notifications in the notifications tab.
From the settings options on the PC, you can decide which apps show notification on PC.
How To Send Web Pages From Phone To PC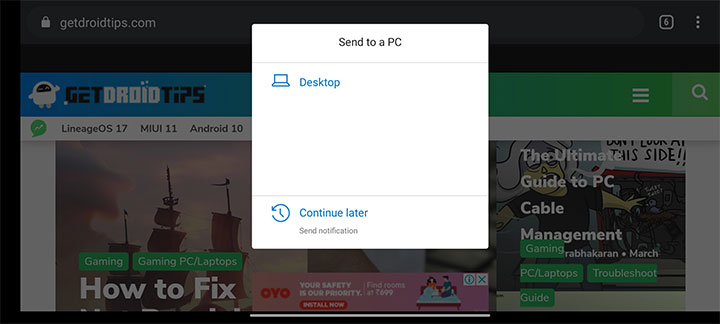 This is possibly my most used feature of Your Phone – sending web pages from your phone to PC. To do so, open a web page on your phone, tap the share button, and select Your Phone Companion from the share menu. Once you've done that, you'll see that the Edge browser on your desktop opens automatically with the same web page that you shared via your phone.
How To Unlink Your PC And Your Phone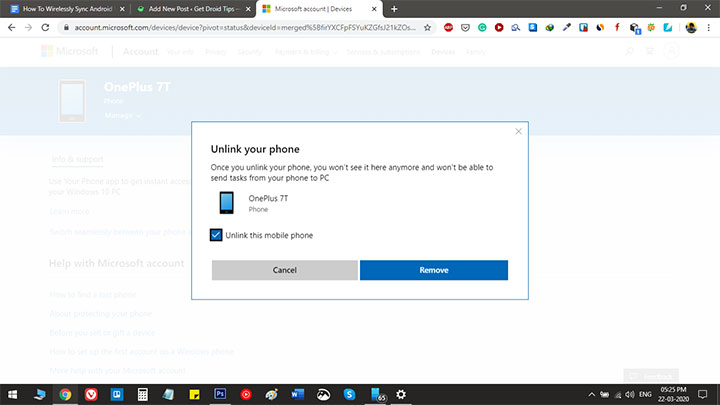 If, for whatever reasons, you want to unlink your phone and PC, go to the phone section in the settings on your PC. Next, click "Manage all devices linked with your Microsoft account." Now, a browser window will open where you'll see all the phones which are linked to your email account. Simply click "Unclick this phone" under the phone that you want to unlink.